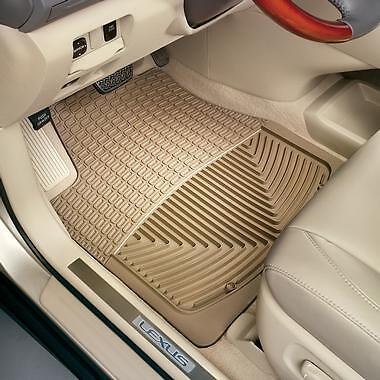 Floor mats for a car are a great way to protect its interior. They serve as a barrier between the car and the elements by preventing soiling caused by rain, snow, dirt, and gravel. They also protect against staining and general wear and tear. Floor mats can even help to customise a car. When choosing floor mats for a car, buyers need to understand the types of products available. They should also weigh up the benefits of the various materials used, from carpeting to rubber. Floor mats can have either a custom fit based on a car's make, model, and year, or be designed for a universal fit, so buyers need to decide which has the most advantages for them.
Finally, buyers should consider the design of the floor mats and the number of mats required. Some buyers prefer the mats to blend with the rest of the car's interior, whereas other like to have design elements, such as a logo. Although floor mats can be purchased from bricks and mortar stores, shopping online, using a site such as eBay, is an excellent way to find great deals and a large selection of products.
Types of Floor Mats
Floor mats can be divided into two basic categories: carpet and all-weather. Boot liners are a separate category for certain types of car. There are a variety of factors that influence the choice of floor mat, including climate and the motorist's personal preferences. Both carpet and all-weather floor mats are available in a variety of designs and colours so they can fit the interior of any car.
Carpet Floor Mats
Carpet floor mats shield the interior of a car from stains and dirt, and may even protect the interior floor from the fading caused by sunlight. These mats add a level of comfort and luxury, but they may not be the best choice for buyers who subject their vehicles to harsh conditions: they may not be easy to clean and can stain. Carpet floor mats are made from a yarn twisted in various patterns to create texture.
Nylon vs. Polypropylene Carpet Floor Mats
Two common materials used to make carpet floor mats are nylon and polypropylene, also known as Olefin. Both are synthetic fibres and quite affordable. They are also strong. However, nylon has no natural stain resistant qualities, so nylon mats need additional treatment to minimise soiling and staining. On the other hand, polypropylene does have natural stain resistant qualities and resists fading from UV damage. However, it is not as durable as nylon.
Berber vs. Velour Carpet Floor Mats
Berber carpet floor mats have a flat and dense weave made up of loops. As a result of its design, Berber carpeting is quite durable and resists showing track marks, stains, or dirt. Velour carpet floor mats on the other hand, have a thick, soft, and luxurious feel. However, they do show directional marks and footprints quite easily because of their texture.
All-Weather Floor Mats
Made from industrial materials, all-weather floor mats are designed to withstand rugged conditions. They create a seal to prevent the floor underneath from being damaged by moisture, but they are also effective shields against dirt. Unlike carpet floor mats, all-weather mats are extremely easy to clean, with most buyers needing to do nothing more than wet them and wipe away any dirt. They are a great solution for the winter, and for anyone who lives in an extremely wet climate or enjoys the outdoors.
One of the most popular materials for all-weather floor mats is rubber. Manufacturers may use either natural or synthetic rubber. As an alternative, some all-weather mats are made of special resins or moulded plastics that are able to withstand heavy use. Regardless of the type of material used, one of the strongest advantages of rubber mats is that they stay flexible, even in the coldest conditions.
Boot Liners
In addition to typical floor mats, buyers with hatchbacks and SUVs may consider a boot liner, which protects the boot from damage in the same way that floor mats protect the passenger area. In many cases, buyers can coordinate boot liners with floor mats. Boot liners are great for anyone who transports heavy goods, outdoor equipment, or pets.
Fitting Floor Mats in a Car
Floor mats are designed for both the front and rear of cars, so they can protect the floors throughout the vehicle. However, fitting the mats correctly involves more than just choosing a product based on its place in the car. Buyers have several options in terms of fit, including universal, custom, and cut to fit. The differences between them are explained in the table below.
Type of Fit

Designed For

Advantages and Disadvantages

All cars

Affordable and readily available from many sellers

Does not provide maximum coverage or best fit

Specific models

Ensures a perfect fit inside the car for greatest protection

Can be expensive

Cut to fit

All cars

Ensures a solid fit in most cars

Buyers must cut the floor mats themselves
Whereas universal and custom fit mats are ready for installation as soon as they are bought, cut to fit mats need a little bit of work. This style of mat usually provides outlines that make them easier to trim. If choosing a custom mat, buyers need to know the exact make, model, and year of their car.
Factors to Consider when Buying Floor Mats
There are many factors to consider when buying floor mats. Some floor mats have extra features that make them better quality items. These features include heel pads, anti-slip backing, or lips and grooves. Buyers may also consider the colour and design of the floor mats.
Additional Features of Floor Mats
A key feature to look for in floor mats is a heel pad. Heel pads are designed to move moisture away from the pedals and allow motorists to shift their feet. The heel pad also helps floor mats to last longer by protecting against wear. Anti-slip backing is another safety feature. This prevents the mat from moving around inside the car. Many all-weather mats also have lips and grooves that help to contain moisture. Other styles of floor mat may have recessed areas in the shape of honeycombs. In addition to trapping moisture, these mats are useful for scraping dirt and snow away from the bottom of shoes.
Design of Floor Mats
Floor mats should match the rest of the vehicle's interior, but they are also a great way to personalise its appearance. Mats are commonly available in standard colours such as beige, grey, and black, but some manufacturers may offer additional colours, such as red or blue. Carpet floor mats may have more options for patterns and colours than rubber versions. Floor mats may even feature the logo of the car's manufacturer or other decorative elements.
Buying Floor Mats on eBay
The online marketplace eBay is a great way to purchase floor mats and a variety of other automotive accessories. Finding products is as easy as entering a keyword in search box, such as "grey carpet floor mats" on the home page. To narrow down the search, you can apply a variety of filters, specifying the price range or item condition. In addition, filter the results by particular features of the product to see the most relevant items.
Tips for Shopping on eBay
There are several ways to make your eBay search for floor mats easier. Firstly, you should register and sign into your account before you start shopping. By logging into My eBay you can save searches and sellers for later reference, as well as communicate with eBay members. In addition, you can manage your account settings and feedback easily. Feedback is an important part of the eBay process, because it allows buyers to gauge the reliability of a seller. After making a purchase, you should take the time to leave your own feedback. Visit the eBay Help Centre to learn more about using My eBay and how feedback works.
Conclusion
Buying floor mats for a car allows motorists to protect the floors of their vehicles. Car floor mats are useful for preventing stains and soiling, as well as capturing dirt and moisture from snow and rain. When choosing floor mats, buyers need to decide whether they want the carpet or all-weather variety, and which material they prefer. Carpet mats can create more of a feel of luxury and comfort in a vehicle. Many carpet mats are made from nylon or polypropylene, and can be woven in different ways. For example, Berber is a tightly woven carpet, whereas velour has a more luxurious feel.
On the other hand, all-weather floor mats are made from industrial materials and are specially designed to withstand the elements. Buyers can choose from rubber, plastic, or resin. Buyers may also wish to have extra features, such as a heel pad, anti-slip backing, and lips and grooves to trap moisture. A final factor to consider is the design of the floor mats. It should complement the interior to the car, but buyers have the option to purchase mats in a variety of colours that are decorated with many different emblems and logos, so it is easy to customise the look of the car. Whatever kind of floor mats buyers wish to purchase, they can visit eBay for convenience and a large selection of products.