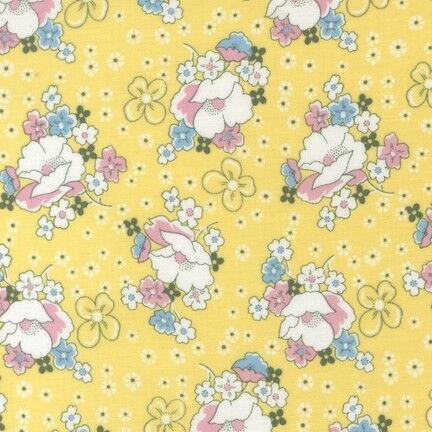 Crafting is a great way to create customised items at a reasonable price. When starting a craft that involves using fabric, the choices are endless. Floral fabric is a popular choice for people looking to add a soft touch to whatever they are creating. From curtains and pillows to dresses and bedding, floral fabric adds an elegant touch to any crafting project.
When considering which fabric to use, the pattern is a matter of preference. Floral fabrics come in a variety of colours, and the print comes in various sizes. There are some fabrics with many small flowers, and others with large, more abstract versions. Choosing the proper material for the craft is what really makes a difference in the way one's piece turns out. When upholstering furniture, a strong fabric like canvas or leather is a good option, for durability purposes. If buyers are looking to sew their own curtains or bedding, linen or cotton is a good choice. No matter what the craft, there is a floral fabric to suit a person's needs and taste. Things to consider when buying floral fabric are the material and suitability of the fabric for a certain craft.
Crafts Involving Floral Fabric
There are countless crafts involving the use of fabric for a person to choose from. Fabric is a great material to use when crafting because there is a way to use it that suites all skill sets. Beginners can hot glue or staple fabric to a picture frame or canvas to create wall art. More advanced crafters can sew a duvet cover or even make their own clothes. Finding a craft that meets one's skill set is a great place to start before choosing a floral fabric. Below is a sample of fabric crafts.
| Crafts | How It Is Done | Skill Level |
| --- | --- | --- |
| Decoupage Fabric Wall Hangings | Using a glue paste or hot glue gun, layer fabric on canvas or wood frame to create unique patterns | Easy |
| Covering Notebooks with Fabric | Use hot glue gun, fabric glue, or needle and thread to attach fabric to the front and back cover of a notepad | Easy |
| Creating Fabric Book Covers | Use hot glue gun, fabric glue, or needle and thread to attach fabric to the front and back cover of a book; can be made to slide on and off to reuse | Easy to Medium |
| Covering Wooden Letters with Fabric | Cut fabric to the shape of the letter and glue onto surface of the letter; good idea for decorating children's room | Easy |
| Creating Bean Bag Chairs | Cut two same size, large fabric circles, sew inside out, turn to right side with small hole left open, fill with stuffing and sew closed | Medium |
| Upholstering Furniture | Various directions depending on what furniture one wishes to cover; staple gun used for seat covers, sewing machine used to couch covers | Medium to Hard |
| Making Purses | Use pattern to cut fabric and assemble according to preference | Hard |
| Making Headbands | Purchase a plastic mould with desired thickness and glue fabric to top; secure bottoms from fraying by wrapping ribbon at the base | Easy |
| Dressmaking | Various patterns; easy when sewn on a mannequin | Hard |
| Quilting | Stitch together various squares of fabric to create two separate, same-size sheets; line with desired filler and stitch two sheets around it to close filling inside | Medium |
There are thousands of different crafts to do, but the ideas listed are a good place to start. Using floral fabric for fabric crafts is a great way to add a soft, elegant touch to any project that is either practical or purely decorative. Floral fabric is especially desirable for hand-made clothing, headbands, and quilts.
Floral Fabric Materials
The material a floral fabric comes in can completely alter the way a craft turns out. When upholstering furniture, even though a floral fabric can look soft and elegant, the material needs to be strong and durable. Something like a quilt or clothing needs to be assembled with a soft material. Understanding one's options for floral fabric material is important in choosing the proper material needed for a specific craft.
Linen Floral Fabric
Linen is a very delicate fabric. It is often used for formal furniture or when making lightweight clothes. It is important to keep in mind that while linen looks very nice, it does not wear well. Linen wrinkles easily, shrinks, and is not very durable, but it does not pill or fade like other fabrics do. It is also important to consider that when linen gets dirty, it can not be cleaned at home but rather needs to be cleaned professionally. Dry cleaning linen can be very expensive, depending on the size of the fabric.
Leather Floral Fabric
Leather is a very strong, durable fabric. It is a great option for crafts such as upholstering furniture or making a purse. Leather is easily cleaned, and can either be wiped down or vacuumed. Leather is also a great option for crafts that are going to be exposed to sunlight, like hanging wall pieces, seeing as the colours do not fade easily.
Vinyl Floral Fabric
Vinyl is similar to leather, but is made of synthetic materials, making it much less expensive. Because it shares many of the qualities of leather, but is cheaper, floral vinyl makes for a great crafting material. This is a good option when making things like a book or notebook cover. Vinyl can withhold daily wear and tear.
Cotton or Cotton Blend Floral Fabric
Cotton is a natural fibre, and can be relatively inexpensive, making it an excellent choice for a wide range of crafts. Both cotton and cotton blend fabrics are durable, and are relatively resistant to wear, fading, and pilling. When sewing clothing for the first time, floral cotton or a cotton blend is a good choice because the fabric is easy to work with, but is still durable. Cotton and cotton blend fabrics are also somewhat resistant to wrinkling and stains.
Wool or Wool Blend Floral Fabric
Aside from leather, wool is one of the more durable fabrics. Wool and wool blends are relatively resistant to pilling, fading, and wrinkling. Wool is also decently resistant to stains, making it a great option for things like quilts and blankets. Floral wool is a great material for some clothing items, but can be difficult to work with for inexperienced crafters, so starting with a simpler fabric, like cotton, may be a better choice for some people.
Silk Floral Fabric
Silk is a delicate fabric, much similar to linen. It can make something look elegant and soft, especially when printed with a floral pattern, but it is not very durable. Silk is not an ideal fabric to use for craft items that are going to be assembled with glue or staple gun, seeing as the fabric can be easily torn or seeped through. Silk is better for crafts like sewing curtains or duvet covers.
How to Purchase Floral Fabric on eBay
eBay is a great place to search for floral fabrics, offering thousands of options to choose from. Finding the right floral fabric for your crafting needs is easy on eBay, and is even categorised by material, type, colour and size. While a general search for 'floral fabric' on the eBay's home page is a good place to start, if you have a specific craft in mind, and are searching for a particular type of floral fabric, using the specific search tools helps narrow down your search. These options for a specific search are located on the floral fabric search page, or can be typed into the search bar.
If you are unsure of which floral fabric is right for your crafting needs, be sure to consider the material of the fabric. While something may look nice, it may not be a good choice for your specific craft. Reading the product description of the various fabrics is a good way to help determine if the fabric is suitable. If you are still unsure after performing a general search, going with a cotton or cotton blend floral fabric is a safe bet. If you are buying the fabric in bulk, your purchase could get expensive due to the weight when shipping. Consider searching for a seller that lives close by, giving you the option of picking up the fabric in person, cutting the shipping cost from the total price.
Conclusion
Whether a person crafts for hobby or is looking to cut down spending on items such as clothes and home goods, the use of floral fabric is a great way to add a soft, elegant touch to any item. Because there are so many different patterns of floral fabric, its important to not get overwhelmed. To simplify the search for floral fabric, things to take into account are buyer's preference and budget and the choice of material, among others.
Floral fabric turns any item into something special and unique. A craft as simple as sewing a book cover or making a floral headband adds one's personal touch to a plain item. Buyers should also take into account the type of craft for which they are purchasing floral fabric since not all fabrics are suitable for any project. Big items like furniture are best covered in a durable, leather or vinyl fabric. One has a wider variety of acceptable fabrics for clothing items, seeing as it is more a matter of personal choice.