PLEASE CLICK TO VOTE IF MY STORY INTERESTED YOU.
BUTTON IS AT BOTTOM OF PAGE.
I bought a single 20watt tube UV fly/insect killer a couple of months ago on eBay, supposidly £80 retail price, and it was £29.99 + p&p. It zapped a good 25 or more flies a day flies with a good 'crack', but after 3 days the light just went out and I emailed the seller to say the bulb had gone, the reply was that the bulbs are not guaranteed. I checked out the prices of new bulbs and from reputable companies they were about £30.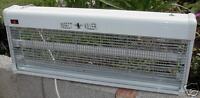 I need a fly/insect killer for my Conservatory as I live in the countryside and get a LOT of flies from an adjacent farm.
So, I bought a completely different make from a different seller, with 2 x 15 watt tubes in. The bulbs lit up fine, and REALLY did attract the flies a lot better, trouble is that the electrocution grill was dead, and all I got was loads and loads of flies inside the unit looking as if they were having a party! After a couple of emails this supplier said it was probably a loose wire and he offered a full (£41.50) item price refund on the agreement that I could keep it and he did not refund my postage. I agreed. I took it all to bits to find that a wire had become unsoldered from the transformer, which I re-soldered. Bingo, it worked again, until it went off again, and I found that the transformer was overheating, which caused the wire to unsolder itself in the first place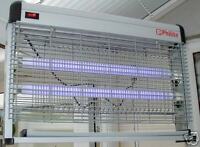 For the first fly/insect killer, I had already decided to buy and ordered a new tube from a respectable catering supplies company - not on eBay. It came today, I took the first unit apart and fitted the bulb - nothing. I noticed the unit had it's own fuse, took it out and it was blown - I replaced that fuse - nothing, so I replaced the fuse in my plug - bingo, the lamp lit up.
Being pleased with myself I settled into my chair in the conservatory only to notice that the flies that were being attracted were not being electrocuted, as they were originally.
The moral of this story, and to my cost, is that we all like a bargain, and I blame my greed for not going to a reputable catering company and paying the proper price, with a year guarantee in the first place!