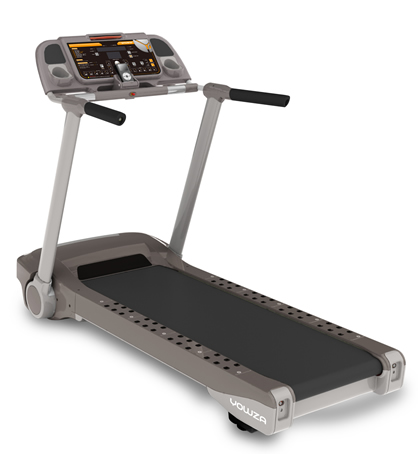 Keeping fit is great for the body and keeps the mind active and healthy. Keeping fit at home can be made easier by having a cardiovascular piece of equipment to hand. While some of these can be bulky, high quality items that can be folded up and stored out of sight when not in use are ideal. Buying a folding treadmill makes a sensible choice for anyone who wants to indulge in a regular exercise regime without the queues and hassle of the gym. These items can be found on eBay under the category of Sporting Goods, sub category Exercise and Fitness, then refine the search to Treadmill or Running Machine.
Health and fitness is something that is easy to overlook, but with gym equipment in the home there is no excuse. Collapsible home fitness equipment has been designed for homes with limited space, and there are many different models to consider. As folding treadmills become more popular so the prices fall, and they are now surprisingly affordable, especially on eBay. Practical and functional – they can be folded away and stored when not in use – this is an excellent way to keep up running mileage in cold or unsuitable weather. They also offer the added options of weightlifting devices and further exercise implements. Key benefits of owning a folding treadmill are:
Stored out of sight
Compact when in use
Easy to erect
Robust
Affordable
Exercise at home and avoid queues at the gym running machines
Additional features to aid your at-home work out
Benefits of a Folding Treadmill
Folding treadmills are ideal for homes where space is at a premium. They are designed to be used on a regular basis and are convenient. Treadmill exercise is a gym standard and is used to lose calories, increase body strength and aid bone density, and for runners in training they can be valuable assets.
That they fold away and can be hidden out of the way is an added bonus. Folding treadmills are affordable and functional, and are available in many different specifications. Before moving on to look at the features of folding treadmills, and how to buy one on eBay, consider the following:
Would a simple treadmill be preferential to one with additional work-out features?
Would a treadmill that offers just a general walking programme be more suitable, or is a full athletic option required?
What additional features, such as a heart rate monitor or calorie counter, would be beneficial?
Consider the safety features of the treadmill, in relation to who is going to use it.
Make sure there is space to fit a treadmill in the home, and that the model will fit within the necessary cupboard storage space – note both the open and folded dimensions of the treadmill and if there are any questions ask the seller on eBay.
Research the different types of treadmills and which brands are on the market. Know that used folding treadmills are more affordable than new items.
Essential Folding Treadmill Features
Choosing a folding treadmill is about assessing the various features, researching them on eBay and staying within budget. There is also the consideration of space, as they come in a variety of sizes. There are many different brands on the market, including:
Reebok
Horizon
York
Life Fitness
ProForm
V-Fit
Carl Lewis
Each individual will have their own requirements, but the following are some of the features of treadmills which should be considered when buying a folding treadmill online or at a store:
Speed Control: All folding treadmills should come with speed controls, allowing the user to select their chosen walking or running pace. Usually, the speed control will offer a choice range from 1km/h to 10km/h, with the speed increasing in 1km/h increments. This allows for gradual increases in speed or set running speeds for the duration. More advanced machines can take the speed up to 18km/h and sometimes beyond. These are used for sprint training.
Display Monitor: A folding treadmill will usually incorporate a monitoring system that allows the user to keep up with their performance, details of which will normally be provided by the seller on eBay. A display monitor will display speed, distance covered, duration of exercise, and may also include information on calories burned during the process. Information about the user's weight and size can be input. Many such treadmills also include a pulse sensor to input further information and monitor heart rate. Look out for folding treadmills on eBay that have hand sensors to read vital signs.
Incline Changes: While the some folding treadmills may be one position devices many offer a range of inclines. This allows for simulation of changing terrain, and some models feature electronic incline changing that can be undertaken while the treadmill is in use. Often there are a number of pre-programmed modes that the user can choose from, which combine inclines, speed and other factors.
Space Saving: The point of a folding treadmill is that it can be stored without obstruction when not in use. Most are simple to erect and fold into a flat package. They can usually be stored in a wardrobe or tall cupboard when folded. Some models come with detachable handrails for even greater versatility.
Instant Use: A folding treadmill in the home means the user does not have to book gym time in advance, has no travelling involved, and can exercise any time they wish. It can also be used when the weather is unsuitable for a daily run.
Factors to Consider when Buying a Folding Treadmill
There are a number of variables that buyers should consider when looking at this specific category of fitness equipment of eBay. These considerations are:
Cost – budget will always come into the equation and how much a buyer wants to spend will depend on the specifications of the different models. Some of the more basic models are surprisingly affordable, while others can be do cost more but offer very advanced features. It is best to consider an upper purchasing limit before browsing the market.
Specifications – there are considerable differences between the specifications of folding treadmills; many come with computer programmable functions and features while others are more basic; some feature MP3 players for music, ergonomic handrails, and more. Others combine weights and further exercise devices.
Available Space – folding treadmills, when in use, can be quite sizeable. It is important that buyers consider the overall size of the erected treadmill, and have a suitable space to position it in within the home. Also, it is necessary to allow for space around the treadmill if it is to be moved on a regular basis.
Weight Capacity – different treadmills will be offered with different weight capacity, and it is advisable to consider this carefully when looking to buy. The treadmill will need to be able to take the weight of all the persons who will be using it, so it is necessary to check this carefully in the model specifications.
Stability – in general, the less expensive the model, the less stable it will be. Lighter, more affordable treadmills may flex under use, while more sturdy and advanced models will not. The buyer should seek out reviews of each particular model they are interested in before purchase and be sure to note the floor surface it will be used upon.
Ease of Folding – the folding treadmill is designed for convenience, so it should fold away quickly and easily and without taking too much time. It should also fit into a tall, slim space, and the sizes when folded will be in the specifications.
Ease of Movement – in addition to the above it is essential that a folding treadmill is easy to move. There is little point in buying one that proves too heavy for the user to handle. Check the weight before buying.
Warranty – buyers should check the warranty terms carefully; in general, the more extensive the warranty, the better quality the model.
How to Buy a Folding Treadmill on eBay
Many different types of folding treadmill can be found on eBay. With an extensive selection of treadmills, exercise equipment, sportswear, accessories, and numerous sellers offering free shipping and competitive prices, buying the right folding treadmill on eBay is simple and convenient.
After coming to a decision on which folding treadmill to buy, simply navigate to www.ebay.co.uk, and then to the Exercise and Fitness section of the Sporting Goods category. Go to the Cardiovascular Equipment section and select Treadmills, here there are a wide variety of makes and models. Narrow down the search by using keywords such as 'folding treadmills' in the search box, or search by brand if there is a particular model that is of interest. For advice on searching with keywords visit eBay's Search Tips page and you may also want to look in eBay Stores for folding treadmills.
Conclusion
A folding treadmill is an excellent investment for the keep-fit enthusiast or sportsperson who does not want to pay a yearly gym fee. Anyone with a spare room or an available space can use one for cardiovascular exercise routines that aid weight loss and keep the body toned. Choosing the right folding treadmill makes life much easier, especially when the weather outside is not conducive to running, and allows for all the family to choose their own workout regimes at their own pace. Things to consider when purchasing a folding treadmill are:
Cost
Specifications
Available Space
Weight
Stability
Ease of Folding
Ease of Movement
Warranty
Access to a home treadmill means avoiding waiting for a turn at the gym. With many accessories and exercise machines now affordable for all, the home gym is becoming more commonplace, and the range of accessories, clothing and equipment available is growing all the time