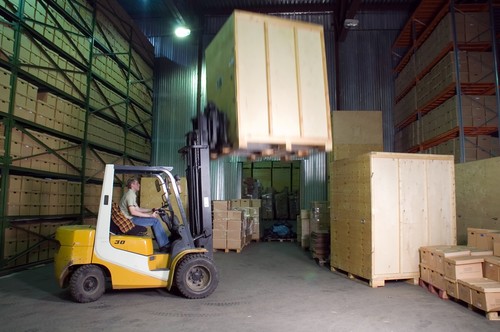 Lifting heavy loads at construction sites, indoors and outdoors of warehouses, manufacturing facilities, and shipping depots, forklifts may seem to be small-sized vehicles, but they are heavy and powerful. Their small-size can be misleading, as operations using various types of forklifts are fraught with danger for numerous reasons. Forklifts are inherently unstable vehicles, and as they are also operated in the vicinity of workers, this can double the risks. Therefore, the onus is on the managements of establishments to enforce stringent regulations that are in place for safe operation of these vehicles.
Establishments that use forklifts have to maintain their vehicles in peak condition, replacing damaged forklift attachments and other parts or going in for new vehicles when necessary. Although forklifts can be purchased from specialty brick-and-mortar stores, eBay offers forklift spares as well as new and pre-owned forklifts for individuals looking at procuring additional vehicles. Besides, buying through reputable online stores such as eBay can ensure quality products at nominal prices.
Essential Training and Certification is a Prerequisite for Forklift Operation
Establishments using forklifts can only employ trained and certified operators for these high risk operations. Besides, employers need to provide refresher courses for forklift operators on the premises or at training centres in order to have their licenses renewed periodically. An operator can only work a forklift for which there is a license; working on any other type of forklift warrants a new license and certification that is specific to that type of forklift.
Forklift trucks have a visible, vertically elevating load carriage frame, while the hydraulic systems and other components for smooth forklift operations are in-built within the forklift body. The design and manufacturing processes of forklifts are rigorously tested and documented, load charts specifying rated load lifting capacity expressed in tonnes, and detailed information for safe operations are provided by the manufacturer. Therefore, correct usage of forklifts do not pose health or safety risks.
A typical forklift with rated capacity of 5,000 lbs can have a counter balance of 9,000 lbs that enables lifting the load without tipping. With the added load, this becomes a moving vehicle with a total weight of approximately 14,000 lbs. This provides an indication of the power of a forklift, even one that is moving at slow speeds.
The Health and Safety Executive, HSE, in the United Kingdom created the 'Rider-Operated Lift Trucks: Operator Training' manual, outlining an approved code of practice and minimum safety standards to be followed for forklift operations. This is the de facto standard for all essential training and certification for forklifts in the UK. The six HSE-recognised training institutions in the UK that also provide accreditation to other training centres are Road Transport Industry Training Board (RTITB), CITB-Construction Skills, The Association of Industrial Truck Trainers (AITT), The Independent Training Standards Scheme and Register (ITSSAR), National Plant Operators Registration Scheme Limited (NPORS), and Lantra Awards.
People desirous of obtaining forklift certification need to find out the types of forklifts available with the training centres. Various companies need suitable forklifts specific to their operations, so a forklift operator needs training according to the type of forklift to be operated at the facility.
Classification of Forklifts
Categorised by the fuel type and the use, forklifts fall into seven class types. Each type has its own requirements for safety and safe operations practices to follow. Forklift operators need specific license or certification to operate each class of forklift.
| Class | Type of Forklift |
| --- | --- |
| Class 1 | Electric Motor Rider Trucks |
| Class 2 | Electric Motor Narrow Aisle Truck |
| Class 3 | Electric Motor Hand-Rider Trucks |
| Class 4 | Internal Combustion Engine Trucks Cushion Tyres |
| Class 5 | Internal Combustion Engine Trucks with Pneumatic Tyres |
| Class 6 | Electric and Internal Combustion Engine Tractors |
| Class 7 | Rough Terrain Forklift Trucks for Construction Sites |
Apart from these classifications, forklifts have some basic parts common to all trucks. These include the frame, tyres, counterweight for stabilising the truck, hydraulically operated mast for lifting and lowering loads, forks or prongs that lift, load backrest prevents load tipping, and overhead guard to protect rider from falling objects.
Training for Obtaining Forklift Licenses
A forklift operator trainee must meet the basic requirements of being able to read and write legibly as well as having basic knowledge of math, along with mental and physical agility. Some forklift training programmes entail classroom sessions to learn about the various forklifts, the fundamentals of handling one, lessons on safety, and other precautionary measures to be taken. Hands-on training is in the presence of a trained professional, and operations are allowed under supervision. Some forklift categories where training is provided includes reach trucks, counterbalance, telehandlers, pallet trucks, and multidirectional sideloader trucks, among others. Various training centres offer training on different types of forklifts, so one should enquire and ask for the specific forklifts for which train is needed. Experienced forklift operators and those who need refresher courses may take lessons and test online.
The theory and practical lessons prepare a trainee to carry out safety checks on the equipment and to recognise hazards as well. Lessons on refuelling or recharging the units, changing forklift batteries when required, and preventive maintenance of forklifts are taught to trainee forklift operators. The importance of diligently carrying out checks and safe driving to keep accidents at bay is also emphasised.
Types of Forklift Licenses
Three types of forklift licenses, namely, standard licenses, all-terrain forklift licenses, and order picker forklift licenses are available for those who wish to operate forklifts. The three licenses cover all the types of forklifts available. Also, in the UK, operators must not only be licensed to operate the specific type and variation of forklifts, but they must also be trained and certified in different load capacities on forklifts. Periodic assessment and re-certification are a must so that the operator is current with the training and safety regulations.
A standard forklift licence applies to any standard electrically powered truck. This license covers operations of forklifts, including motorised hand-pallet jacks, sit-down rider, stand-up rider, reach stacker forklifts, narrow aisle rider, rough terrain forklifts, and all the variations for which training has been taken.
All-terrain forklifts are used outdoors and on construction sites to move heavy equipment and materials such as massive concrete slabs and metallic bars. Operators working on such forklifts need the all-terrain forklift license.
An order picker forklift licence is for forklifts where the operator is lifted along with the load. A platform exists for the operator to stand on, with controls to reach materials placed at various shelving levels.
Buying Forklifts on eBay
eBay has new and pre-owned forklifts of various types offered at nominal prices. Forklifts on eBay are listed under the 'Lifting Tools' category. The various types of forklift trucks can be perused under three subcategories, namely, 'Forklifts', 'Pallet Trucks', and 'Stack Trucks & Trolleys'. When conducting searches on eBay, prospective buyers can find thousands of listings under these categories collectively. Numerous forklift spares such as forks, seats, mirrors, batteries, tyres, and a whole range of other types are also available on eBay.
The website makes it relatively easy to find and purchase different kinds of forklifts at prices that are well within their budgets. As forklifts are expensive items, it is important to verify the quality of a seller before you enter into a transaction. Therefore, buying forklifts from eBay's Top-rated sellers can assure potential buyers that they are dealing with sellers who have proved their competence through reliable delivery and service for quality products. eBay also encourages buyers to correspond with sellers directly to get questions or concerns answered before going ahead with purchases on the website.
Conclusion
Certain small and medium businesses involved in construction may need forklifts for smooth day-to-day functioning, and investing in a new forklift can involve large sums of money. Additionally, the operation of forklifts must be accomplished by trained operators.
Forklifts are of different types, depending on the source of power, such as electricity, diesel, or petrol. These machines are also designed and categorised based on the specific jobs they perform. For example, telehandlers can reach materials to great heights. Establishments that use forklifts have to employ operators who have received training at accredited centres and have the required certification to operate a specific type of forklift. The management needs to take responsibility to ensure that forklift operators receive refresher courses, are assessed periodically, and get their forklift licenses renewed.
Due to the costs involved, many businesses prefer to purchase used forklifts. A reputable website such as eBay offers some great options for both new and used forklifts of various capacities. The many useful functionalities of this website make it easy for a potential buyer to identify the right forklift and purchase it at the right price point.