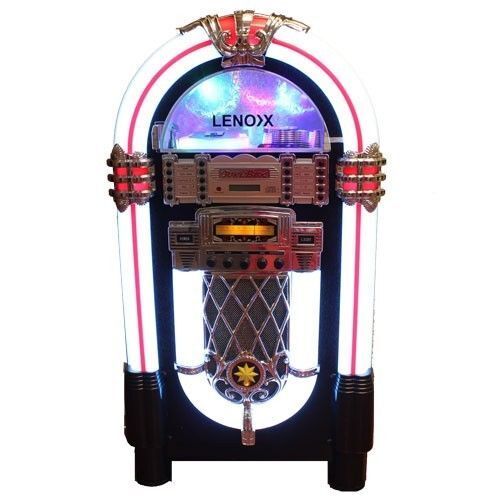 They were the epitome of 1950s Americana, and an image of the music industry at the time. The jukebox is a multi-functional music player, which allows users to select a song of their choosing to play for a nominal fee. It became a regular feature in diners on both sides of the Atlantic, even though over time DJs and laptops have since replaced them. Despite this fall from the public eye they remain the premier choice for music traditionalists.
There has never been so much choice for those looking to purchase one, whether it be for a home, pub or club. This guide will look at all the types of model currently available, and help shoppers find one that is suitable for them. In the world of retro music devices, no seller is more prominent than eBay, the world's leading online auction site.
Vinyl, CD or Digital
When entering the jukebox market there is one choice than needs to be made immediately, and that is whether a shopper wants a vinyl,CD or digital model. The obvious difference between the three is sound quality, however, there are a few other things to consider as well.
Vinyl
If a shopper opts for a record model they will need to select from either a 78 rpm or 45 rpm model. The numbers signify spindle speed, which will reveal how many tracks are on either side of the record.
| | |
| --- | --- |
| 78 rpm | Not particularly popular and are quite difficult to find. This is due to the small number of 78 rpm records that are available. They were expensive to produce, so are really only a choice for a dedicated jukebox enthusiast. |
| 45 rpm | Also known as seven inch records and are as popular as ever. A classic model from the fifties that was seen on a variety of TV shows including Happy Days and That 70s Show. 45 rpm records are still in production today, so it's the perfect model for those who continue to expand their record collection. |
Vinyl jukeboxes feature a classic design and original light tubing. The downside is that they require regular maintenance that can be costly. Definitely a favourite of traditionalists and those who have previously had experience using them.
CD
CD jukeboxes rose to fame in the 1980s and are still regularly found in pubs and clubs around the United Kingdom. The amount of CDs available and the fact that CD singles still enter regular production makes it a popular choice. In essence, it's perfect for those who want the best sound quality while not wanting to sacrifice versatility.
* Features the iconic dome top that is a trademark of the jukebox appearance.
* Requires little to no maintenance other than simple cleaning.
* Visually stunning as it uses modern "bubble" tubes and a solid glass front.
* Can remember track order of any length, meaning selecting a large amount of consecutive plays is possible.
* Many post 2008 models feature an iPod docking station.
Digital
Digital jukeboxes run off a hard disk drive (HDD) that songs are stored on. HDDs range in size from 100gb to 2tb and can store thousands of songs. It's via this means that it is possible to fit an entire music library into a digital jukebox. However, such units are not without their drawbacks.
Digital jukeboxes generally lack the feel of a classic vinyl or CD model, as they don't feature the cover art that makes the selection process so overtly visual. Where they run off a single HDD it means that if the HDD fails then thousands of songs are lost almost instantaneously. It can also be quite an intricate process replacing a faulty HDD.
Accessories
Owning a jukebox is great, but in order to get the best out of it is worth investing in some accessories.
* Remote controls are a great add on for digital jukeboxes. They've become popular in bars and restaurants, as it allows staff to control the jukebox from distance.
* A must have peripheral for all models is a decent set of speakers. Sometimes you need extra volume or a deeper base that standard speakers just can't offer. Spend time looking at speakers and always try to invest in the right pair.
* Sometimes a jukebox doesn't give the height required, so investing in a base is advised. Bases usually come with their own connectable lights that make them integrate with the jukebox seamlessly.
Jukeboxes are great on their own, but the right accessories can make them truly spectacular. Given time they're worth investing in, in order to further the entire jukebox experience.
Brands
Jukeboxes are classic in design and are an extremely popular product. Their popularity means that brand selection is large. Jukeboxes are far from inexpensive, so these companies will fight tooth and nail to get your business. The following are considered big names in jukebox construction.
* Wurlitzer
* Rock-ola
* AMI
* Seeburg
* NSM
Take your time and explore the models available. Some brands will have options suitable for the home, whilst others will be appropriate for pubs and clubs. Don't rush into a decision and always purchase something you're comfortable with.
Buying Used Jukeboxes
In days gone by owning a jukebox was something exclusive to those in the entertainment industry. These days are long gone and now anybody can pick up a freestanding jukebox at a budget friendly price. Buying new is always the preferred choice, however, it is financially out of reach for many. This means buying used is common, but shoppers need to be wary. Talk to the seller in order to make sure you get a jukebox that has plenty of life left in it.
* How old is the jukebox?
* When was it last used? Also, how regularly?
* Is it still under manufacturer's warranty?
* Has it suffered any cosmetic damage? If so, what?
* Has it been subjected to any repairs?
How to Purchase a Free Standing Juke Box on eBay
Music is a universal language that can be played via a variety of vehicles. The most image conscious of those vehicles is the jukebox. It showcases the variety in the world of music by handing control back to the user. The freestanding variation of jukebox is not only the most popular music player, but it is also the most recognisable. It's time for those with a passion for music to incorporate it into their décor, and there is no better way to do so than with a jukebox from eBay.
* In order to browse what freestanding jukeboxes are available, log on to eBay's homepage and select collectables.
* From there, click on jukeboxes and then machines, this will display all live jukebox auctions and allow shoppers to openly browse.
* If shoppers have a specific brand of jukebox in mind they can use the keyword search to narrow down their results.
* The advanced search tool can also play a pivotal part in locating a jukebox of interest.
eBay Shops
There are a variety of ways to listen to music, but none are more stylish than a freestanding jukebox. With their commonality in public establishments it means that there are always companies looking to sell their old stock. In most instances they take advantage of the eBay shops format. These miniature shops deal in specialist markets and presents great offers to buyers. To find what eBay shops are open for business, click the eBay shops link at the bottom of the homepage.
Delivery
When shopping for a jukebox, delivery should always be taken into consideration. They're large items of considerable weight, so this makes shipping a difficult matter to address. When buying used, the winning bidder will more than likely have to collect the item on their own time. If shipping is offered it will more than likely be via an insured courier pallet surface. These services are expensive, but extremely reliable. Always discuss possible delivery options with the seller prior to purchase, in order to ensure that you're getting the best possible deal.
Completing a Transaction
* When shoppers have found what they're after they'll need to follow through with a purchase.
* In order to do this they will need to do one of the following on an item listing.
o Place a Bid
o Make a Best Offer
o Buy it Now
* Once an auction has finished the winning bidder will need to complete the checkout process.
* Doing this with PayPal will mean that the order is covered by the buyer protection program.
Conclusion
Elvis Presley, The Beatles, The Rolling Stones and many more got their initial success after having their music played on jukeboxes. The beautifully constructed and well-crafted machines used to be exclusive to pubs, clubs and restaurants. Nowadays, no matter the type of media you use you can own a jukebox in your very own home.
The jukebox still remains a key tool of entertainment, and is perfect for those looking to add a retro touch to their music setup. There are plenty of online retailers that claim to offer the best deals on new and used jukeboxes, but only one can stand up to those claims. eBay is the world's leading online marketplace and should be the first choice when looking for a freestanding jukebox.