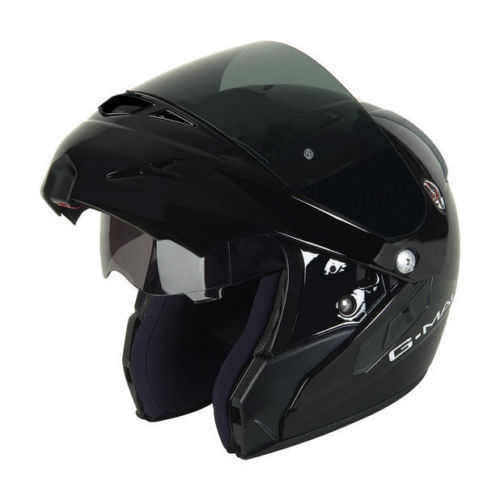 When riding a motorcycle, shoppers should always wear a helmet. This keeps them safe in case of an accident. Motorcycle helmet materials provide a good way to determine the overall safety of a helmet, as well as the areas it covers. Helmet material also determines the overall weight of the helmet, which comes into play on longer bike-riding trips. Also, make sure to protect your eyes and mouth area, as well as entirely covering arms and legs.
The type of bike riding activity can likewise play a part in the type of motorcycle helmet used. Whether riding on the open motorway or on a dirt track, choosing the right helmet for the style of riding can mean the difference between a few minor scrapes and bruises or a serious head injury, and even death. Bike owners can find various motorcycle helmet types at local motorcycle stores, online at helmet manufacturer sites, and at auction marketplaces like eBay.
Benefits of a Motorcycle Helmet
Motorcycle helmets come in many different configurations, from full-face helmets to open-face, and all types in between. One of the main functions of a motorcycle helmet involves providing protection for the rider's head in the case of an accident. They also protect against spine injuries, and those with face protection offer the eyes, nose, and mouth protection from the wind, noise, and road debris. Some helmets even come with built-in intercoms that allow communication with riders that have similar equipment.
Types of Motorcycle Helmets
As shoppers consider which helmet type to buy, they should learn about the different helmet types available. The following table details the different helmet types available.
| | |
| --- | --- |
| Helmet Types | Description |
| | Covers the entire head; protects the entire head; offers maximum protection; vented to increase air flow |
| | Covers the entire head except the eyes; visor allows for additional protection from flying debris; chin bar provides added protection |
| | Front of these helmets flip up; gives riders easier access for eating, drinking, and talking without removing the helmet |
| | Covers the ears, cheek, and back of the head, but not much else; face area not protected with this helmet type |
Of course, different helmet types work best in certain types of riding. Shoppers need to know what kind of riding they plan to do before purchasing a motorcycle helmet.
Suitable Motorcycle Helmets for Different Types of Riding
When purchasing a motorcycle helmet, riders should buy a helmet that fits the style of riding that they plan on performing. Those who partake in off-road racing require a far different helmet than riders who plan on cruising around on a Harley. The sections below give more information on the different riding types.
Street
Street bikes, or motorcycles made for riding on the motorways, offer a wide variety of body types. Depending on the prevalent weather in an area, riders can typically use an open-faced helmet, though riders need a visor or goggles to protect their face from bugs, dust, and road debris.
Touring
Touring bikes include motorcycles made for long rides across country. Most include windscreens, large storage areas, and relaxing seats. The gas tanks on these bikes run larger than normal to allow for longer periods between fuel stops. Common helmet types used for touring bikes include full-faced and modular helmets.
Cruising
Cruising bikes encompass a category of bikes that include any bikes that allow the riders to sit in a low position with arms outstretched to reach the handlebars. A bit more difficult to ride, these bikes play toward more experienced riders. Helmets used with cruising bikes include open-faced or even smaller helmets.
Racing
The high speeds of racing bikes require riders to have full protection in case they end up having an accident. Most racing bike riders wear full-face helmets, though some might opt for the improved access that a modular helmet offers.
Off-Road
Off-road bikes require a helmet specially designed to keep out rocks and debris but allow enough ventilation so that riders do not get too hot. The helmets come with an open area around the eyes, over which riders wear goggles. The chin bar is oversized and a visor runs over the eyes to help deflect debris and the sun when making jumps.
Motorcycle Helmet Materials
Motorcycle helmets feature technologically advanced materials that promote automotive safety and comfort, including mould-injected plastic, fibreglass, Kevlar, and carbon fibre. Helmets made today include a lightweight and comfortable fit but still provide great protection for motorcycle riders in the event of an accident or fall.
Plastic Helmets
Many manufacturers design the outer shell of a motorcycle helmet with a special plastic that can hold up to the type of blunt trauma sustained in a riding accident. However, the plastic remains light enough for a rider to wear it comfortably. Manufacturers strive to achieve a perfect balance between helmet weight and strength.
For extra protection, manufacturers place a thick layer of padding, typically foam, underneath the helmet's exterior shell. The foam actually crushes on impact to absorb as much of the blow as possible, thus protecting the rider's head.
Fibreglass Helmets
Higher quality helmets, which typically offer more flexibility for the rider, oftentimes feature a laminated fibreglass construction on the outer shell. These helmets offer a lightweight construction that features maximum head protection in the event of a crash or fall. However, keep in mind that they crack or shatter more often than plaster helmets. This is actually a good thing in an accident, because the brittleness of the material helps absorb the shock of an impact.
Carbon Fibre Helmets
Motorcycle helmets constructed from carbon fibre represent some of the lightest and smallest helmets on the market today that meet or exceed governmental standards. This material also more efficiently absorbs impact forces compared to most other helmet materials. Also, the fibre weave design is more likely to keep objects from penetrating the helmet's shell. Oftentimes, cycle racers wear carbon fibre.
Kevlar Helmets
Racing or high-performance helmets oftentimes feature less common materials, such as Kevlar, a synthetic fibre, or the above-mentioned carbon fibre. Because of the high-impact design of Kevlar helmets, they are more costly and not typically used by day-to-day motorcycle riders.
Remember that any single helmet cannot protect against all speed impacts during a crash. While most helmets can protect a rider involved in an accident, they are not fail-safe. However, wearing a helmet can save a rider's life in the event of an accident.
Other Motorcycle Protective Gear
In addition to wearing a helmet while riding a motorcycle, riders should also wear proper eye and face protective gear, as well as protective clothing. The following sections describe some of the most common rider protection equipment worn while out on the road.
Eye and Face Protection
A face shield can help protect a rider's face from debris while on a ride and even protect the face during a collision. These shields often feature shatterproof plastic. Imagine riding down the road and getting pelted with rain, insects, pebbles, and more. Without protection, a rider can suffer severe injury to the face or eye.
For maximum effectiveness, make sure any eye or face shield protection worn remains:
* Resistant to punctures
* Free of scratches
* Free of side view obstructions
* Securely fastened
In addition, make sure the shield allows air to pass through to reduce fogging. And there should be enough room for a rider to wear eyeglasses or sunglasses with the shield if necessary.
Goggles represent another eye-protection option. However, they do not provide entire face protection. Remember that a windshield should not replace the use of goggles or a face shield. Also, never wear tinted eye protection at night or in low light, which could obstruct a rider's vision.
Clothing
Clothing can also protect a rider from weather, wind, and other debris while on the road. It also offers added protection in the event of an accident or from the hot or moving parts of the motorcycle. Make sure to wear pants and a jacket that covers the arms and legs entirely. Make sure clothes remain snug so they do not flap in the wind or get caught in moving cycle parts. But do not wear clothes that fit too tightly, which could restrict movement while riding. Leather or synthetics provide sturdy protection while riding a motorcycle.
Wear shoes or boots that cover the ankles for both protection and support. Wear footwear that features hard, slip-resistant material. Make sure not to wear high-heeled shoes on the bike and remember to tuck in shoe laces to keep them from getting caught on any surfaces. Other clothing items to consider include gloves, which provide both hand protection and better gripping potential. Consider buying gloves made of leather or another durable material.
Buying Motorcycle Helmets on eBay
Shopping on eBay gives site visitors the ability to find almost any conceivable product. Even better, shoppers that have any questions about a product listing can use the Ask a Question link on any seller's listing page to find out more information about the products they want to buy. Before proceeding, shoppers should also check the seller's feedback rating for an idea of the seller's performance with other shoppers.
With the wide variety of motorcycle helmets available, shoppers should search for the helmet they want by doing a search using keywords. Using the search box on any eBay page, shoppers should type keywords in, such as " Shark full-face motorcycle helmet " or " black motocross helmet ". Such keyword searches bring up a list of categories that allow shoppers to focus in their search.
By clicking on the category desired, shoppers can narrow their search to specific helmet type, colour, cost, and more. If shoppers have a problem with their search, they can get help by going to eBay's Search Tips page for more information. Shoppers can also search eBay shops for even more product options.
Conclusion
Motorcycle helmets offer the best in protection while riding a motorcycle. The cushioning they offer when the head comes into contact with an object during an accident can mean the difference between a bad headache and injury or death. This stresses the importance of choosing the correct helmet for the type of riding expected to take place. By outfitting themselves with the appropriate protective gear, including helmets, clothing, and face protection, riders can ensure they have the best riding experience possible.
Another area shoppers should consider involves the materials that go into the construction of a helmet. These materials affect the overall weight and feel of a helmet, as well as the cost, with materials such as Kevlar and carbon fibre costing more than their plastic or fibreglass counterparts. By knowing the types of helmets and the types of riding that they fit best, shoppers can find the best helmet for their needs on eBay.