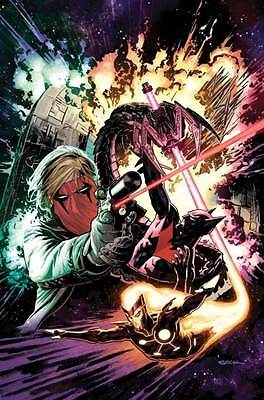 Coming hot off the Free Comic Book Day prologue, DC's Futures End #1 is here. This is the second of the three new weekly series that DC is launching this year. The first being the excellentBatman Eternal and the third being the incoming Earth 2 weekly series.

First of all, if you missed the Free Comic Book Day #0 issue you may feel a little bit out of the loop. Futures End is set around a dark future for the DC Universe. Something called Brother Eye has taken over the world and has killed almost every hero. Bruce Wayne has figured out a way to fix this future. His idea is to send Terry, Batman Beyond, to the present day DC Universe in order to stop the threat before it can do any serious damage. In this issue we get a little Terry, Grifter and some shocking moments with the Stormwatch team and Firestorm.

Futures End #1 is an amazing start to a potentially great series. There's been a lot of negative reception to event series such as these in recent years and while this is understandable, there also needs to be more judgement on a case by case basis. Futures End is going to be big, there is no doubt about that but to say that it's regretful after just one issue is ridiculous in my opinion. True this does have a lot happening in a short amount of pages but there are some very interesting ideas here. There's been criticism at DC for not utilising some lesser known characters and it feels like Futures End is going to make use of them. Stormwatch appeared, Grifter seems to have a large part in the bigger narrative and this issue was heavy on Firestorm. In the Free Comic Book Day #0 issue, Amethyst was also featured. This is no doubt going to silence some of those critics.

Terry McGinnis makes his present day DC Universe debut in Futures End#1 and the writers do not miss a single beat. His sense of speech is just the way it should be and while the situation is bleak, he is still a bit upbeat. It's a great characterisation. The twist and turns are also happily welcomed. Light and funny comics are great to have but there are times that I need something a little more edgy and Futures End seems to fit that bill. This is almost Injustice: Gods Among Us dark and that makes me think none of this will stick, but it will be an entertaining ride nonetheless.

Patrick Zircher is the first artist we see for Futures End and he does a fabulous job. Many artists have done their own version of Batman Beyond but rarely are they so memorable. This is a sleek, stylish Terry that will be the standard going forward. Futures End is also violent without any of it being gratuitous, especially, the scenes with Grifter. The deeps violence is there and it has an effect on the reader without being overly gory. This is a dark DC Universe and the colours used are perfect in reflecting this.

Overall, Future's End #1 is yet another great issue in a potentially DC Universe shattering event. It stands that some of the major character deaths may not stick but that doesn't make this any less enjoyable. There's enough to make any reader come back for more. This is a bit more on the dark side but that doesn't keep Futures End from being a good read. Accented by fantastic artwork, this is a book that any DC fan really must pick up.