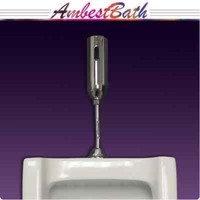 GENERAL GUIDE ON THE URINAL AUTO FLUSH SYSTEM
Urinal flushing systems are not the same for all countries.
In fact, United Kingdom, France, and Germany have their own traditional flushing system,
which is the timed flush system. This system groups public urinals into ten or more and links
them into one cistern. After the cistern is filled with water up to the tripping point, the urinals
are flushed automatically at regular periods (this type is awfully a waste of water, really).
But, in other countries, the manual flushing system is still the most commonly installed fixture
for public urinals and toilets. These are almost perfect except for the fact that customers have
problems with the sanitation issues. The most likely scenario is - since they're afraid to touch
the flush handles - they'll either use tissues or kick the flush handles, which makes the handles
dirtier than usual, to drain down their urine.
Urinating won't have to be such a complicated task to do every single time if only automatic
urinals are present. The auto flush system is a battery-powered device that uses passive or
active infrared motion detectors to recognize if the urinals are in active use or not before
activating the flushing system - most of these require the user to stand in front for five seconds
or more for confirmation.
The auto flush device doesn't discriminate any types of urinals or toilets - it wouldn't really
matter if you're still stuck with the old wooden style toilet or the high tank toilet.
That's why this device is very cost-effective because it can be integrated onto your pre-existing
flush handle urinals. As a remedy, you can buy the battery-powered automatic flush sensors to
replace your manual handles or to regulate the release of water for your timed-flush urinals.
Ambest offer different automatic toilet and urinal flushing devices that effectively prevents
cross-contamination and eliminate odors through its wireless flushing system. The overall installation
is so easy that it only takes a minute without even using any type of equipment. And the batteries are
even replaced only every three years.
Although auto flush urinals are available, scheduling a regular disinfection and general cleaning activity
of the entire toilet should still be maintained. In that way, your customers are exposed to a clean and
germ-free environment.
Hereby we, Ambestbath sincerely would like to recommend you an effective ones -
Automatic Urinal Flush Infrared Sensor Valve Controller - for your more choice... More detailed
description and price offer, please check us on eBay for sure OR please feel free to send your
inquiry for our daily business email: sales@us.ambestbath.com for more feedback response.