Hi, I thought that I would write this quick guide to buying zippo lighters.
The choice of zippo lighters today is mind boggling. There are so many designs and indeed so many price brackets that the average person may not know where to start. I thought that I would produce this simple guide to highlight where you should start depending on your requirements.
1) GENERAL EVERYDAY USE ZIPPO LIGHTER -
This section is aimed at the everyday person that is looking for a good quality robust
windproof
lighter. The attraction of a zippo lighter for many people is the fact that it is 100% windproof. This quality often appeals to the outdoor person such as fishermen, hunters, hikers, campers, hill walkers etc. How many times have you been out on a blustery day and tried to light a cigarette or even a camp fire...............I know I have, and there is nothing more frustrating than trying to use a normal lighter to do this.............you know the the feeling, strike after strike after strike until the skin nearly comes off your thumb from flicking at the flint wheel so much !!! Enter ZIPPO - one strike and it's lit and simply will not go out until the lid is closed - this is the beauty of the zippo lighter. Add to this the fact that Zippo as a company offer a lifetime warranty on all their zippo lighters with the famous "fix it for free" guarantee.
Once you have decided that you want to purchase a zippo lighter you may well be thinking of what design to choose - this is where it gets complicated ! Depending on budget and of course personal taste there are literally thousands of options but for the purposes of this section we will say that it is a plain zippo that one is after. The most popular choice in this section would be the full size plain zippo lighter. These lighters come in many different finishes from the lower end (Chrome, Brass, Matt coloured etc right through to the other end of the spectrum when you can get Sterling silver, 24K Gold, Solid Titanium and Platinum). An average low end zippo lighter can easily be picked up for around £10.00 on ebay and the higher end can cost as much as £200.00 for a Sterling Silver lighter as an example. Generally, a £10.00 low end lighter will function just as well as a high end top of the range example. Fuctionality is not determined by price, it is design, rarity and material that dictate the price.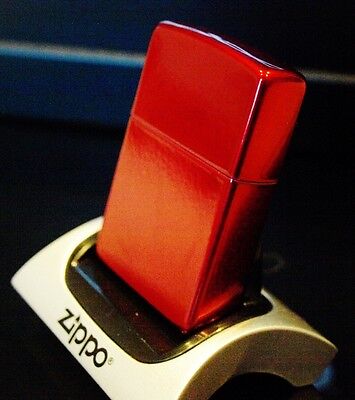 Typical lower end zippo lighter. This example is finished in candy apple red but these come in many different colours. This lighter would retail at around £20.00 in the UK so it is fairly low end.
**Note - the zippo stand is for display purposes in this image. The display stands are not supplied with zippo lighters, they can be purchased seperately for around £8.00. ** The stands are good for storing your lighters on as they are magnetic and hold the lighter firmly in place **
2) GENERAL EVERYDAY USE ZIPPO LIGHTER WITH A BIT MORE PERSONALITY !! - This is for the potential zippo owner who is looking for something a bit more personal. It could be that you are a keen birdwatcher or bird of prey enthusiast for example, therefore you are looking for a lighter that reflects your passion for birds. There are hundreds of zippo lighters out there that would perfectly suit your needs. As an example I have picked out a particular favourite of mine -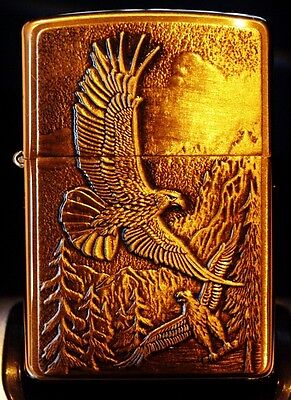 "Where Eagles Dare" Zippo lighter finished in solid Brass. This is an example of how a zippo lighter can exactly fit your hobby or interests.
This lighter retails at around £35.00 so as you can see the price is rising for a more tailored zippo. Of course there are cheaper alternatives out there but to me a zippo is for life so why not splash out a little !!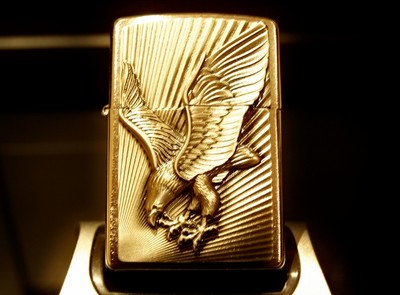 Another example of a zippo that could compliment your hobby or interest - in this case birds of prey. A slightly more expensive version but again,gives another idea of whats out there.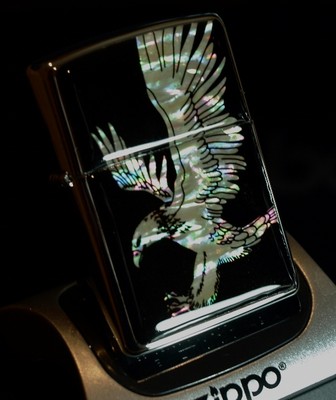 Another example of a zippo tailored to the individuals needs or interests. In this case a slightly higher end zippo lighter again which retails at around £100.00. This lighter shows the type of unusual finish that is achievable and available - in this case a beautiful mother of pearl inlay design. A very special lighter.
3) HIGH END COLLECTORS ZIPPO LIGHTERS - Zippo lighters are very collectable items. The lighters are works of art in some cases and I compare them to individual pieces of jewelry. Anyone who collects zippo lighters know how addictive it can become !! Many collectors tend to focus on particular types, there are many different types that can be collected and of course many different date codes. I myself tend to focus on the Japanese versions of zippo lighters as I consider these the best quality and they appeal to my own personal taste. Below I will put up some examples of collectors zippo lighters -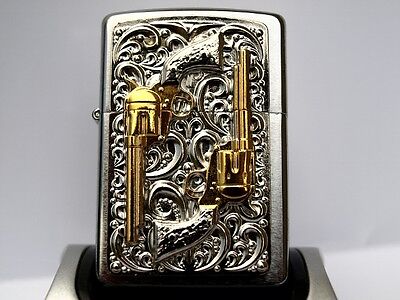 A nice example of a fairly rare zippo lighter not generally available in the UK. This lighter may appeal to someone who specializes in military items or maybe a collector who goes for the decorative pieces. The appeal of this particular lighter is the fact that it is hard to find. In my experience zippo collectors love nothing better than owning a lighter that no other fellow collector has !!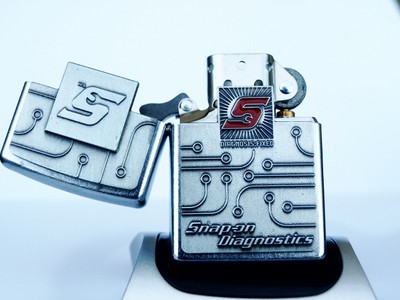 Here we have another example of a collectors zippo. This time this one may appeal to the collector who specializes in SNAP-ON or limited editions. There are many snap-on tools zippo lighters out there but this one is a limited edition version limited to only 3000 worldwide. An obvious target for the collector.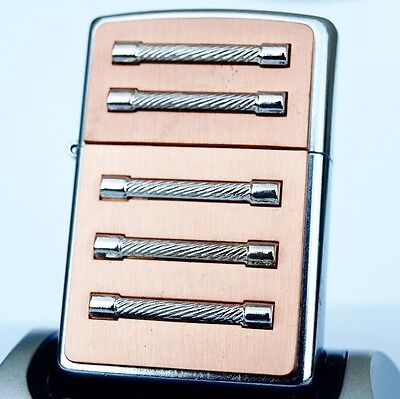 Here we have a discontinued zippo from 2003. The appeal of these sorts of lighters is obviously that they have stopped being produced. Most of these lighters would have been purchased and used as intended but the collector will NEVER fill a lighter with fuel or light it. The collector will cherish these types of lighters because they will only rise in value and the best way to retain value is to keep them in 100% original unfired condition.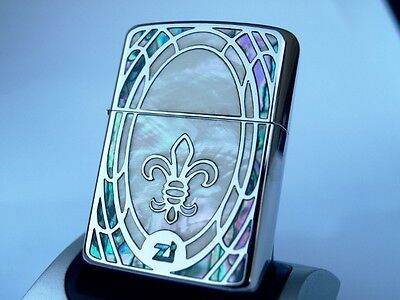 An example of a Japanese Zippo lighter. In this case a nickel palladium finished heavy wall armour zippo (1.5 times heavier and thicker than standard) which has been carefully inlaid with shell and mother of pearl to create this stunning effect. This is a real collectors item. The difficulty in finding these make these appealing as well as the obvious craftmanship that is on display.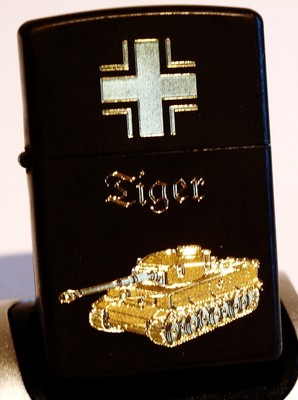 An example of a German market zippo. This one would appeal to both military collectors and discontinued collectors. This lighter was discontinued in 2005 and is finished in unique antique weathered brass with incredible gold 3 dimensional engraving of a world war two tiger tank. Very few collectors would have these so a nice item to own !!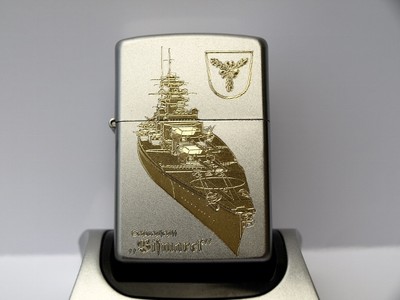 Similar version to the lighter above but this time featuring the mighty BISMARCK which is engraved onto a satin chrome zippo this time. You can really see the detail on this one, a true work of art hence very collectable.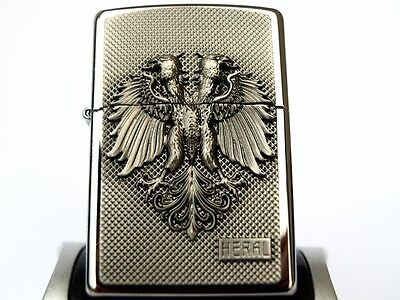 An example of another limited edition, this time limited to only 777 worldwide. This is another good example of a collectable zippo. All limited edition zippo lighters are individually numbered, usually on the rear of the case.
Most of the limited edition zippo lighters also come with their own special zippo presentation cases. Collectors are also careful to preserve these as much as possible because as I have said before the more original the items the better and more valuable.
4) ZIPPO LIGHTER ACCESSORIES - Of course, with any brand comes the complete range of accessories. In the case of zippo, you can buy consumables such as flints, fluid, wicks and wadding. The most interesting accessories in my opinion are the display cases and frames, after all what good is your collection if nobody can see it ? There are large variations in cases and frames and it comes down to individual tastes and preferences. Below is an example of some of the display cases that I like because they double up as protective storage units for your valuable zippos - Cases and frames come in a range of finishes.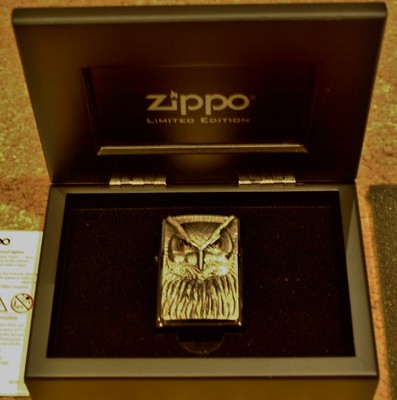 Good example of a single display case. This version is a specific case for the limited edition zippo lighter that it contains. Most of these cases come with a soft foam interior and foam backing cover to protect your valuable lighter.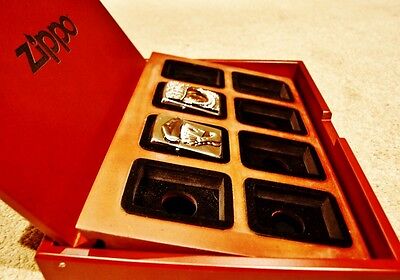 Another version of case, this time a solid rosewood case that holds and displays up to 8 full size zippo lighters. This is a nice version as when you lift the lid the interior tilts slightly to show off your prized collection.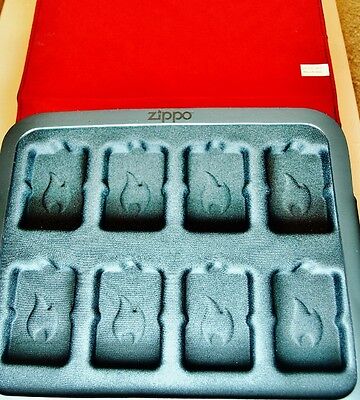 This is a soft shell version of an eight zippo display case. This is a nice case as it is rather like a laptop case with velcro fastener. A generously padded interior ensures ultimate protection for your valuable collection. An ideal case for transporting zippos.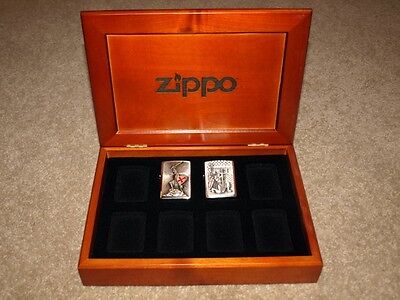 Another solid rosewood version. These are great for showing off a collection and also for protecting your lighters.










I could write a far more extensive guide to zippo lighters and I will in future when I get a chance. The areas to cover are vast, but hopefully this tiny basic guide gives you a small insight into the world of zippo lighters.

Thanks for looking and please feel free to browse my ebay store to see if any of my lighters take your eye............who knows I may just inspire you to start your own collection. Be prepared as it is very addictive but a good investment all the same. Above all, it is fun and facinating !

Thanks for looking