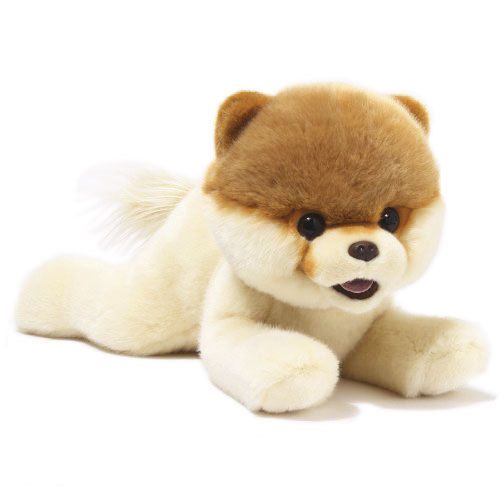 With over a hundred years of toy making history behind them, GUND pride themselves on combining the richness of tradition with the excitement of innovation. Their long line of loveable plush toys features many adorable characters to cherish. You'll find a great selection of GUND Soft Toys on eBay and this guide will help you narrow down your search by giving an introduction to the GUND range and a couple of extra considerations to make when beginning your search.
The GUND Range
babyGUND
babyGUND is a range specifically made with infants in mind. There's a large range of characters available including HuggyBuddy animals with large torsos and My First Teddy. Other figures include Winky Lamb and Spunky Dog. All babyGUND soft toys were developed with infant safety in mind and encourage a range of developmental play to help your child learn as they grow.
Boo - The World's Cutest Dog
Boo is cute: global grade cute. This rapscallion Husky pup is available in a nine inch version as well as a smaller Itty Bitty Boo which is available in a range of stylish clothing configurations.
Sesame Street
GUND produce a huge range of Sesame Street soft toys. From beanbags to hand puppets, floppys to jumbo plush, finger puppets to take along buddies, there's a wealth of lovely comfort companions to choose from and hug all day long.
The range includes all the favourite Sesame Street characters:
* Big Bird
* Cookie Monster
* Bert
* Earnie
* Oscar the Grouch
* Grover
All come in a huge variety of sizes.
Uglydoll
Uglydolls are, to put it indelicately, ugly, and that's the point. In the world of Ugly, ugly means unique and special and encourages us to celebrate the things which make us different from one another as well as the twists and turns of our voyage through time.
Launched in 2001, and winner of the Speciality Toy of the Year Award in 2006, the range has since expanded to include a huge variety of characters to fall in love with. Including Sleepy Ice Bat, Babo Bear and Money Bags OX, the Uglydolls are a lively bunch and GUND have made them available to buy in a huge range of options.
Little Uglys stand at seven inches tall whilst the classic range falls between twelve and fourteen inches. There are tiny four inch clip-on toys, and enormous Cuddly Uglys, twenty-six inches tall. For the sleepier Uglydoll fan, pillows are available featuring a different character on each side.
Curious George
Everyone's favourite erstwhile chimp, Curious George toys from GUND come in a variety of outfits, seasonal variations and sizes. The smallest George is only eight inches tall, a baby compared to the giant thirty six inch version also available. If buying for a baby it is possible to get a George that'll dwarf the child. Whether or not that's a good idea is your choice entirely.
Monchhichi
With their catchy song, and large eyes, Monchhichi's adorable thumb-sucking babies make cute companions. The GUND range includes boy and girl Monchhichis with a variety of bib colours and hair ribbons.
Bear in Underwear
The bug-eyed Bear in Underwear that GUND have helped leap from the pages of the popular and zany adventure book series is super soft and ultra huggable. Bear is ten inches tall, as are his loveable companions:
* Honey
* Monkey
* Froggy
* Deer
* Bucky
* Myrtle.
Susan G. Komen
GUND support the Susan G. Komen charity with the sale of a range of speciality bears in the charity's name. The charity aims to tackle breast cancer, saving people's lives and empowering them by funding research and quality care.
The range of soft toys comes in a variety of sizes, all of them sporting the colour pink in tribute to the charity.
Snuffles
Snuffles lives up to his name, a wide, happy faced bear ideal for snuffling with. Available in white, brown, pink or blue, Snuffles also comes in a number of sizes to suit children - or adults - of different ages.
Fuzzy
Designed to be one of the most huggable bears in the world, Fuzzy and his friends
* Fuzzy Bunny
* Fuzzy Monkey
* Fuzzy Frog
* Fuzzy Pig
* and the adorable Fuzzy Cow
All are extra soft and ultra floppy. They're ideal companions for anyone in need of a hug.
GUNDimals
The range of GUNDimals is stupendous. Whether you're searching for a farm soft toy, aquatic soft toy, jungle, cat or dog soft toy, your chosen animal is likely to exist in the GUNDimal range. There are pugs, labradors, beagles, tigers, lions, orang-utans, cows, pigs and chickens all waiting to become a new best friend.
GUND Girls
GUND Girls are fashionable friends. Each girl in the range has her own personality and flair for fashion. Take Sloan for instance, a surfer girl who loves to hang out with friends at the beach. She loves bright colours and Californian hippie-chic. All the GUND Girls stand seventeen inches tall and come with detachable outfits which can be shared between them; perfect for budding fashion followers.
GUND Kids
GUND's fantastic range is further diversified by the GUND Kids section of dinosaur, sports and doll soft toys. Highlights of the range include:
* A Roaring Rex toy which roars, tells jokes and moves his head and jaws when you press his foot; perfect for dinosaur fans.
* Gridiron bear from the sports section is another example of innovation from GUND - dressed ready for the big game, he recites American football sayings on request whilst also moving his mouth.
And All the Rest
With a hundred year history of toy production, it would be a challenge to list the full range GUND have produced. It's great to realise that many rare and vintage GUND soft toys that are no longer being manufactured are only available to buy using eBay.
Buying Second-Hand and Pre-Owned GUND Soft Toys
There are two types of second-hand GUND soft toys:
* Less expensive than brand new toys having already had a loving owner
* Those that are in demand because they are rare, and whose owners have carefully preserved them, rather than snuggled them.
eBay is an excellent source of second-hand GUND soft toys of both types whether you are looking for affordable GUND toys or rare and vintage items.
Remember to check older items thoroughly before passing them to a child to play with unattended. Time can break down the strength of fixtures and stitching and the plumpness of stuffing. Check all small parts of the soft toy which could become detached in the care of a determined infant; these could pose a choking risk; buttons, eyes and ribbons are the main culprits here.
It is useful to remember as well that old soft toys which look a bit too well-loved can often be returned to their former vitality after a quick visit to a nearby sewing shop, which should be able to re-stuff your treasured toy.
Cleaning Tips
All GUND soft toys have cleaning instructions on the toy's sewn in label. If the label is missing, GUND recommend only washing the toy with a light surface wash using tepid water, a clean cloth, and then leaving to air dry. If you're unsure, GUND's customer service team will be happy to answer your queries.
How to Buy GUND Soft Toys on eBay
Now that you've worked out which GUND soft toys you want, find them quickly on eBay. To start shopping, go to the Toys & Games category. Click the Soft Toys & Stuffed Animals portal.
Categories: The Categories list on the left side of each page will help you narrow down your listings by item type. You'll find links for Disney, Unbranded, Walt Disney, Russ, Gund and Steiff. As you refine your search you'll be able to narrow down your choice by subcategory.
Product Finder: Use the Soft Toys Finder to quickly narrow down item listings by type of Sub-Type, Brand, Theme, Status, Type, Material and Age.
If you can't find exactly what you want, try browsing eBay Stores or tell the eBay Community what you're looking for by creating a post on Want It Now, or save a search on My eBay and eBay will email you when a matching item becomes available.
Buy Soft Toys with Confidence
Make sure that you know exactly what you're buying and understand how eBay and PayPal protect you.
Know Your Item
Read the details in the item listing carefully.
Remember to add delivery costs to your final price. If you're buying a high value item, check that the seller will insure it until it is delivered to you.
If you want more information, click the "Ask seller a question" button on the seller's profile or the "Ask a question" link at the bottom of the item listing page.
Always complete your transaction on eBay (with a bid, Buy it Now or Best Offer) otherwise you will not be covered by eBay Buyer Protection.
Never pay for your eBay item using an instant cash wire transfer service like Western Union or MoneyGram. These are not safe ways of paying someone you do not know.
Know Your Seller
Research your seller so that you feel safe and positive about every transaction.
* What is the seller's Feedback rating?
* How many transactions have they completed?
* How many positive responses do they have?
* What do buyers say in their Feedback?
* Are they positive about the seller?
Most top eBay sellers operate like retail shops and have a returns policy.
* Do they offer a money-back guarantee?
* What are their terms and conditions?
Buyer Protection
In the very unlikely event that you do not receive your item or it is not as described, eBay Buyer Protection covers your purchase price plus original delivery cost.