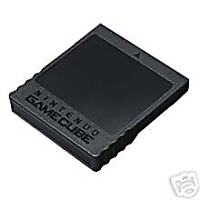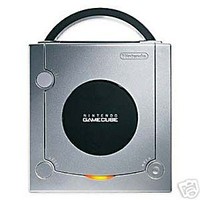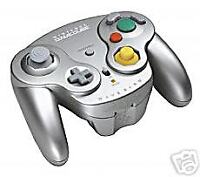 Just a few hints about what to look for when buying Gamecubes, games and accessories.
Firstly, if the auction mentions

frayed

wires:

do not buy

. A frayed wire on a controller can damage the Gamecube. A damaged wire on the PSU is obviously unsafe. If no picture is supplied or the seller will not accept refunds...be wary!

The links in this guide will search eBay for the item highlighted. If you then fill the box "Include all items including eBay shops", search by cheapest first and adjust your search settings to include postage prices you'll get more results and it'll be easier to figure out the best prices. If you found this guide helpful I'd appreciate it if you would vote at the bottom of the guide. If there's anything that needs adding to it then please let me know!

Check that all of the cables are supplied. That includes the

AV lead

,

scart adaptor

and the Power Supply Unit (psu). If you have an older TV without AV or scart sockets you will need an RF Adaptor .
Nearly all used Gamecubes have

cosmetic marks

on the centre disc at the top. A few marks is nothing to worry about but it's worth bearing in mind that when a seller describes a Gamecube as new or mint there should be no marks on that disc whatsoever. It is also a good indicator of how well a Gamecube has been treated, so have a look in the pic to see what condition it's in.
Gamecubes have good lasers in them when compared to similar consoles. I test all of my games on an old and battered Gamecube. If a game doesn't work on that then it is binned, but

heavily scratched discs will often play without skipping

. So don't be put off too much if a description says that a disc has a few scratches; of course it's preferable to have a scratch-free disc, but as long as the seller offers a

refund policy

and states the game is working the game is probably fine and you might get it that bit cheaper. If the seller says that the disc has

cracks

around the middle of the disc then avoid it, the disc is on the way out even if it plays fine now.
Check the

format

of the Gamecube.

This works in a simlar fashion to DVD regions

.

All

UK

Gamecubes are

PAL

and will only play

PAL

games.

NTSC

Gamecubes from

Japan

and the

US

will not play PAL UK games without a Freeloader convertor(a disc that temporarily switches the region of a Gamecube).

PAL UK Gamecubes will also play Japanese or American games with the use of a Freeloader

. You can buy a Freeloader on eBay for about ten pounds and it's a wise investment as

NTSC games are often a

good few pounds cheaper.
If a Gamecube is described as

"Switched"

this means that it is an NTSC Gamecube that is able to play

both

US and Japanese games with the flick of a switch on the rear. They are also able to play PAL games with the use of a

Freeloader.
When buying software for your Gamecube,

always check that it is compatible

. It is likely that the seller won't accept returns if you make a mistake. It's worth repeating: if you have a PAL Gamecube , unless you use a Freeloader,you should buy a PAL game! Check that the instructions and box are explicitly mentioned in the auction. Most games have tutorials, and instructions can be found on the internet, but some sellers will try to let you assume the instructions are included by simply not mentioning them so check the pics and text.
Check that the Freeloader

you buy is suitable.

Version

1.06b

and

Version 1.06B

are the latest versions and will allow the use of any game on any Gamecube.

Version 1.0

will allow the use of NTSC games on a PAL Gamecube, the use of JAP games on a US Gamecube and vice versa, but Version 1.0 will not allow the use of PAL games on an NTSC Gamecube . Expect to pay around a tenner.
NTSC

Gamecubes/games and some

PAL

games are displayed in

60hz,

older British televisions only display in

50hz.

This is just a reference to the rate that a TV updates the picture.

All modern televisions will be fine, but some older televisions are not capable of displaying

an NTSC 60hz picture so if you have an older television(older than around ten years) then it's worth checking the game out first.