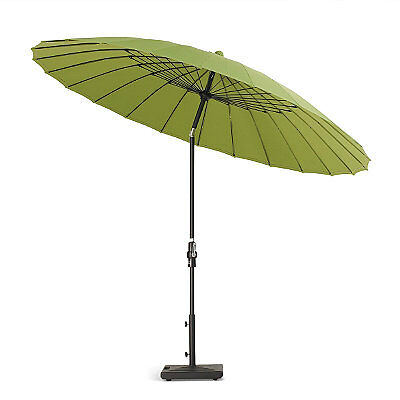 A person may invest a considerable amount of money in their garden or patio furniture, so it is wise to assume that they'd like to protect this investment. Outdoor furniture is usually made from materials that fare well when exposed to rain and other harsh weather conditions. A garden parasol is one piece of outdoor furniture that is particularly prone to damage from moisture, wind, and other outdoor elements. The lightweight fabric does fairly well against light rain and sun exposure, but it will last longer if it has some protection during the times that it is not in use. Every garden parasol needs a protective cover that holds up against all weather conditions.
When looking for the right parasol protective cover, a shopper must first know which features to look for. A good garden parasol protective cover must offer the parasol protection from rain, morning dew, and UV radiation. It should also be easy to put on the garden parasol and take off. Shoppers who want a large selection of parasol covers to choose from will find everything they need on eBay.
Features to Look For
There are different types of garden parasol covers available, and each one offers different features. Some of these features are more important than others because they provide more protection or make the cover easier to use. When shopping for a garden parasol cover, a shopper should first look at the type of protection that it offers. Waterproofing, UV protection, and tear resistance are among the top three features to look for in a parasol cover. A drawcord, zipper, and carrying handle are not necessary, but make the parasol cover easier to use.
Waterproof
Most garden parasols are designed to handle rain and other weather changes. Exposure to rain, snow, frost, and other moisture causes the parasol to fade and wear out faster. When shopping for a cover, it is important that the cover is waterproof. This protects the parasol from water damage when it is not in use so that it lasts longer.
UV Protection
Though the purpose of a garden parasol is to block the sun and provide shade, the sun also causes the parasol to fade. This is due to the harmful UV radiation. When shopping for a garden parasol, shoppers should look for a cover that provides UV protection. This not only protects the parasol, but it also protects the cover itself from damage. Protection from UV radiation extends the life of the cover so that users can get several years of use out of it.
Tear Resistance
Garden parasol covers can be made from a wide range of materials. As with other purchases, the amount invested in a parasol cover often reflects the quality and durability of the item purchased. Lower quality covers might tear if they become snagged on a branch or other sharp object. Higher quality covers, such as those made from thick polyethylene, offer tear resistance. This means that if they are caught on something by chance, they are not likely to tear. This helps to further increase the lifespan of the cover.
Drawcord
It is not uncommon for a gust of wind to blow through the garden unexpectedly. These gusts are often enough to take the cover, or even the entire parasol, and carry it away. Shoppers should look for a parasol cover that has a drawcord on the bottom so that it can be secured to the parasol pole. Additionally, the eyelets should be made from a rust-proof material, such as brass, so that they hold up well to moisture.
Zipper
A zipper is not necessary, but it makes putting the cover over the parasol much easier. Rather than having to slide the parasol cover over the top of the closed parasol, a zipper allows a person to simply place the cover on the parasol and zip it up the side. With the easy-to-use zipper, a person is able to put the cover on and take it off without hassle.
Carrying Handle
A carrying handle is also not necessary, but makes transporting the parasol much easier. With a handle on the side, users are able to carry the entire parasol to storage with just one hand. Rather than having to juggle the covered parasol and get a good grip on it, users can grab it by the handle and carry it where it needs to go.
Other Considerations
A few general considerations should be taken into account when shopping for a parasol cover. The size, colour, condition, and price are all characteristics that determine whether or not the parasol cover will meet the user's needs. A shopper must be sure that the cover fits the parasol and has an attractive design. The price and condition are two characteristics that should be evaluated together to ensure that the cover is worth the investment. Knowing what to look for help shoppers find the best deal that not only meets their needs but also fits within their budgets.
Size
Before shopping for a parasol cover, it is important to measure the size of the parasol in the closed position. Since parasol covers come in many different sizes, the measurements are necessary to ensure that the proper size is chosen. A shopper first must measure the height, then the width at the top and bottom. The cover should be slightly larger than these measurements. This not only ensures complete coverage, but also allows for air circulation. Ample air circulation is needed to keep the parasol dry and inhibit the growth of mould and mildew while the parasol is not in use.
Colour
Colour does not affect the function of the parasol cover, but shoppers should choose one that is visually appealing. The design of the parasol is hidden when the cover is in place, so shoppers need to choose a design or colour that is visually attractive. Fortunately, parasol covers come in a wide range of colours and designs to match anyone's tastes. Outdoor or natural colours, like green and brown, are the most common colours available.
Condition
Shoppers who want to save money on a parasol cover for their gardens can shop for used covers. Parasol covers that are properly cared for can be used for several years. A person might get rid of a parasol cover because it is the wrong size or because they no longer have a need for it. In either case, these used parasol covers still have a lot of life left in them and can be used by others rather than being thrown out. When shoppers are looking at used parasol covers, they should check for any tears, rust, or other damage that may lessen the cover's life or make it less attractive.
Price
Parasol covers don't have to be a large investment, and shoppers should know how much they are willing to spend on a cover before shopping. The purpose of a cover is to protect the parasol from damage so that the user does not have to buy a new one. For this reason, the cover should be significantly less than the cost to replace the parasol itself. At the same time, the cover needs to be sturdy enough to offer ample protection against weather and damage. Rather than looking for the cheapest parasol cover available, a shopper should look for a cover that has a price that is proportional to its quality.
How to Buy a Garden Parasol Protective Cover on eBay
eBay is an online marketplace where people from all over the UK can come together to buy and sell goods, including garden parasol protective covers. Both new and used selections in a variety of sizes, colours, conditions, and with numerous features are available on eBay. Additionally, since the parasol covers are sold by private sellers, buyers are able to negotiate lower prices than what can be found in other stores like garden centres. The key to finding the best deal on parasol covers on eBay is knowing how to effectively search for items.
Performing a Search on eBay
To search the eBay site for garden parasol covers, simply go to eBay homepage, and enter a description of what you are looking for into the search bar. You can search for a garden parasol cover directly using a basic keyword search or an Advanced Search. Use keywords to describe the cover you're looking for and then search all of eBay for listings that contain those keywords. If you're not quite sure what you're after, begin with a generic search phrase like "garden parasol cover".
If you have a very specific type of parasol, you may need a very specific type of parasol cover. For example, if you have a overhanging garden parasol, you would enter a more specific search phrase like "overhanging parasol cover" into the search bar. On the results page, you'll be able to select different options to narrow down the listings to only show those that match what you're looking for. Choose various options and features to narrow down the listings and show only those items that match what you're looking for. You can sort the listings by type, colour, material, condition, and price range.
Conclusion
Garden parasols are used to provide protection and shade from the sun on warm summer days. They are made from a lightweight fabric that is vulnerable to damage from rain, prolonged exposure to the sun, and other types of weather. Because people invest a lot of time and money into finding the right garden furniture, they likely want to protect this investment by protecting the furniture from weather damage. Spending a few pounds for a protective cover for a parasol saves one from the expense of having to replace the entire parasol.
As with many other items, the amount invested in a parasol cover reflects its quality. In order to find a cover worth investing in, shoppers need to know which features and characteristics to look for. Additionally, they'll need to evaluate the cover to determine if it will meet their needs. Knowing what to look for prior to shopping makes the process much simpler. A shopper who is looking for a great deal on a parasol cover will find hundreds to choose from on eBay.