On the best day, it's a beautifully organised place for your tools and lawn equipment. On the worst day, it's an impossible-to-navigate mess, full of tools that will fall out as soon as you open the door.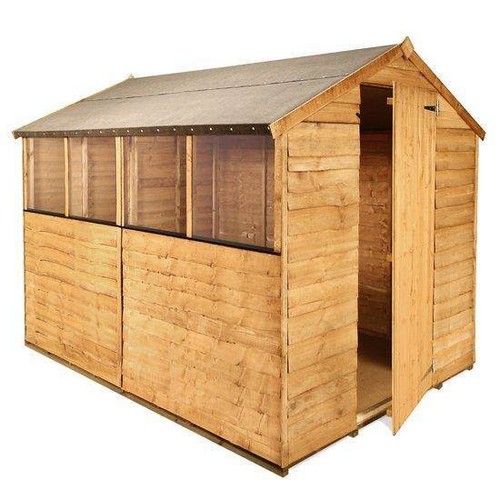 Either way, you need a garden shed in your life if you care at all about keeping your outdoor areas looking great. Choosing a great garden shed comes down to your feelings on a few different criteria:

Garden Shed Material

A great looking garden shed has to match your home, as even the best metal shed won't look very good sitting next to a brick home. You want something that is going to reflect your personality, while being able to adequately hold everything that you require in one place.
Wooden Garden Shed
The traditional garden shed, one that has graced the pages of many stories, is the wooden option. A wooden garden shed is great for use in older, more traditional homes. These beautiful sheds are a great option for storing all of your tools, and are a visual addition to the yard, rather than something that has to be hidden.
Often, they have some type of siding that gives them a bit of exterior decoration. Aside from being a beautiful, traditional option, they are also extremely resilient, provided that you keep them maintained with a coat of paint every now and again.
Plastic Garden Shed
For a more durable choice, plastic garden sheds are an excellent option when durability is your top priority. Not only are they durable, but also they are extremely easy to set up, as the plastic will be much lighter weight than wood.
As technology continues to advance, the plastic options have become available in a variety of colours and styles that make them a much better looking choice in your garden.
Another great reason for you to choose plastic over wood is the fact that they are available in shapes that aren't as easily buildable with wood, allowing you to fit some plastic garden sheds into areas where wood options wouldn't hold up.
Metal Garden Shed
If you are worried about maintenance, you might consider a metal shed. This one will still look decent even if completely neglected.

Garden Shed Usage

A garden shed is no longer just a garden shed. When considering what your garden shed will be used for, you will be pleasantly surprised with how versatile it may ultimately be.
Workshop Shed
For some, it may be a storage space only, but for many others, they may want a small workbench or space for a chair. Give that little crafting hobby of yours a new home.
Summer house
Why not build out a full-fledged summer house out of your garden shed? Surprise your guests with a petite villa featuring a veranda or even a sauna inside.

Which Garden Shed Type Are You?
Garden sheds need to be large enough to store what you need, but not so large that they take over your backyard. Choose a size that is right for your yard and your equipment, but don't go overboard.

Garden Shed 6x4

For many people, the best choice is a 6x4 shed. This size is great for holding all of your tools (and then some), but not too large that your shed will become a second garage for your belongings.

Garden Shed 12x8

If you need to store large equipment like a lawnmower, or you want to have a workshop out there as well, a 12x8 shed is an excellent choice. Even though you might find that you have too much space for just your tools, a shed this large will give you a place to try out a new hobby or just get out of the house from time to time.




Small Garden Shed

On the other end of the spectrum, if you are looking to downsize your tool collection, a small garden shed is an excellent way to force yourself to make some tough decisions and get rid of tools that might not fit in your new shed. Don't think of it as a negative thing, reducing clutter is always a great choice, and a small shed allows you to do just that.

Pent shed

A pent shed is a great garden shed that is higher on one side than the other. This type of shed is perfect for use in areas where you might need a taller area to store shovels or other equipment, but you don't want or need a full shed of that height. Furthermore, pent sheds allow for rain and snow to fall off of the roof, reducing the chance of roof collapses, sometimes a problem with flat-roofed sheds.

No matter what type of shed you end up picking, adding a garden shed to your yard is a useful way to store all of your tools and other things in an out-of-the-way area. If you have children, you can store sharp objects like saws and knives in a place where they can't be easily accessed, reducing the risk of injury.