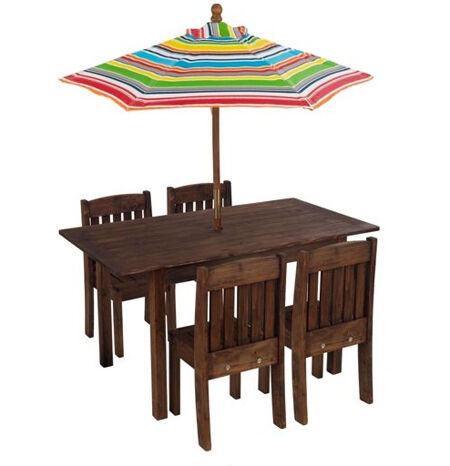 Taking a stroll through a beautiful garden is nice, but being able to relax and sit comfortably in the early morning can be just as calming. Those with enough space to accommodate a garden table and chair set, will find such items to be irreplaceable. There exist enough types of outdoor furniture to allow those with ample room, as well as those with minimal space, to enjoy a table and chair set. Searching for a quality garden table and chair set, however, is often a frustrating and expensive venture.
With online marketplaces such as eBay, consumers are able to shop for a set that fits their needs, without actually visiting a multitude of storefronts. Combing through various options without the right knowledge, however, makes for a confusing experience. In order to make an intelligent purchase, consumers should be educated on the material options, stylistic choices, and accessories available in the garden table and chair realm.
Garden Table and Chair Set Material Options
Much like indoor furniture, outdoor furniture such as garden tables and chair sets, are often constructed of various materials. Due to the amount of outdoor options available, not all materials are listed below. The most common and durable garden furniture options, however, are detailed for the savvy consumer. Considering the needs of the furniture in conjunction with the material options available, allows for a more educated purchase.
Wood
For an attractive option that tends to gain appeal with age, consumers should consider wood garden table and chair sets as an aesthetically pleasing option. Also labelled as teak furniture, this option can be quite durable if treated properly. Individuals who purchase such a set, however, should be sure to take proper care of such furniture. Outdoor treatments and re-treatments with applications such as oils, sealers, and other substances, can work wonders towards properly aging such a furniture set.
Wrought or Cast Aluminium
Wrought, or cast aluminium, garden chair and table sets are designed to look like classic cast iron garden furniture. The benefit of aluminium, however, is that it is much lighter in weight than its iron counterpart. This option does require the use of cushions. Without a softer surface, a bare set of wrought or cast aluminium garden furniture can be quite uncomfortable. Aluminium garden furniture is much more durable than wood, but tends to be quite a bit more expensive. Those interested in a moveable, aesthetically pleasing option, should strongly consider purchasing wrought or cast aluminium.
Tubular Aluminium
Those searching for a garden table and chair set that is able to resist everything mother nature can throw at it, without draining a bank account, should consider tubular aluminium options. Unlike wrought aluminium, tubular aluminium is often comfortable enough to avoid the need for expensive outdoor cushions. Although not typically known for their beauty, this furniture style is likely to fit in well with a more modern decoration style. As a more inexpensive but durable choice, tubular aluminium offers a dependable option to homeowners and apartment tenants alike.
Wicker Garden Furniture
People who live in more tropical environments, are likely to see wicker garden furniture as the premier option. Wicker outdoor furniture is perhaps the most varied and abundant option on the market. This option tends to be of larger scale but of lighter weight as well. With an uncomfortable base material, such a table and chair set requires cushions for each and every seat. Wicker can be found at reasonable prices, but cushions for the chairs tend to be somewhat expensive. Online marketplaces such as eBay, however, offer affordable prices for high quality cushions.
Steel Garden Table and Chair Sets
Anyone in the market for a durable garden chair and table set, is likely to desire a garden set fabricated out of steel. Steel garden table and chair sets, are some of the most dependable options available. Although not quite as classically appealing as iron, steel chairs and tables tend to be somewhat attractive when placed in the right garden. Each steel chair and table set is constructed with a different design aesthetic, so be sure to shop for a set that matches the decor in question.
Wrought or Cast Iron
Easily the most classically appealing garden table and chair set option, wrought or cast iron options are the perennial favourite of many. Although cast iron garden furniture is quite expensive, used options through online marketplaces such as eBay, help make prices a bit more affordable. Iron garden table and chair sets are most often the heaviest option, and as such are designed for more permanent settings. With ornate designs and a durability that is hard to beat, it is no wonder that this options has garnished such popularity. People interested in a classic option with high natural endurance should consider wrought and cast iron table and chair sets as an attractive choice.
Plastic Garden Table and Chair Options
For those on a tight budget, plastic garden table and chair sets are easily some of the most affordable outdoor furniture options. Plastic is much less durable than options such as steel or iron, but the cost differential is difficult to ignore. Consumers on a tight budget should research quality plastic options in order to save funds. Although not as attractive as other options, plastic does resist the elements as well as other options. Its endurance in concern to usage and weight, however, is not as adequate as most other options. For an affordable option, individuals are likely to see plastic as the go to option.
Garden Furniture Uses
The uses of garden table and chair sets range from purely decorative, to continually used party furniture. The scale of use of a set of garden furniture is an essential factor in determining which type of set to buy. Those who throw large parties, are likely to need much larger sets than those who simply desire a single chair for morning tea or coffee. Consider the facility in which the garden table and chair sets will be used, for it should be factored into any purchasing decision.
Garden Parties
Individuals who are more likely to throw large garden parties, may need a large table and chair set to accommodate their guests. Round tables are likely to be too small for such a need, but square and rectangular tables provide enough space for larger groups of people. When shopping for a table and chair set, those with larger groups in mind must look for a minimum of six chair. Another option is to purchase extra chairs through online marketplaces such as eBay.
Outdoor Family Dining
Smaller families looking for furniture to have a nice, quiet dinner in the garden, should consider a four-chair garden table set. These sets often include all the cushions needed for a small family. Round tables that are quite attractive, tend to be more than an adequate option for small family needs. One of the more advantageous elements of a family dining setting is that such sets tend to be quite dynamic in their construction. A four-piece set is easily placed anywhere in a garden or on a patio or conservatory.
Small Settings
A smaller setting that is large enough for only one or two people can be a quality addition to any garden. Even small apartments with minimal space are able to integrate a two-chair set into the overall aesthetic. A smaller scale ornate wrought iron chair and table set is an attractive inclusion to almost any garden setting. Although many utilise such a set primarily for decorative purposes, individuals can easily enjoy a morning or afternoon tea or coffee on such a table and chair set.
Extras and Accessories
Consumers who purchase a set of table and chairs for the garden without considering the accessories that go along with it are likely to be disappointed. An umbrella for such a set is essential in sunnier areas. Cushions for an outdoor table and chair set are especially important for those who purchased wrought iron, steel, or wicker furniture. A simple cushion can mean the difference between a horribly uncomfortable setting and an enjoyable party.
How to Buy Garden Table and Chair Sets on eBay
Purchasing a garden table and chair set can be quite difficult when restricted to brick and mortar stores. Online marketplaces such as eBay, however, offer a wider selection for any type of garden table and chair set desired. In order to start a search, consumers simply need to visit the eBay home page and enter in text such as "table and chair garden set". If such a search does not turn up the exact item desired, consider utilising the advanced search function offered by eBay.
Many listings on eBay offer lots, or bundles, of items that include everything you need to get started. Consider entering the word "lot", or "bundle", before a search term such as garden furniture in order to find a reasonable deal. Bundling chairs and accessories with a garden table allows consumers to make one purchase for all of their needs. Searching for items separately tends to be somewhat more difficult and even time consuming.
Conclusion
Through online marketplaces such as eBay, consumers are able to easily browse through hundreds of garden chair and table sets. Those who shop throughout traditional storefronts are likely to find a much more limited selection. No matter what avenue an individual takes to buy a garden set, understanding the choices that are available is essential to purchasing the right set. Whether intended for a small family outing, or a large party setting, there exists a garden table and chair set for almost every occasion.
Since the materials vary so widely in concern to garden table and chair sets, knowing the benefits and drawbacks to most choices can be quite helpful. Make sure to weigh the myriad of options before committing to any purchase. Gardens vary from home to home, and garden table and chair sets offer enough variety to accommodate nearly any style. Find the right set material, size and style, make an affordable purchase, and enjoy the great outdoors.