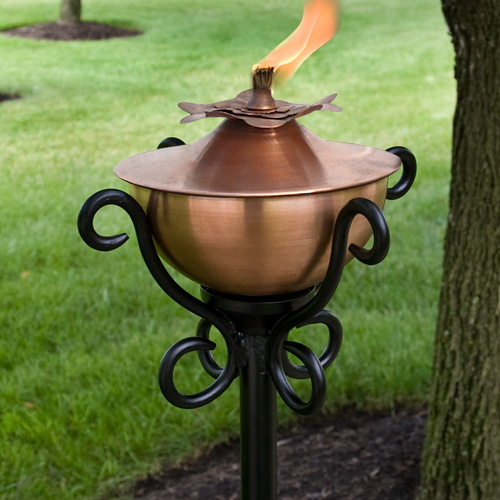 The garden be the perfect place for anyone to relax and unwind, not only during the day, but also after the sun goes down. As such, it is not uncommon to see people having dinner in their garden, or even entertaining guests with a party at night. To light up the garden at night and give it a special mood, many people use garden torches. Originally used to illuminate pathways and homes when electricity was yet to be discovered, the garden torch is now used mainly as a decorative item to bring light to gardens and patios of homes, and also to give a tropical island atmosphere to holiday resorts.
Garden torches are available in a large selection of styles and materials, so some people may find it difficult to choose suitable ones to light up their garden. By reading this guide, anyone looking to buy the perfect set of garden torches for their home can learn all they need to know about choosing a garden torch, and also how to purchase one from an online store such as eBay.
Brief Introduction to Garden Torches
Originally used to light up homes and villages, and even cities before the invention of the light bulb, torches were once an important appliance to have in every home. After the light bulb was discovered and it became the main technology to give light to houses at night, the humble flame torch was forgotten. However, these torches became popular again in the early 1900s when many beachside restaurants in California started using garden torches as decorations. Since these torches were also known as Tiki torches, beachside restaurants that used them later became known as Tiki bars. The simple garden torch then slowly gained popularity as people started using them to illuminate and beautify their gardens at night.
Use of a Garden Torch
A garden torch can play a big role in decorating one's garden. It is not only meant to be used as a way to provide light outdoors, but also to beautify the garden and add more excitement to the garden environment. Garden torches can be used to light up a patio or garden deck for a family dinner or to give a romantic ambiance to a dinner for two. A garden torch can also be used to light up the driveway up to the house or at a party to light up the pathway for guests and give a holiday atmosphere to the garden. These torches are also viable light sources to light up the perimeter of the house if one chooses to do so. There are various ways one can utilise garden torches, as they can not only be used as a practical solution to light up one's garden, but also as a way to decorate the home.
Factors to Consider when Buying Garden Torches
For anyone searching for suitable garden torches, there are many different types available. The traditional type of garden torch is the one made from natural materials such as wood and bamboo that uses oil to keep the fire burning. Now, garden torches come in various materials and use different types of fuel. Each type of torch has its advantages and disadvantages which one should consider before buying a garden torches.
Garden Torch Material
Garden torches can be made of many different materials. Torches made of wooden materials often have a wood, bamboo, or wicker lantern to hold the fuel and flame, besides a pole of varied heights to hold the lantern. Although the pole is usually made of bamboo, it can also be made of other wood types and rattan. Torches made with bamboo are often called Tiki torches as they have a tropical island look. Torches made of these materials can give a garden a natural look and make people feel like they are on an tropical island vacation.
Garden torches can also be made of metal or glass to give a modern look to one's garden. These torches can come in many different colours and can suit any environment or occasion. Someone looking for a set of garden torches to match his or her garden's colour theme usually has a better chance of finding metal and glass torches of various colours as bamboo torches are rarely coloured. Compared to bamboo and glass torches, metal garden torches are the most durable and can last for a longer period of time, even years. Glass torches, on the other hand, are fragile and can easily break if dropped on the ground. Therefore, they may not be very suitable for use when there are children and pets running around in the garden.
Garden Torch Styles
Garden torches normally have long poles and are placed outdoors on the ground. These torches may come in heights of one metre and above depending on the buyer's preferences. Tall torches can be placed anywhere on one's garden, and are great to illuminate the whole area. There are also short torches, known as tabletop or just table torches. These torches can be used to light up the table where guests enjoy their meal, or even on the ground to light up the path to one's house during a party. Tabletop torches are perfect to light up a small area of the garden for a romantic dinner or to light up tables and patios.
Garden Torch Fuel Types
Fuel is important to light up a garden torch. Buyers can choose from torches which use candles, paraffin oil, petroleum-based oils, and gas as fuel. There are also electric torches which, as the name suggests, use electricity. These torches do not have an open flame, but use light bulbs instead. Garden torches which use candles burn at a lower temperature and have a low risk of hurting people as candle fire is easily put out if the torch is accidentally knocked over.
The most common fuel for garden torches is oil. Oils commonly used as fuel are paraffin oil (kerosene), petroleum-based oils, and also citronella oil. Oil-fuelled torches burn hotter than candle torches, and can be more difficult to put out if an accident occurs. However, garden torches usually hold a small amount of fuel that poses a very small threat to people. Citronella oil is a special oil extracted from a plant, and it has a pleasant smell resembling that of lemon. This oil has insect-repelling properties and is often used in insect repellents. When used as fuel for garden torches, it can repel some insects including mosquitoes and fleas. However, citronella oil flames may attract other insects such as moths.
Gas-fuelled garden torches use propane gas to light up the flame. These flames burn the hottest and brightest. Therefore, they are suitable to be used to warm up a small area and keep a garden really bright. However, gas-fuelled flames are also more difficult to put out in case of an accident. Included in the table below is a summary of the different criteria to consider when buying a garden torch.
Garden Torch Criteria

Types

Materials

Wood

Wicker

Bamboo

Metal

Glass

Style

Tall torches

Table torches

Fuel

Paraffin (kerosene)

Petroleum-based oils

Citronella oil

Candle

Propane gas
When choosing a suitable garden torch for their homes, the buyers should consider the style of the torch and its fuel type. By choosing the right type of garden torch, they can ensure that their gardens are well lit, beautiful, and safe at the same time.
Purchasing a Garden Torch on eBay
eBay is a great place to shop for garden torches as it has torches of all materials, sizes, and designs available for sale. All you need to do to find the perfect torch for your garden is to type what you are searching for into the search bar, which is located on the eBay home page. For example, you can type in 'garden torches' or even 'blue garden torches' into the search bar. By using more keywords, you can make your search more specific and narrow down your search to obtain more relevant items. You can then look through the list of garden torches to find the one that you like. Look out for torches that come in a set as they are usually cheaper than torches sold separately. Alternatively, those which are on auction are also usually sold at a very low starting price.
After selecting the garden torch that you like, make sure you read all the information on the item page including the price, shipping fee, item condition, and return policy. If you are not sure of anything regarding the item, you can contact the seller directly by clicking on their name. If you are satisfied with the product, you can go ahead and purchase it.
Conclusion
While flame torches may have been made obsolete by the invention of the light bulb, they are now used as decorative items, and look great on anyone's garden. With some creativity, one can turn their garden into an exciting place surrounded by beautiful lights. Before purchasing a set of garden torches, readers should consider how they want their garden to look like. By choosing to use bamboo torches, readers can transform their garden into a night-time tropical island paradise, while using glass torches can provide the perfect ambiance for a romantic dinner.
The fuel used is also an important consideration to make. The most common fuels used in garden torches are paraffin, petroleum-based oils, candles, and propane gas. Besides that, readers can also use citronella oil if they also want the torch to act as an insect-repellent, especially mosquitos. With the information from this guide, one should be able to choose the perfect garden torch for their home. To buy a good set of garden torch, eBay is a great place to shop at as it has many types of good quality torches to choose from.