Layered / Plated / Clad Coins & Bars
Beware - these items are virtually worthless and should be avoided (unless for decoration) Many eBay sellers are listing items with descriptions that state you are buying .999 solid silver and only when you read through all the description you find that the item is not actually solid silver.
Always read the description carefully - if you feel the seller has deliberately tried to mislead you with the description or title then report them to eBay. Trying to grab a bargain in the closing seconds of an auction can be costly - always double check the description and if you are unsure, its probably better to stay away.
Remember that plated bars look identical to the real thing, so it's unlikely that you would be able to tell what you are buying just from looking. (see example below)
Don't trust the item specifics - I have seen many items that state they contain 1oz of precious metal only to find out that the item is plated when reading further into the description.
Avoid last minute bids if you have not checked out the item out - if you have time, ask the seller a question.
Remember that plated bars are worthless, the layer of silver they are covered with is very thin and you would never be able to recover the cost you paid.
I think eBay should be doing more to protect buyers and sellers of legitimate items. It's acceptable to sell plated and decorative silver bars or coins, but the way they are listed and described should be carefully looked at. Until then you need to be careful, buy from a reputable seller, and read the description carefully!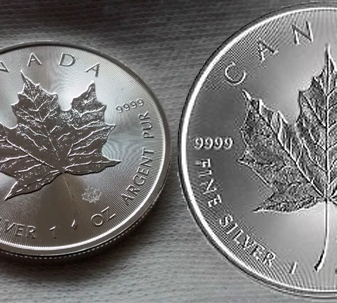 Canadian Maple Leaf Coins
If you would kindly excuse the bad use of Photoshop, the two coins to the left are an example of items listed on eBay as solid silver, but only one is solid silver, the other is layered (found hiding in the description).



In short, be careful and be smart. Follow the advice here and that of other eBay sellers to avoid paying a high price for a lump of worthless metal. Always double check before you press the bid button, if the seller doesn't do refunds and the description states it's plated - there's not much you can do!

Thanks for reading.