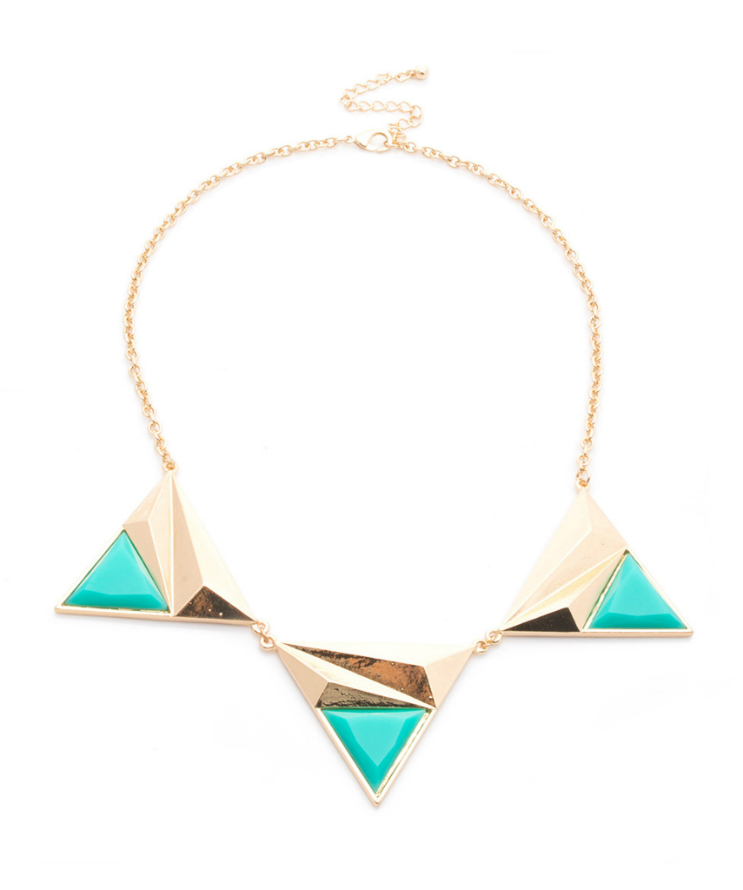 Regardless of one's opinion on their grade school math experience, runway designers have merged geometry and fashion in their jewellery collections. Women can make a bold fashion statement with an oversized, geometric necklace. Single, simple patterns are best suited for everyday wear. A geometric necklace is any type of necklace featuring distinct, flattened shapes. It can be made of one solitary shape, such as a thin gold chain threaded through a circular charm. Conversely, the shapes can be multi-coloured and enormous.
From triangles to oval, squares to circles, geometric necklaces can add a touch of style to any get-up. Shoppers must be conscious of the top's neckline, wearing a dangling necklace with a high-necked or collared shirt could be a fashion disaster. Coordinating with other jewellery requires following a few fashion rules. Whether buying for a special outfit or as a low key accessory, women must weigh several variables, including colour, size, and price to find the perfect geometric necklace.
Matching Geometric Necklaces with Outfits
Buying the right shaped geometric necklace involves knowing which outfits are complementary and which should be avoided. Geometric necklaces are often categorised by how they hang around the neck. Choker geometric necklaces fit closest to the neckline, pendant and bibs geometric necklaces rest a few centimetres lower, and chain geometric necklaces have the longest length. Additionally, chain necklaces can refer to a chain necklace with a geometric charm hanging from it or the geometric pattern is in the chain links.
In addition to choosing how the geometric necklace hangs around the neck, women should also consider how far down the shapes hang. Designs can be smaller than a centimetre and others can dangle past the bust line. Longer necklaces should be paired with bare necks. Women can pair a geometric necklace with a scoop of V-neck top or dress. Moreover, if wearing a geometric necklace with a complex pattern or brightly coloured ladies should choose a simple top. Mixing patterns can make the overall outfit appear too busy. Black, brown, and other neutral colours are best; however, if the necklace is neutral coloured, then women can couple it with a matching, solid-coloured top.
Finding the Right Geometric Necklace
The geometric necklace may have first been spotted on the runway, but there is a wide assortment available for all occasions, whether it is a night on the town or a day at the office. Women can choose by colour to match with particular outfits; others may have a certain shape in mind. If buying for a special dress or shirt, women must make sure the necklace lays correctly. Geometric necklaces are made from several types of materials, some of which are more expensive. Typically, metals cost more than enamel or resin necklaces. The sections below are designed to inspire buyers to find the geometric necklace based on search criteria.
Colour
Choosing the right geometric necklace often relies on having a certain colour in mind. Bright, bold coloured necklaces are a great focal accessory. Ideally, women should wear a solid dark or neutral tone shirt to really make the geometric necklace pop. Wearing a patterned or bold shirt takes away from the necklace's wow factor. On the other end of the spectrum, ladies who want that bright top should opt for a black, brown, blue, gold, or silver necklace. Moreover, while it is acceptable to pair white with other hues to form a multi-colour arrangement, a strictly white necklace is off limits for those with fair skin.
Design
Instead of colour, some women choose their jewellery based on the shape. The first choice women must make concerns the size of the necklace. The most basic geometric necklaces are a single, dainty shape, while others can have large pieces or intricate designs. A simple triangle geometric necklace can add the finishing touch to an elegant dress. Oversized or dangling pieces strung on wire or on a chain make a bold fashion statement. Another element women may want to choose is the actual shape. They can choose a geometric necklace with an oval, square, triangle, and rectangle pattern.
Material
The material list for geometric necklaces is as extensive as the number of available designs. The least expensive necklaces are typically made of resin. In addition to a reduced cost, resin geometric necklaces are available in nearly every colour of the rainbow. The one downside to owning resin necklaces is they can break if not taken care of.
Buyers who want colour but want something more durable should consider an enamel geometric necklace. Like resin, there is a wide variety to choose from, and many are multi-tonal. The brightly coloured enamel is typically paired with a metal, and gold, silver, and copper are three popular colours.
Strictly metal geometric necklaces have typically have holes where the enamel would be, although some are filled in. Some are adorned with gems and rhinestones, while some are more basic and are only a single geometric shape.
Length
Geometric necklaces come in an assortment of lengths, and the right fitting one often depends on the neckline of the outfit. The necklaces with a complicated design or large, dangling shapes look best with low cut shirts. Regular tee shirts or collared shirts often interfere with the way the necklace lays. All choker geometric necklaces are designed to sit close to the neckline. Bib and pendant geometric necklaces fit a bit more loosely. Dangles and chains typically hang the lowest.
Budget
Like any piece of jewellery, women should set a budget before they start shopping. Buyers can avoid overspending by selecting a geometric necklace within their price range. Like most jewellery purchases, customers get what they pay for in terms of quality. Ladies looking to stretch their dollar can opt for resin or alloy metal necklaces. However, women with a larger budget can opt for a gold or sterling silver geometric necklace, some even have precious gemstones, including diamonds, incorporated into the design. Enamel geometric necklaces are considered the in-between price. Many of these necklaces use metals to frame the enamel, but often times, they are gold or silver plated, and therefore, less expensive.
Accessorising with Geometric Necklaces
Ladies who simply cannot get enough of the geometric look should consider matching their necklace with other pieces of jewellery and accessories. Like any trend, top designers have defined a list of acceptable ways for wearing geometric necklaces as well as fashion faux pas. Women can subscribe to the following tips to ensure they are looking their best.
Keep It Simple
If the geometric necklace is the focal point of the outfit, then either wear a simple bracelet or earrings to match. Matching shapes is not essential; however, wearers should try and stick to similar materials. Rings are fun accessories, and the right chunky, geometric ring can really make an outfit pop.
Pay Attention to Material
Typically a bold-coloured, resin geometric necklace coupled with other accessories made of another material looks tacky. But pairing the right accessory, such as a brightly coloured pair of geometric earrings, and really pull an entire outfit together. Geometric bracelets are complementary to 3/4 length sleeve shirts; they range from inexpensive and resin to elegant and metal.
Hair
Women have a tendency to forget about hair accessories. Hair barrettes can be functional and hold hair in place, or fashion forward and fun. Geometric barrettes are inexpensive accessories, which is why women should have several style on hand to match with other outfits.
Buying Geometric Necklaces on eBay
After finding a geometric necklace that fits your criteria on eBay, take a moment to get to know your seller before proceeding. Veteran sellers have a history on eBay, and potential buyers can check out the approval rating and feedback to see how past transactions have been handled. High rating and positive comments are a good indication you will be doing business with a trusted entity.
Many sellers take the time to fill out an About Me section, and you should take a moment to learn more about the seller by browsing this page. Moreover, look to see if your seller has been ID verified. eBay cross checks seller's personal information with business databases to guarantee ID verified seller are who they say they are.
Top Rated Seller
Only the best sellers are awarded eBay's top rated seller status. Top rated sellers are recognised for their consistent and superior customer service and satisfaction. They have an exemplary approval rating, and previous customers rave how professional the service was.
Conclusion
Geometric necklaces have married mathematics with high fashion, and the results range from quirky to quaint. Pairing a chunky, bold coloured necklace with a solid neutral top can make the necklace the focal point of the outfit. On the flip side, ladies can opt for a brightly coloured blouse or dress with a black or natural coloured necklace. Women can also pair a geometric dress with similar jewellery; they should just take precautions and not overdo the look. Triangles or trapezoids, wearing a geometric necklace means taking into account to neckline of a shirt. Ladies with scoop or V-neck tops can make quite the statement with a bib or pendant style necklace. Collared or high-necked shirts would look best with a small and simple charm type necklace. Women of all ages and of various style preferences need at least one geometric necklace in their jewellery collection to keep up with the latest fashion.