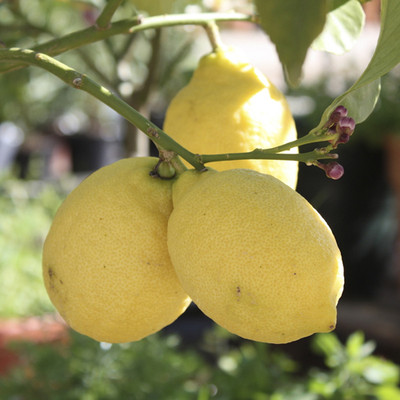 Care Instructions for Citrus Trees
Grow your own delicious citrus fruit right here in the UK with this easy-grow Orange & Lemon Tree guide. Deliciously juicy full-size fruits are not as hard to produce as you'd imagine, and you certainly don't need the sunshine of mainland Spain! A little time and effort and you can reap the rewards for years to come.
Citrus fruits such as orange and lemon trees are relatively easy to grow, and can be very rewarding indeed. However, they can be temperamental when the temperature, light or humidity changes rapidly, and they can shed a few leaves or fruitlets quickly. Do not worry, this is quite normal – they are robust trees and will recover.
They are fine outside from April to October, but will need some protection from frosts in the winter. Fleece covers will provide a lift above outdoor temperature of around 3°C or so, but below -5°C these trees are likely to die.
We'd recommend that you grow them in large pots that are 25cm or more in diameter, so they can be moved to shelter in the winter months. Use a few stones or crocks at bottom of the pot for weight and to aid drainage. Use good quality compost such as our Premium Professional Compost, firm down well with your heel, and water them in well to get them established.
In winter, move your trees to somewhere warmer – ideally somewhere with light, and above 10°C. Try to keep them somewhere where there is little variance in temperature, as this isn't ideal for citrus trees. If you can house them in your house, you will have the added benefit of their glorious citrus fragrance filling the room when they are in flower, but take care with central heating, as this will dry them out considerably.
Feed them well in summer with citrus feed, as they are sensitive to minor nutrient deficiencies – this is a bit like humans taking vitamin pills! Water them well between May and October, to aid growth.
In time, prune back any brown tipped shoots or leaves that may appear using good quality secateurs.
Fruit can take a full 12 months from setting to harvest, so be patient with your trees. It is natural for plants to set a lot more fruitlets, many of which drop off. The plant will select the strongest few to sustain to harvest.
If you need any further help, please message us. Happy Gardening!
The YouGarden Team