Some of the most common questions and misunderstandings of the playing cards used in today's poker games.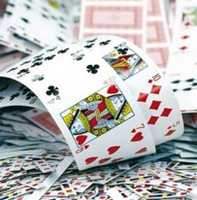 Why Plastic Playing Cards?
Plastic Playing cards are more durable, they do not crease, rip, mark or tear like paper cards, they spring back and retain their shape and simply out perform paper cards. Plastic Playing cards enhance the playing experience, last much longer than paper cards and as a result become more cost effective.
Copag has the reputation of being one of the worlds best playing cards. Manufactured in Brazil, Copag cards deliver the classic snap and feel of a paper card but with the durability and security only plastic cards can deliver.
Copag plastic playing cards are one of the most durable plastic playing cards in production.
Bridge v's Poker

It's all about the size. Poker (wide), Bridge (narrow) it is all down to personal preference. Off the shelf playing cards typicaly found in most homes are the standard width of (2.5"/62mm) and are commonly refered to as being poker size cards. Bridge sized cards are slightly narrower (2.25"/57mm) because as with games such as bridge the player is required to hold more than two cards in their hand at any one time.
This is where the confusion often begins. It is rare for a casino to stock both widths of cards, so the most commonly used ones are the narrower (bridge size) cards. There is no difference other than width so it is all down to your personal preference of which card you use for your home game, the most misleading part is in the name as most professional poker games are played with the narrow (bridge) cards.
Regular v's Jumbo

Once again as you would expect, it comes down to size. Jumbo Playing Cards have a larger type face font to depict the playing card suit and value, and the Regular Playing Cards have a much smaller type face font.
Jumbo cards are good on larger tables for everyone to see the flop, but have a negative effect on your hole cards as you need to expose more of the card to view its value, running the risk of exposing your hole cards to prying eyes.