Some of the most common questions and misunderstandings of the poker chips used in todays home poker games.
How Much Should a Poker Chip Weigh?
11.5 grams IS NOT the standard weight of a casino chip!
This is the single biggest misconception poker chip buyers have, and it's hard to blame them with all the confusing information out there. In fact, many poker chip retailers are even confused about this. The reality is that every chip in a Las Vegas casino today is between 8.5 and 10 grams.
In 2003 when the poker boom began, China started to produce plastic poker chips inexpensively and to prevent the lightweight feel they inserted metal slugs into each chip, thus ending up with a chip that was 11.5 grams.
The pitch became, "11.5 gram poker chips, just like the casinos."
Over the last few years manufactures began to distance themselves from the '11.5 gram' debate and started to produce there own heavier poker chips. You can now buy poker chips ranging from 10g, 11g, 11.5g, 12g, 13g, 14g & 15g, and as to which weight you should choose? It is all down to your personal preference, the weight, the feel and the sound are all factors as to why people choose certain brands of poker chips.
Clay, Ceramic, Composite & Plastic
As the old saying goes, "You get what you pay for".
Think of poker chips as cars, clay's are super cars & plastic are ... well plastic!
Price is the key factor. Authentic clay 8g Vegas poker chips cost around £1.00 per chip.
The average price for a good mid-range poker chip is around £0.10 - £0.55p.
Ceramic Poker Chips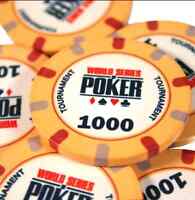 Ceramic poker chips are a ceramic or composite slugs that have graphics printed on them. The slug can have a variety of textures, but the most common is a smooth, but not slick, surface that allows for very detailed graphics/images and high stacking.
Injection Molded Composite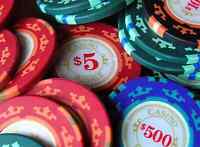 Composite poker chips are often marketed as 'clay composite'. These chips are made from a resin mixture injected into a mold, and will more than often contain a metal slug at the core to produce the weight.
Over the years this process has being perfected by many different chip manufactures and each one now has its own unique feel and sound when in play. Just like clay chips, over a period of time composite chips will soften and the sharp edges will round.
Compression Molded (Real Clay)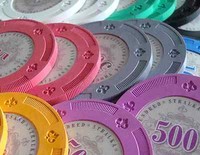 Many chip sellers out there sell their chips on the idea that they are 'real' clay chips.
As far as the PokerDog web site goes, the only chips considered 'real' clay are those formed by compression molding.
These are the chips you will find in casinos around the world. There are many nice injection-molded chips out there, but they are referred to as 'Composite' chips on this site.