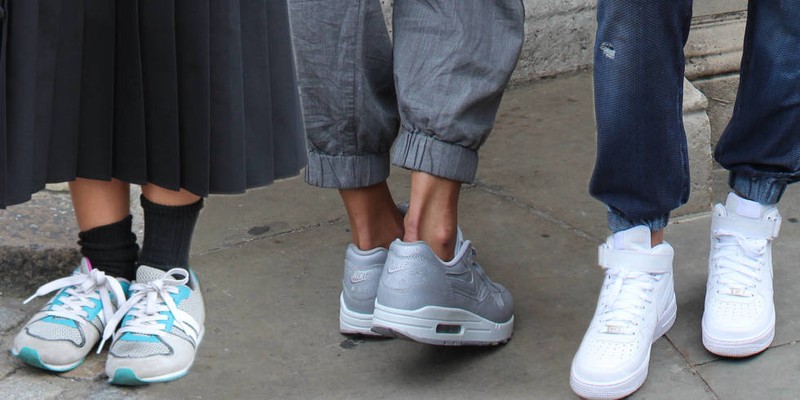 The fashion crowd and street stylers have long been wearing
trainers
in substitute for high heels, but ever since King Karl Lagerfeld sent models down the catwalk in them earlier this year they're now a certified trend.
However making the transition between gym wear and everyday fashion can be tricky so here's Express Trainers guide especially for women on how to perfectly style your sneakers, with special thanks to Karl Lagerfeld for making our feet happy again.
Step One – Choose a Cult trainer
Whether it's a classic
Converse low
, a
Samba Super
or an
Adidas Superstar
, choosing a cult status trainer will instantly win you street style points. A limited edited style is sure to get you noticed even further and a
Nike Air Max
Essential is the perfect place to start.
Step Two – Lose the Long Socks
To some, socks and trainers may seem like salt and pepper, jam and bread, vodka and orange, gin and tonic, we could go on but essentially two things that effortlessly go together. However, long or visible socks with trainers are a recipe for disaster and a big fashion no no. We're not telling you to go barefoot ladies, as shoving your feet into trainers without socks can turn things into a disaster. Opt for a lower-cut ankle sock or a skin coloured pop sock, both that are unseen to the naked eye and will keep your fashion credentials up top.
Step Three – Add contemporary cool to ladylike outfits
To perfectly compliment your trainers try the on-trend feminine midi-skirt. Ideal for creating a grown up, elegant look and an
unexpected pair of trainers
help keep your look contemporary. Try midi skirts made from leather or sheer fabric for a real style statement this season.
Step Four – Add a splash of colour
If you find yourself constantly turning to the safety of the all-black separates why not add a splash of colour with a bright pair of trainers? We're not talking neon here, a
simple pastel pair
will do the job. Keep the rest of your look simple and let your trainers do the talking.
Step Five – Wear a dress
Trainers with a dress will keep your look feminine, but only follow this step if the weather is kind and not blowing a gail. The casual vibe from the sneakers with a flowing or bodycon dress will give you the 'model off duty' vibe we all want!
Step Six – Wear Jeans (an obvious step that offers serious results)
Obviously denim is the easiest way of pairing your trainers but the most fashionable way to pull of denim and trainers is with a pair of high waisted boyfriends or skinny cut-offs. Team them with a pair of
Converse
or
Keds
to offer comfort whilst still maintaining a serious sense of style.