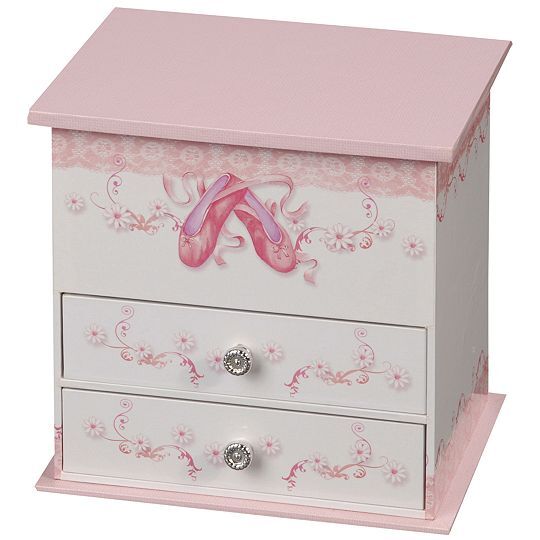 Just as people use a closet to keep their clothes neat and organised, a jewellery box is used to keep jewellery organised and in good condition. They keep necklace chains from getting tangled, metallic surfaces from getting scratched, and gemstones from being knocked around. Some large and heavy models are also used for security purposes and look more like safes than jewellery boxes. However, many of the boxes meant for girls are designed for decoration and practicality rather than safety.
A good jewellery box should be large enough to hold the entire jewellery collection with several internal compartments for organisation. Jewellery stores, toy shops, and online websites like eBay sell girls jewellery boxes, though the quality and selection varies considerably depending on where the buyer shops. When it comes to selecting girls jewellery boxes, customers should choose one based on its practicality, its compartments, and the overall appeal of the design.
Types of Girls Jewellery Boxes
There are two main types of jewellery boxes, and they are decidedly different from one another. Children's jewellery boxes are designed for very young girls who usually only own pieces of costume jewellery. Adult jewellery boxes work well as gifts for teenage girls who own several pieces of quality jewellery, teaching them how to be responsible with their necklaces, rings, and earrings.
Children Jewellery Boxes
Many women have fond memories of the first jewellery box they owned as a child. These children's jewellery boxes were designed more for entertainment than practical reasons. Many were musical; a classic example is the ballerina jewellery box that featured a spinning ballerina dancing to music when it was opened. They were not, however, designed for organisation. Some had a small section where rings were stored, but most did not have any dividers. Clearly, this style is adequate for pieces of costume jewellery that many little girls have, but it might not work well for pieces of fine jewellery.
Adult Jewellery Boxes
Adult jewellery boxes are meant to be practical rather than entertaining. This does not mean they cannot be beautiful, and many jewellery boxes are elegantly designed and painted. However, it does mean that they are made out of many internal compartments. There is an area for storing rings and another for bracelets. Some boxes that fold out even come with small hooks where owners can hang necklaces. They are meant for storing precious pieces of jewellery, but they are also more expensive than a classic children's box.
Choosing the Right Type
When buying a jewellery box for a girl, many parents are faced with the dilemma of choosing the correct type. The jewellery box should always fit with the collection of jewellery that a girl owns. For example, if a young girl only has costume jewellery, then the children box is a wise purchase. However, if the parents plan on buying their child a piece of expensive jewellery in the near future, or their child owns a couple pieces of fine jewellery like a golden ring or sterling silver necklace, then it is best to go ahead and get an adult jewellery box. Take care of the current collection, but also plan for the future.
Quality Jewellery Boxes
There are several factors that set high-quality jewellery boxes apart from their low-grade counterparts. Furthermore, there are also certain adult jewellery boxes that are not good purchases for girls. Understanding what makes a good jewellery box is the first step in purchasing the right item for any buyer.
Jewellery Box Frame
The frame of the jewellery box is what holds the entire piece together. Wood is by far the most available model of jewellery box found either in stores or through websites. This is because wood is exceptionally strong and it also does not react against metals, keeping them safe. Many wooden boxes are heavily painted or lacquered, giving them a beautiful finish. Others are only stained, leaving their surface natural and smooth. Any type of wood, other than particle board or plywood, is acceptable for jewellery boxes.
Leather Jewellery Boxes
Leather is another option for a jewellery box frame. As long as leather is properly cared for, it can last almost as long as wood. However, while this might make a good adult choice, parents need to ask themselves if their daughter is ready to take care of a leather box. If the surface is not periodically treated with a leather conditioner, for example, it may start to crack and become brittle.
Breakable Boxes
There are jewellery boxes made out of breakable materials like porcelain and glass. While these may look lovely, they are not always the best choice for a young girl. Even a teenage girl, or an adult, could accidentally break one of these boxes by bumping it. This is also an important consideration when it comes to internal mirrors, as they are easily breakable as well.
Jewellery Box Linings
Any jewellery box of even medium quality should be lined on the inside for protection. The finest boxes use padded sides covered by silk or satin. These materials are preferred over many others because their thin, smooth weave makes it almost impossible for chains or clasps to get tangled with the fabric. Traditional jewellery boxes for girls often use pastel fabrics, but vintage or retro varieties tend to offer bright colours such as red or purple.
Jewellery Box Compartments
Compartments are an essential feature for organising the jewellery inside the box. Low-grade boxes and children boxes usually only feature a single compartment, while more expensive boxes typically use many different drawers. At the very least, any jewellery box meant for holding expensive jewellery should have a separate area for storing bracelets and necklaces, as well as holders for rings. Large drawers with a multitude of internal dividers are meant for storing pairs of earrings. Choosing a box with multiple compartments is the best way to ensure that the jewellery is protected and organised.
Jewellery Box Size
Jewellery boxes come in many different sizes. Some are small enough to fit on a bedside table, while others are so large they need to be placed either in an armoire, or on top of a dresser. The largest models are freestanding pieces, these pieces usually work well with bigger jewellery collections. Keep in mind that a box should always be bought with plenty of room for the current collection to grow. Many girls who receive an adult jewellery box in their teenage years usually keep using it throughout their adult life as long as it is large enough.
Buying Girls Jewellery Boxes on eBay
Buyers can select from all different types of jewellery boxes when they shop on eBay. Sellers from all over the world list both children, and adult boxes for sale via eBay's online marketplace. You can purchase a modern jewellery box, or discover the perfect antique piece that is able to hold plenty of treasures. In order to discover all of the excellent products offered on eBay, you need to learn how to use the search engine first.
Searching for Jewellery Boxes
Start searching for jewellery boxes from the home page by typing your terms into the search bar. If you just want to browse the current listings, then search for 'jewellery box'. This produces all of the results for jewellery boxes, but chances are the list may be too large for comfortable browsing. You can limit the results by narrowing the terms even further, such as 'wood jewellery box' or 'musical jewellery box'. You can even search for boxes that hold specific items, such as 'necklace jewellery box', or 'earring jewellery box'.
Buying Used Jewellery Boxes
Many jewellery boxes in good condition make for great deals when purchased as gifts through eBay. As with any used item, the key is to making sure it is actually in good condition. Sometimes sellers only take pictures of the outside of the box, leaving you wondering what the inside looks like. There should not be any surprises when purchasing an item, so always ask the seller for a picture of the box's interior if one is not already available.
Conclusion
Jewellery boxes for girls are a gift that keeps on giving for many years. Whether the customer is shopping for a children box for their little girl who loves wearing plastic tiaras and necklaces, or they are trying to find the perfect box for their teenage daughter's birthday, eBay has exactly what the customer has in mind. The selection of boxes for sale is completely unmatched anywhere else, and even includes antique jewellery boxes that are often difficult to find. When purchasing a jewellery box, the customer should first determine what type of box is needed. Adult jewellery boxes require more thought than children boxes simply because they are more complicated and are typically built to last longer. Selecting a model based on its frame, lining, compartments, and size ensures that the box fits the needs of its future owner. A jewellery box is a gift that a girl who loves jewellery cannot do without.