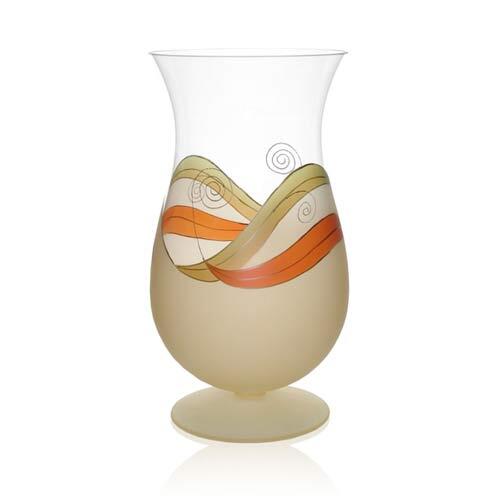 Glass is a beautiful and versatile decorating medium. A small cross-section of decorative glass styles includes; translucent pressed glass, brilliantly reflective cut crystal, deeply hued Depression era glass, and Carnival style iridescent multi-hued flashes of colour and form. Across the different eras of interior design styles, glass candlesticks have reflected the unique decorative taste of each period. Contemporary style includes glass candlesticks, glass candle holders, and coloured and fragrant candles that are an increasingly popular trend in home decor.
About Glass Candlesticks
Glass candlesticks are found in so many different styles, sizes, and colours that deciding upon the most suitable piece for home or special occasions can be a lengthy process. This guide provides a breakdown of major features and styles of glass candlesticks.
Types of Glass Candlesticks
People often confuse the terms candlestick, candleholder etc. so here is a brief overview of the distinctions between the major candle related pieces.
Type

Candlestick Shapes

Description

Candlestick

Candlesticks have a defined structure in 4 parts:

A socket or pricket, where the candle is held in place.
A wider circular piece that catches the wax drippings (sometimes this piece is removable), and is usually around the rim or just under it.
A long column (this is often ornately decorated).
A base to support the whole structure (often highly ornate along with the column).

Single stem

This is the standard shape of most candlesticks, and designed to take 1 slim tapered candle.

Double stem

These are designed to hold two candles in two separate sockets. The stem of the candlestick usually branches out into two separate arms. There appear to be quite a few on the market in Art Deco style glassware in particular.

Pillars

Pillars are taller and thicker than most other candlesticks, often standing a few feet high. Their chunky style lends itself to large thick candles rather than the slim taper of single stem candlesticks.

Chambersticks

Chambersticks are smaller than most candlesticks. They have wide bases and a handle. As the name implies, they were used to light the way up to a bed-chamber in the days before gas and electric lighting.

Candleholders

Any glass receptacle can be used as a candleholder. A vase, pretty drinking glass or specially made glass containers can be purchased to hold candles. Major points to consider are how they will protect the flame from blowing out, and whether they are relatively heat resistant, and can be moved as necessary.

Candelabra

Candelabra are multi armed candle holders and capable of holding three candles or more.
Choosing Glass Candlesticks
Deciding upon the right glass candlestick depends upon the decor effect being sought. This includes the type of glassware, e.g. cut crystal, colour, decorative patterns, and other special effects.
Glass Types
Glass making methods have changed radically over the years and these different methods have been reflected in the styles, colours and patterns of glass candlesticks. Following is a description of the major techniques and related glass characteristics to think about before purchase.
| | |
| --- | --- |
| Blown | Molten glass is formed by an experienced person using a blowpipe to form the basic shape of the glassware. |
| Cut | Special cutting tools are used to fashion and cut patterns into the glassware. 'Faceting' is performed similar to the cutting of jewels so that the unique reflective quality of the material is exposed. The surface of the glassware is also polished in this process. Cut glassware is usually quite solid and heavy. |
| Pressed | Pressed glass uses a technique where molten glass is pressed into a mould with a pre-set pattern. Pressed glass candlesticks can be found in a large number of different patterns and glass colours. They are characteristically quite solid, heavy pieces. |
Decorative Styles
There are many distinctive art and design styles of each era that are captured in glass candlestick designs. Many of these original antique and vintage styles are being reproduced in new modern glassware, so if an original piece is too expensive, it is possible to pick up a reproduction quite cheaply. A few of the more popular styles and their features are described here.
| | |
| --- | --- |
| Carnival Glass | Carnival glass is a variety of pressed glass, and is characterised by shimmering patterns with iridescent hues. They are not the most common glassware for candlesticks, but there are pieces out there in the marketplace. Uncommon colour combinations can fetch high prices in auction sales. |
| Depression Era Glass | Depression glassware is characterised by a clear or coloured semi-transparent quality. Many patterns and colours exist. Popular colours include clear, light pink, blue, dark green, the ever popular cobalt blue, ruby red, amber, amethyst, and milk glass (white). While not the most high quality glass, Depression era glassware is highly collectable and there is a big trading market for pieces. |
| Venetian | Venetian glassware is highly sought after, especially for rare colours like aquamarine. Made on the island of Murano, original pieces are of high quality and high-value. Techniques like filigree, enamel painting, glass and gold engraving are few of the special characteristics of these fine pieces. Candlesticks can be found but will not be cheap, unless they are modern reproductions. |
| Uranium Glass | One of the most intriguing glassware styles is Uranium Glass. Small amounts of uranium were added to the glass preparation before melting and shaping. These pieces have a glowing quality and can look spectacular in night settings. The amounts of uranium are very low and within safety levels and pose no dangers. Candlesticks are not common, but a keen enthusiast can hunt them down. It may just take some patience. |
Finding Glass Candlesticks on eBay
Tracking down the right glass candlestick on eBay is done by following defined menu paths, or by entering text directly into the Search boxes.
Menu Paths
There are several menu paths that can be followed to find glass candlesticks for sale. Deciding upon the most suitable menus and categories depends upon whether antique, vintage, or new glassware is being looked for. To pull up a list of glassware with some history and character behind it, first select the All Categories link on the eBay Home Page. Then select the Decorative Arts link under Antiques. On the results page, select the Choose more link under Product in the left-hand column. A pop-up a window is displayed, and the Candlesticks/ Candelabra checkbox should be selected, and then the Go button should be clicked. Now that all antique candlesticks are displayed, go to the Primary Material heading and select Glass to just have the glassware displayed. Next, have a look at the Porcelain and Glass area. Start at the All Categories page, find the Pottery, Porcelain & Glass heading, and click on the Glass link. On the results page, go to the Object Type heading in the left-hand column and select the Choose more link. Select the Candlesticks checkbox and then the Go button. Lastly, check out the mix of modern and vintage glass candlesticks in the Home Decor area. Starting at the All Categories page, find the Home, Furniture & DIY heading. Click on the More down arrow, and in the expanded listing click on the Home Decor link. On the results page, find the Categories heading and select the Candles & Tea Light Holders link. Now go to the Material heading and select the Glass checkbox to filter out the other materials.
Search text boxes
Enter text directly into the text boxes labelled Search that appear at the top of each eBay page and enter the term 'glass candlestick' to bring up a comprehensive listing.
Conclusion
Glass candlesticks bring sparkle and elegance to home decor, even without lit candles. They are typically used to grace dining tables, sideboards, and mantelpieces. An enormous range of glassware styles, colours and patterns are available to choose from, and their use in the home, or for festivities like wedding banquets, is only limited by the imagination of the decorator.