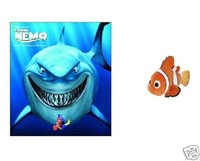 If you have been to DisneyWorld and seen Nemo the Musical then this CD is definitely for you - all those half remembered songs, music and lyrics suddenly come to life again.
Be prepared for your children to start serenading you with "Go with the flow" "In the big blue world" "Just keep swimming" and other memorable numbers from this musical's score - my 17 year old certainly did - i-pod plugged into ears and singing along to the lyrics!
A great CD and highly recommended - the whole family can join in on long car journeys .....
Tracks are:
1 Prologue
2 In the Big Blue World
3 The Drop-Off
4 Dory's Ditty
5 Sharks
6 Fish are Friends, Not Food
7 Where's My Dad?
8 The Tank Gang
9 We Swim Together
10 Dory and Marlin
11 Just keep swimming
12 Not My Dad (reprise)
13 Go with the Flow
14 Gossip
15 That's my Dad (reprise)
16 Darla!
17 Sewage Treatment Plant
18 We Swim Together (reprise)
19 Finale - In the Big Blue World (Reprise)
Having trouble finding a copy in the UK .... try searching including international sellers - there are usually several available from the USA and these can be listed under the category: Collectibles > Disneyana > Contemporary (1968 - Now) > Records, Tapes, CDs - so won't show up if you are looking in the general Music and CD section.
Good luck finding your copy and Happy singalong listening!