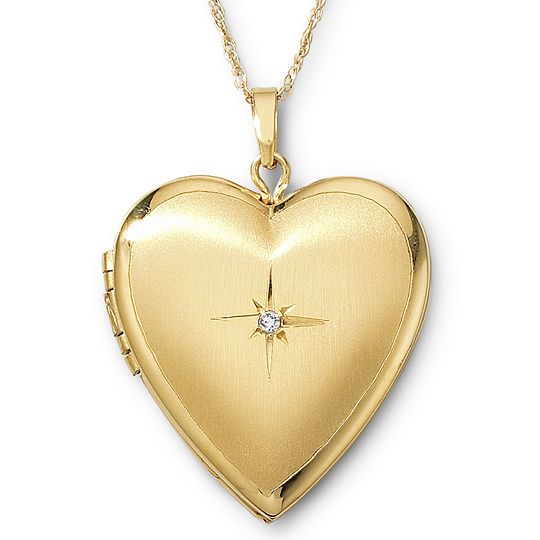 Gold is a dense, shiny, and ductile metal represented by the symbol "Au" on the periodic table of elements. Because gold is typically durable and resistant to rusting and tarnishing, it is often used in timeless pieces of jewellery, such as a locket. Lockets are pendants that open up into two halves, creating a very small storage space. Lockets have been around for centuries and were used for carrying a variety of items such as powder, poisons, good luck charms, hair, and ashes. Today, gold lockets are usually used for carrying around small keepsakes, such as photographs.
Although gold lockets have been around since the Victorian Age, they still maintain their popularity today. Gold lockets can be purchased in jewellery stores, department stores, and online from merchants such as eBay. Before purchasing a gold locket a consumer should take into consideration the types of gold, characteristics of gold lockets, and the gold locket jewellery choices that are available.
Types of Gold
Gold is one of the first known metals. It is a great material for jewellery lockets because it typically does not rust, tarnish, or corrode, like some other precious metals do. Because pure gold is too soft to be used in jewellery, it is mixed with other metal alloys such as silver, copper, and zinc to create the gold jewellery pieces that consumers are familiar with. The types of gold available for jewellery lockets are categorised by colour and karatage, which in turn depends on the amount of each metal alloy present.
Gold Karatage
Karatage is a number that generally ranges from 10 to 24, and identifies how much actual gold is present in a piece. The karatage measurement is denoted by the letter "k". Further, karats are expressed in fractions of 24, making an item that is 100 per cent gold equal to 24 karats. Fine jewellery is typically 18 karats, while less expensive jewellery is closer to 14 karats. The following chart helps better explain the gold karatage options available so a buyer can make the most informed decision when searching for a gold locket.
| Gold Karatage (k) | Per cent Gold | Suitability for Jewellery |
| --- | --- | --- |
| 24 | 100 | Too soft for jewellery |
| 22 | 97.1 | Very soft, not recommended for jewellery |
| 18 | 75 | Recommended for fine jewellery |
| 14 | 58.3 | Recommended for jewellery |
| 12 | 50 | Not acceptable for jewellery |
| 10 | 41.7 | The lowest karat that is still considered real gold, not acceptable for jewellery |
While the choice is ultimately up to the consumer, the karatage for a gold locket should fall somewhere between 13 and 21 karats. A more ideal range is between 14 and 18 karats.
Colour
In addition to karatage, the colour of gold is also a factor to consider when looking to purchase a gold locket. The colour of gold depends on the metal alloys present in the gold, as well as what per cent of each of these metal alloys is present.
Yellow Gold
Yellow gold is usually mixed with metal alloys such as copper and zinc. The higher the karat, the more yellow the colour. Yellow gold is the traditional colour that most consumers are familiar with when they think of gold jewellery.
White Gold
White gold is usually a combination of gold, silver, and palladium. Naturally, white gold usually has a slight yellow hue to it. As a result, white gold is usually plated with rhodium to help enhance its white colour.
Rose Gold
Rose gold has the largest per cent of copper alloy present. The large portion of copper alloy is what gives rose gold its pink hue.
Different Characteristics of Gold Lockets
Gold lockets have a variety of different characteristics. Consumers can choose from various shapes, designs, and sizes, as well as special features such as engraving.
Shape
Gold lockets come in a various shapes. While the possibilities are virtually endless, the most common gold lockets are oval-shaped, heart-shaped, square-shaped, and circle-shaped. Because of their simple shape, oval and circular lockets are the best choice for consumers who wish to place photographs inside of their gold lockets.
Surface Design
Gold lockets either have a simple smooth surface or are extremely detailed in design. Generally, the price of the locket will increase as the complexity of the design on the surface of the gold locket increases. Additionally, gold lockets can often be custom-designed to fit a consumer's needs. Further, gold lockets can come with jewels or other precious stones embedded in the surface of the outer half of the locket. Similar to the shape of a gold locket, the designs available on the outer half of the locket are infinite.
Engraving
Most gold lockets can be customised with a personal engraving of the buyer's choice. Engravings can be placed on the inside or outside of the locket. Although it ultimately depends on size, as a general rule, consumers should consider an engraving that is in the area of 12 letters or less to ensure that the inscription is readable. The length of the inscription will also depend on the typeface chosen. Because of the small space available for engraving, a lot of consumers choose a monogramme or a short name as the content of the engraving.
Size
Lockets can come in all different sizes, but generally range from just under 1.90 centimetres to just over 2.54 centimetres. Gold lockets that are under 1.90 centimetres are typically referred to as petite or small lockets. A gold locket that is between 1.90 and 2.54 centimetres is considered a medium or large locket. Anything over 2.54 centimetres is considered extra large in size. These descriptors are particularly helpful when shopping for a gold locket online.
Gold Locket Jewellery Choices
Gold lockets can come in a variety of different jewellery choices from a fine necklace to a ring. A consumer should consider what piece of jewellery they are searching for in order to narrow down the choices of gold lockets available.
Necklace
Most people think of a necklace when they envision a gold locket. This is probably because necklaces are typically the most popular jewellery choice to feature a gold locket. This popularity stems back to the original use of gold locket necklaces in the Victorian Age. Most gold locket necklaces hang on a simple gold chain, so as not to take away from the gold locket itself.
Bracelet
Gold lockets are also available as part of a bracelet. Bracelets features lockets by incorporating the gold locket in a toggle, as a single charm, or as one of many charms on the bracelet band. Bracelets featuring a gold locket are e a great gift for someone who already wears a signature necklace.
Ring
Rings are the least popular choice when looking to purchase a piece of jewellery that features a gold locket. That being said, a consumer who is interested in purchasing a ring featuring a gold locket face still has that option available. Rings with gold lockets are both chunkier and flashier than a typical fine jewellery ring.
How to Buy a Gold Locket on eBay
Whether buying a gift or purchasing a gold locket for yourself, there are a variety of things to consider before diving into the buying process. You must decide on the type of gold you are looking for, the characteristics of the gold locket you desire, and the piece of jewellery for which you would like the gold locket to be incorporated. eBay has many purchasing options for gold lockets including necklaces, bracelets, and rings. Perhaps you are looking for a gold locket necklace. To see what eBay has to offer matching this description, navigate to the eBay website. Once on the eBay home page, simply type 'gold locket necklace' into the keyword search. A list of items matching this description will be populated for you.
While surfing the eBay website for gold lockets, pay attention to those sellers who are listed as Top-Rated sellers. Top-Rated sellers must consistently earn five-star ratings from buyers and complete at least 100 trouble-free transactions per year. These five-star ratings are based solely on buyer feedback. Additionally, eBay continuously checks up on Top-Rated sellers to ensure they are maintaining their qualifications. Identifying Top-Rated Sellers is just one way eBay helps make the gold locket buying process easy and worry-free.
Conclusion
Gold lockets have been used as fashion items since the early Victorian Age. Since then, they have evolved to be part of not only necklaces but also bracelets and rings. While most gold lockets are no longer used for holding items such as poisons and powders, they are still used to keep cherished keepsakes, such as photographs and locks of hair, close to an individual.
A buyer should consider a number of things before embarking on a quest for a gold locket. First, gold lockets come in different karats and different colours. Additionally gold lockets come in a variety of shapes, designs, and sizes. Gold lockets can also be personalised with special engravings. Finally, gold lockets can be incorporated as a part of a necklace, bracelet, or ring. A gold locket is a great gift to oneself or another, as it is a timeless jewellery piece that is durable and versatile.