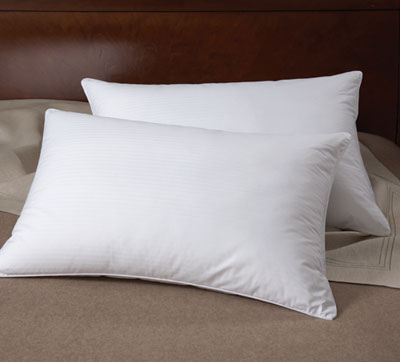 Goose down pillows are soft and supportive and many people prefer them to other types of pillows because they offer an increased level of comfort for sleeping. As their name suggests, these pillows are filled with goose down, which is a fluffy layer under the feathers of geese that keeps them warm. Buyers should be aware that some people are allergic to this type of insulating material, so they might need to look for an alternative if this is the case.
Goose down pillows can be bought in numerous department stores and also online, on websites such as eBay. When shopping for goose down pillows, one should take into account a few characteristics, related to size, style, and loft. All these can help in making the right choice, so being informed about the most important characteristics of goose down pillows can help buyers get good value for their money.
Goose Down Pillows Characteristics
Goose down pillows are filled with soft down feathers and in most cases they are very warm and soft. Moreover, they retain their supportive properties for extended periods of time, unlike pillows stuffed with synthetic materials. For this reason, goose down pillows tend to be more expensive than other types of bedding.
Down pillows should not be mistaken for feather pillows. When feathers are used as stuffing for pillows, the result is a flat pillow that has the tendency of losing its structure easily. Moreover, feather can easily poke through out of the pillowcase, becoming uncomfortable for the person sleeping on such a pillow. By comparison, down pillows hold their shape better over time and are much more softer. For a less expensive alternative, buyers could opt for pillows stuffed with a blend of down and feathers, even though these may not offer the same level of comfort as pure down pillows.
Because both feathers and down are natural products, some people are allergic to them. This may also be the case for pillows containing down or feathers that have not been cleaned properly. Buyers who are allergic to feathers but want to enjoy the benefits of goose down pillows should take into account the hypoallergenic versions. These usually feature special covers that do not allow any particles to escape from the pillow.
Things to Look for When Buying a Goose Down Pillow
An important thing to take into account when buying goose down pillows is loft, a number that refers to the amount of cubic inches that can be filled with one ounce of down. Loft starts at 300 and goes up to 900. The higher this number is, the more expensive the pillow becomes. High-quality goose down pillows usually feature a loft of over 800. In order to be qualified as a goose down product, a pillow should have at least 75 per cent net down. Buyers should pay attention to the manufacturer of a pillow before purchasing it. Only reputable manufacturers should be taken into account when shopping for such pillows, because counterfeiters may use feather waste or synthetics instead of real goose down, which can make the quality of a pillow drop significantly.
The firmness of a pillow should also be considered when shopping for goose down pillows. Usually, this is mentioned in the product description when shopping online. Those who prefer to shop in department stores can check the firmness before buying a new goose down pillow. Buyers should pay attention to the way they sleep in order to determine which type of pillow would be better for them. For instance, those who enjoy sleeping on their stomach may need fluffier pillows than those sleeping on their back, because they do not need much support for their head and neck.
How to Care for Goose Down Pillows
Quality goose down pillows can sometimes be expensive, especially those made of 100 percent of goose down. For this reason, buyers should pay attention to the way they care for them. Down pillows tend to become softer and flatter over time and many of them have a 'break in' period. This depends on numerous factors such as the way the pillow is used and humidity. With proper care, a goose down pillow can retain its characteristics for many years.
The simplest way to care for such a pillow is preventing it from getting dirty in the first place. Using a pillowcase at all times is ideal for keeping away dust, dirt, and body oils. In order to keep the pillow fluffy, one should shake it on a regular basis to redistribute the down. As for washing, many manufacturers recommend that goose down pillows should only be dry cleaned, but they can be washed at home as well. The only problem comes with drying, which can take several hours. Failing to dry the pillows completely may result in dampness, which can ruin a goose down pillow.
High temperature may damage the stuffing, so buyers should make sure the electric dryer is set on a medium temperature. In order to prevent bunching and making pillows fluffy, a tennis ball can be placed in the dryer together with the pillows. For stubborn stains, one can use soap and a soft rag for spot cleaning. Buyers should always make sure the pillows are in good condition, with no holes or rips in the fabric when washing them by machine.
Buying the Right Size of Pillow
Choosing the ideal pillow size is important for a good night's rest and one should take into account the size of their bed as well as the way they like to sleep when choosing the size of a goose down pillow. Standard pillows feature two dimensions, the length and the width, and it should not be too difficult to choose the right size. For example, a single pillow would be a good choice for a twin bed, while for a king size, two king size pillows would be a good idea. The table below can be helpful when it comes to choosing the right dimensions for a goose down pillow.
| | |
| --- | --- |
| Type of Pillow | Dimensions of the Pillow |
| Cot Bed | 36 cm x 58 cm |
| Small Square | 40 cm x 40 cm |
| Standard | 50 cm x 75 cm |
| Large Square | 65 cm x 65 cm |
| Super King | 50 cm x 90 cm |
Thickness is also important when considering the size of a goose down pillow, even though the majority of manufacturers do not add this third dimension to their sizing information. This is related to the quality of the pillow and those who prefer to sleep with their head slightly elevated should choose a thick pillow.
How to Find a Goose Down Pillow on eBay
To buy a goose down pillow on eBay, start by typing the words "goose down pillow" into the search bar and you can then browse through many styles available from dozens of sellers. You can also choose to refine your search according to your particular preferences in order to minimise the time you spend looking for a pillow. For instance, you could narrow the results by size, price, colour, or location.
When you are browsing for a goose down pillow on eBay, you should always read the product descriptions provided by the sellers in order to find out more about the type of down, loft, and firmness of a pillow. Most products feature detailed descriptions, so you should take your time to go through them in order to make an informed choice. You should also consider the location of the seller before committing to buy, as this may influence the delivery fees significantly.
Being wary of counterfeit products is important when shopping for goose down pillows on eBay. You should always pay attention to the seller's reputation when shopping and remember to check out the manufacturer of the pillow before buying it. This way, you can protect yourself from low-quality items that may not contain the right amount of down. It is also a good idea to check out the return policy of the seller, in case you need to send the item back and get an exchange or a refund.
Conclusion
Goose down pillows are popular because they are high-quality bedding items that can make one's sleep better. They are available both in regular high-street stores and online and one should be careful about several characteristics before buying such a pillow. It is important to consider both the preferred size and the way one likes to sleep. In addition to that, one should also take into account the loft and thickness of a goose pillow.
One of the best ways to shop for a goose pillow is to browse through as many styles as possible before buying one. This way, buyers can have a look at all the important details and purchase a pillow that actually fulfils all their requirements. eBay is an excellent place to do so, because of the massive selection of goose down pillows available on the website. Regardless of the size and style one is interested in, chances are they can find their ideal goose down pillow on eBay.