---
WHICH ONE TO CHOOSE?
In the worktop manufacturing industry, the two extremely popular types of material to use are granite and quartz. However, knowing which one is better suited to the purpose of providing an attractive, practical centrepiece for your brand-new kitchen is a very confusing process. This guide aims to provide a straight-forward comparison to help you decide which material is right for you - be it quartz or granite worktops.
THE FORMATION OF GRANITE AND QUARTZ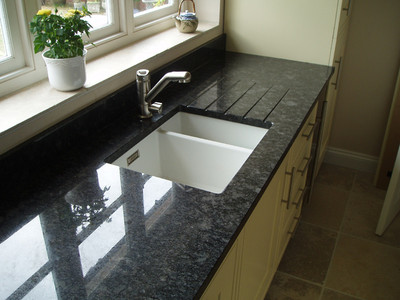 The first step most people struggle with is recognizing how these two materials are made. Both come from natural sources. Granite is an igneous rock formed hundreds of millions of years ago when molten magma below the Earth's crust rose to the surface where it cooled rapidly and large crystals were formed, locking the granite in place and giving it a crystalline structure. Quartz is a by-product which develops in many different rocks as they form, including granite. However, as it develops in the majority of different types of rocks, it is the more common mineral compared to granite in terms of quantity on Earth. However quartz develops in tiny amounts each time on each individual rock whereas granite occurs in much chunkier pieces of around 100km
2
.
PHYSICAL PROPERTIES OF GRANITE AND QUARTZ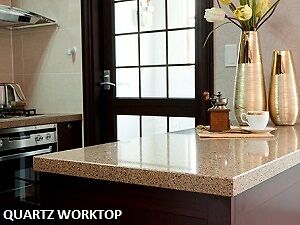 This tells us something about the properties of
granite worktops
and
quartz worktops
and why they are useful to use in the worktop industry. Both have crystals in their structure making them more durable and hard wearing, meaning granite kitchen worktops or quartz kitchen worktops have the strength to be long-lasting. Indeed, both granite worktops and quartz worktops are stronger than stone and are considered some of the strongest substances on Earth.
Also, both
granite kitchen worktops
and
quartz kitchen worktops
are very scratch and stain-resistant so are easy to clean. Also the cleaning procedures on both are quite simple with both only requiring a damp cloth and water to keep clean. However, cleaning products can be used on quartz kitchen worktops to keep it clean but on granite kitchen worktops detergents cannot be used as they can discolour the stone.
THE ACTUAL DIFFERENCE
However there are some differences between the two types. Granite, due to it being tough (and rare!) is generally harder for people to work with and manufacture whereas Quartz is more common and easier to work with so it can be cheaper to have quartz worktops made as opposed to granite worktops.

Another difference between granite countertops and quartz countertops is shown in the stylistic differences. Granite is an all-natural product which develops over hundreds of millions of years and the stylistic elements of granite develop over this time as well i.e. the colours used in the granite for granite kitchen worktops are there because of the minerals that are coincidentally in the same granite deposit, giving it that particular colour such as magnetite and garnet. However quartz kitchen worktops have to go through a process of reconstitution-mainly due to the fact it is produced in smaller quantities. This process involves the small pieces being mixed and forcibly joined together with an oil based resin at a composition of 93% - 7%. This means though quartz is natural it can be classed as artificial and as such the quartz can be adapted to fit any colour e.g. Kenai Pear, Mont Blanc Snow etc and are made by a wide variety of suppliers such as Samsung. However, that's not to say Granite Worktops do not look pleasing to the eye as the minerals can create exquisite effects for every kitchen.
YOUR PERSONALITY, COLOUR AND PRICE
Therefore, there are advantages to having both quartz kitchen worktops and granite kitchen worktops. Both are hard-wearing and last for years to come without needing to be replaced. They are scratch and stain resistant and are fairly easy to clean as well. The only real difference therefore is the colours, the price and also the person buying them and their personality. If a person wants a cheap worktop or ones with very modern and contemporary colours then quartz worktops are definitely the product to go for whereas a person who may want a more expensive worktop or one that is more natural-looking then having a set of granite kitchen worktops may be a more suitable choice.

If you would like to find out more about Granite and Quartz, then National Granite Centre dot com will be happy to assist you.