Granite Vs. Quartz
For further information see us at
The Granite House in Bicester
This article deals largely with the differences between the naturally occuring stone - granite and the engineered stone - quartz. There are other materials available that can be used for similar applications ie marble, sandstone, slate, but since granite and quartz are by far the most popular for kitchens, it is these we will focus on here.
Where do they come from?
Natural stone is mined from the Earth in large blocks and then cut into slabs much like a loaf of bread. Engineered stones are actually man made, but contain 91% to 97% natural constituents, mostly Quartz crystals. Engineered stones then have colours, binders, resins and other small ingredients added for colour and consistency.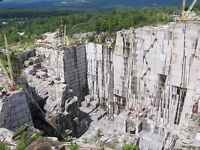 Rock of Ages Quarry - Barre, Vermont
Price
The price of quartz vary both with brand and the colour. Granite varies only because of the colour, the largest influence being the country of origin and geographical location. Typically a mid range quartz has a price point that is not far from a mid range granite. There is an upper limit on quartz prices, but granite or similar substances can run into semi-precious rock prices on extreme high end installations.
Is there a difference in strength?
Yes there is. Engineered stone is much stronger than granite, however breakages only normally occur during fabrication or transport and so is a problem for your granite workshop, not you. A good granite workshop will put strengthening bars in the underside of weaker pieces of granite.
Consistency
Both granite and quartz can vary from batch to batch, though variance is far more likely and generally more pronounced in granite. Granite colours shift throughout a mine becoming darker or lighter both with lateral movement across the mine face and as the mine becomes deeper. The variation of the slabs that have come from the same block is usually undetectable. Quartz hues's can shift a little between batches, this is much less common with the established brands than it is with cheaper far eastern imports.

Durability
Both materials are well suited for the kitchen, with granite having been used for hundreds of years. Granite is porous and so has to be sealed well, with a good quality sealer. A good granite shop will use a high quality sealer, the best of which comes with a 15 years guarantee. Quartz is non-porous and so extremely difficult to stain with a liquid. Granite can on occasion be susceptible to acid attack, quartz less so. Quartz is also harder and more scratch resistant.
Drawbacks of Granite
Granite surfaces do need sealing well. On the occasions where granite is damaged and a replacement pieces is required, it can be difficult to find a precise match.
Drawbacks of Quartz
The biggest complaint about quartz is that if something does manage to scratch or somehow deface the surface of our countertop, it is difficult to repair invisibly. Granite can be filled and surface polished to much better effect, often resulting in invisible repairs to minor chips and scratches.
Look and Feel
There is a much wider range of colours and styles to choose from in granite than in quartz. Slabs have more 'movement', depth and a randomness about their patter, that is unobtainable in quartz.
For further information see us at The Granite House in Bicester
Article written by Tim Rotherham, Director of The Granite House Ltd in Bicester. Dated 1st October 2011