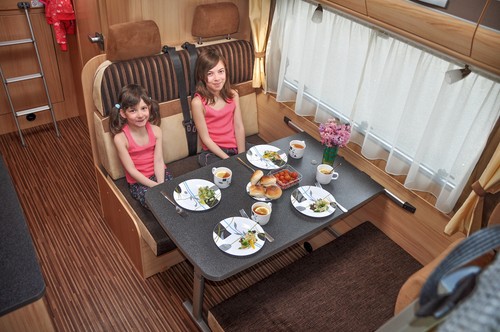 Like the flooring in the house, the carpet inside a caravan can become worn out just as easily. In fact, if the caravan is used often, it usually wears out faster because the pathways are smaller so there are fewer places for people to walk on it. During bad weather, the carpet can suffer even more because the owners are tracking mud, dirt, and rocks inside.
New caravan carpet can do several things for the interior of the van or motorhome. It enhances the look of the interior, makes the caravan appear newer, and raises the value of the vehicle. Carpet is also the most popular option for caravan owners because it makes the interior feel more like a home, it is comfortable to walk on without wearing shoes, and it is less expensive than investing in vinyl or hardwood. The downside of installing carpet is that it does regularly need to be cleaned.
Selecting carpet to purchase is a fun process because buyers get to shop around and select the colours and styles that they like best. The only technical considerations include the price as well as the construction of the carpet. Since this flooring is likely to be worn down quickly again, it is a good idea to select carpet with high durability.
Measure the Area
Before looking for carpets, be sure to measure the flooring area. Take a blank piece of paper and draw an outline of the space as accurately as possible. Then, measure each wall or barrier and mark its length on the line that represents it on the drawing. Once this is done, figure out the area of the space.
Rolls vs. Pre-Measured Carpet
When putting carpet inside the caravan, people can choose between larger rolls of carpet that are installed by a professional, or pre-shaped carpet that is made specifically for their caravan. The pre-shaped ones easily come out and can be cleaned outside of the vehicle. These are ideal for the smaller vans. However, the larger motor homes need a roll of carpet unless the owners just want to get a strip of carpet to go down a walkway. The strips of carpet, which are more like rugs, can match the existing carpet while also protecting it from damage.
Caravan Carpet Construction
Caravans are just as fun to upgrade and decorate as houses are. However, the quality of the products still needs to be taken into consideration. There are multiple kinds of carpeting to choose from that range in quality.
Nylon Caravan Carpet
Nylon is the material that is most often used to make carpets. It is easily dyed, holds its colour, and it stands up to wear and tear pretty well. However, nylon does have a tendency to stain. It can be made with stain resistant coating, though. The cost varies based on petroleum prices, but it is usually reasonably affordable.
Polypropylene Caravan Carpet
Polypropylene is a yarn that is inexpensive. Unfortunately, it is hard to dye and it does not last as long as other carpet materials do. The threads also tend to mat down easily, but when woven into a small-looped berber carpet, it holds up better. Polypropylene is stain resistant to most things except anything that is oil-based.
Wool Caravan Carpet
Wool is a high quality material that is very durable. It is easily dyed and is usually mixed with other synthetic materials such as nylon to keep the price down. The most common blend is 80 percent wool and 20 percent nylon or other synthetic fibres. Even as a blend, though, wool is still a more expensive choice.
Polyester Caravan Carpet
Polyester (PET) became more popular after the 2000s when the prices of other raw materials went up. PET works well for carpet because it is relatively stain resistant. This carpet is very affordable but is usually sold as lower or mid grade quality because it has the tendency to mat down and form traffic patterns.
Acrylic Caravan Carpet
Acrylic is another synthetic material that has been around since 1941. It has changed alot over the years because it used to fuzz and pull apart easily. Now these problems have pretty much been taken area of and it is rising in popularity due to the fact that it looks and feels a lot like wool. The process of dying it is difficult, but once the colour is infused, it stays.
Styles of Caravan Carpet
Carpets can be woven together in many different ways that gives each one a different look. Certain styles last longer than others, while some feel more padded and comfortable.
| Styles of Caravan Carpet | Description |
| --- | --- |
| Cut Pile Berber | This carpet is thick, plush, and comfortable. Usually it is blended with flecks of colour to add dimension and make the space look more modern |
| Frieze | Frieze is a more casual carpet with thin, tightly twisted yarns. It is more contemporary, but not overly so. The carpet is also very durable and is resistant to traffic patterns. |
| Knotted | Knotted carpet is very tight and has a flat surface. It is used mostly on area rugs. |
| Loop | Loop carpet is tightly woven to resemble more of a mat. There are no loose strands which gives it a sophisticated, yet durable appearance. Because it is already matted tightly down, traffic patterns take longer to form. |
| Pattern | Patterned carpets come in all kinds of varieties. They feature cut and loop construction that allows the designs to be woven in. They can be anything from simple squares, to intricate leaves. |
| Saxony | Saxony is very fine, soft, and delicate. It is usually used in formal rooms where there is not a lot of foot traffic. The carpet has a very refined look, but is not very durable. |
| Texture | Textured carpet is the best at hiding footprints and vacuum marks due to the varied height carpet strands. It also gives the space some dimension. |
| Woven | Woven carpet is made on a loom and can be either plush or berber. There are multiple styles that can be made with this method. However, berber is going to be the most durable. |
Keep in mind that these styles of carpets are used mostly in the larger caravans because they usually come in rolls. The carpet that goes into a motor home is the same that would go into a building.
When it comes to carpet choices for vans, the carpet options themselves are pretty much the same except for the shape of the cut and its colour.
To select the colour, look around at the inside of the caravan. If there are any existing non-neutral colours such as red or blue, stick with the earth-tone coloured carpets. However, coloured carpets can be chosen if the area is pretty much void of colour.
Find Caravan Carpet on eBay
Shopping for flooring can be frustrating because there are so many business that try to sell you on what they have. Instead of stressing about it, go to a few of the shops and look at the different styles and carpet materials. Once you find a few things you like, you can actually shop online to find better deals on them. Postage may cost a little more, but you also have the option of using sites like eBay where you can find sellers that are located near you. This cuts out the delivery fee. Smaller caravans are even easier to shop for because you are looking for carpets that are more like mats. They are smaller, easier to ship, and even come in generic shapes that fits in most vehicles.
By using the search bar on the eBay pages you can look for what you need quickly. Enter something like "caravan carpet" in order to view all of the listings for sale. If you would like to stay within a certain price range, you can enter that in after you have done the search. eBay then automatically filters out the carpets outside of your range. You can also view the products based on which ones are closest in location to you. Some of the listings even say that they are for local pickup only, and cannot be shipped.
Conclusion
Caravans are a great way to travel around the country and take a relaxing vacation in. They offer transportation as well as sleeping quarters, which makes the trip much more affordable. In addition to this, there is no hassle related to checking in and out of hotels. They only require an occasional stop to dump wastes and fill up with water and other necessities. Those who want the ultimate convenience can go to a location with hookups specifically designed for caravans.
The interior of the caravan is important because it serves as a sleeping and living area. When the carpet is worn or damaged, it becomes less pleasant staying in there. A well maintained caravan can feel like a second home, so new carpeting is well worth the investment. It may seem like a big project to undertake, but overall, the process only requires a few decisions in colour, style, and material.