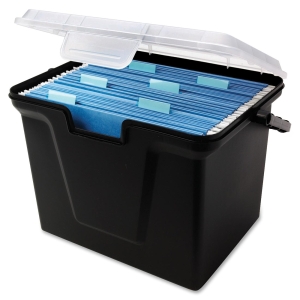 Durable storage boxes are stable containers used to store items or temporarily move things inside on a frequent basis. Commonly stored items are tools, arts and crafts, and food. Buy the boxes for home, office, or industrial areas. Durable storage boxes vary for brand, material, and options such as size and shape. There is a wide assortment of containers available on eBay. Durability is required of this particular type of box due to storage conditions.
About Durable Storage Boxes
The word durable has two definitions. One or both of the meanings can apply when deciding which storage boxes to buy. The two definitions for the adjective are:
to withstand weight or damage
to be able to last a long time.
Determining the needs for the storage box is an important part of the buying process. If the storage environment, for example, causes wear and tear on the box, then the container must be made of a strong enough material to withstand predicted damage. Origins of durable storage boxes date back to the first precut cardboard box. Robert Gair created the precut item in 1890. Iron, which is today a material used to make storage boxes, was first used to compose objects in 1200 BC. As ancient gold and silver boxes were too expensive for many people, they began to search out other metals to use for objects. Plastics, another material for durable containers today, developed in the 19th Century. Alexander Parkes created the first fabricated plastic in 1862. He labelled the material Parkesine. Even when the material cooled, it retained the original shape created when melted by heat.
Choosing Durable Storage Boxes
Given the multitude of options available, it always pays off to do a quick check on the boxes intended purposes. Remember to take into account not only the space available for the box, but also the items it is required to store. The following table lists types of storage conditions, boxes that fit the needs in the locations, and explanations for suitability of the particular box type.
| Box Storage Condition | Box Type | Explanation |
| --- | --- | --- |
| Hold heavy tools and accessories | Durable toolbox | Strong enough box to hold heavy items. Toolboxes have options such as handles for ease of transport and compartments for organisation. |
| Stacked under heavy items | Hard-shell box of plastic or metal | Material withstands pressure on top without buckling. Box that is unable to withstand weight endangers items inside it and around area. |
| Kept outdoors | Weatherproof | Box faces exposure to the elements year round, from rain and wind to humid temperatures, and remains intact. |
Types of Durable Storage Boxes
There are many types of durable storage boxes. The strong boxes vary by type of material and customisable options.
Material for Durable Storage Boxes
Common materials for durable storage boxes are metal, hardwood, and strong plastic. The table below lists the materials and describes storage conditions that suit each type.
| | |
| --- | --- |
| Metal | Common metals are iron and aluminium.. Metal is strong for heavy loads and damage resistant, so can be strored outside year round. The Material is more durable than wood, which expands and contracts as temperatures change. Metal will not be damaged when wet. Good for tool boxes, arts and crafts storage, food storage, key storage, and industrial use. |
| Hardwood | Works well in indoor, controlled environment. Hardwood is a good choice for arts and crafts storage or for boxes meant to be decorative objects kept indoors. Use hardwood for toolboxes stored inside and for food storage. |
| Strong Plastic | Common types are polypropylene and high-density polyethylene. Hard shell protects fragile items inside. In industrial situations, strong plastic travels securely to warehouse or other location. Generally lighter than metal or hardwood, a plastic box is easier to move. Material works well for food storage too. Available in clear or colour for lid and base. |
Buy durable storage boxes individually or as a set. On eBay, both options are available. Number to purchase depends on factors such as amount of items to store and size of storage location.
Options for Durable Storage Boxes
There are several feature options for durable storage boxes. Combine options to create customised containers. Select options that meet needs of items to be in storage and planned location for box. The following table lists available options for durable storage boxes and description of each option.
| | |
| --- | --- |
| Shape | Common shapes are square, rectangle, and circle. Choose shape according to size and form of items to go inside, as well as size of storage space. |
| Size | Range from small and portable to extra-large. Boxes differ by measurements for length by width by height. |
| Colour | Container is solid colour, clear, or a mix of the two options. With a clear base, it is easy to see the items inside. |
| Lid | Box is open top or has a lid. Lid keeps out insects and other elements of storage condition, while open top provides air to items inside that may require breathability. |
| Handle | Box may have handle at top and/or sides. Handle improves ability to move container. |
| Drawers | Some boxes have drawers and differ by number of drawers each. Drawers enable organisation of different items into different locations. |
| Compartments | Some boxes have compartments. There are different number and sizes of compartments per box. Serve to store small items such as tool accessories and crafting materials. Compartments can be in removable trays for easy take away. |
| Lock | Box may have a lock. Common locks are snap lids, clasps, and combo locks. Snap lid secures lid to base. Clasp style clamps lock down at sides or front. Digital lock for a key box is a type of combo lock. Locks secure valuable items inside from theft or damage. |
| Stacking | When lid is on, some containers can stack on top of each other. Stacking boxes saves space and has an organised look. |
| Wheels | Boxes may come with wheels attached to bottom, to make transport of heavy items easier. Wheels are removable. |
Buy New or Used Durable Storage Boxes
Choose between new or used durable storage boxes.. New containers have the benefit of not having a previous owner or should not leave any doubt about the condition. Used containers are often cheaper than buying new, however, used boxes may have damage upon purchase. Make sure to weigh the pros and cons to determine whether new or used condition is the best option.
Find Durable Storage Boxes on eBay
Begin a search for durable storage boxes by heading to the eBay homepage. Select All Categories, and then select Home & Garden.. Click All Categories at the bottom of the list and then, under Storage Solutions, select Storage Boxes.. At this point, narrow down the search by choosing features and material to find boxes that have the durability required. Under Condition, select New, Used, or Not Specified. Another way to find durable storage boxes on eBay is to type a keyword or key phrase into the search box at the top of the homepage. For example, type small durable box or storage box..
Conclusion
Durable storage boxes are a great place to store items and provide a way to transport things kept inside. Decide on type of material and then specific options to customise the box and make it specific or more personal if it is to be used as a gift. Buying a new or used durable storage box after taking into account all of the above listed factors and valuable items can be stored in complete safety.