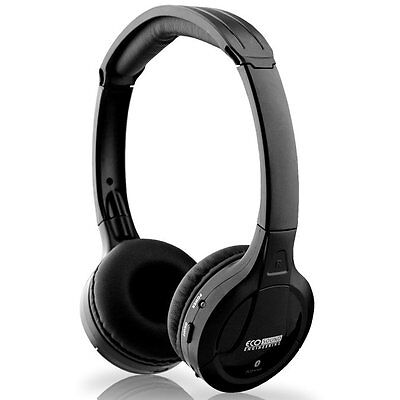 More or less any product can be bought on eBay and, being the world's largest online marketplace, it is easy for people to quickly find a variety of products that fit their needs. When shopping for mobile phone headsets, there are a few steps to take in order to ensure that the right headset is bought.
Wireless or Corded Headsets?
The first thing to do will be to consider whether to search for corded or wireless headsets. Most mobile phones have a 2.5mm headset and headphone jack on the side or the top that will take almost any type of headset. However, the iPhone does complicate matters somewhat by using a 3.5mm jack instead. In addition, there is Bluetooth technology to take advantage of, which provides a wireless headset that can be paired up with a phone. These types of headphones may be a little more complicated to control, with a variety of different buttons for changing volume and other functions, but they provide a huge amount of convenience by eliminating annoying wires.
Corded Headsets
These are easy to use, and they simply involve plugging the headset in to start using them. When the headset is plugged in, the phone will automatically recognise it. These headphones are designed to be portable, and to be used when on the move, making them smaller and more lightweight than commercial business headsets. However, it may be necessary to replace them on a regular basis when the cords get damaged, caught in doors, tangled, and so on. Thankfully, shopping on eBay provides a wealth of options to this end. Another thing to bear in mind is that the speaker volume of the headset will be determined by the phone it is being used with. Many headsets have volume controls, they will usually start up at the maximum volume provided by the phone and then adjust down: in other words, the headset will not be able to increase the volume. Many will also come with a mute switch on the cord, which can be pressed to quickly turn the microphone off as needed.
Wireless Bluetooth Headsets
Bluetooth technology allows 2 different devices to pair up and share information over a distance of 33 feet or lower. It has become a hugely popular and commonly used technology for a variety of home and office devices, such as printers, tablets, mobile phones, and other devices that share data. Naturally, wireless headsets will only work with compatible phones, so this is an important factor to consider when shopping. When pairing up a phone and a headset, the Bluetooth function on the phone needs to be turned on: it will then search for compatible devices in the area, and should find the headset. In addition, the headset will need to be in pairing mode, where it sends out a signal that the phone will find when scanning. When the phone finds the signal, it will pair with the headset on confirmation.
Types of Headsets
After deciding whether to shop for corded or wireless headsets, it will next be important to consider the actual design type.
Types of Wireless Headset
Bluetooth headsets traditionally come in two styles: in-the-ear and over-the-ear models. In general, over-the-ear models will have longer battery lives because they are a bit larger. In addition, they will also fit more securely. In-the-ear headsets, however, are designed to be very discreet and are lightweight. With both designs, ear gels will come with the product. These will rest against the ear and point down into it. When shopping for any headset, therefore, make sure that there are replacement ear gel tips, as these will inevitably go missing at times.
Types of Corded Headsets
Corded headsets come in a huge variety of styles and designs, and many higher grade, business headsets can be used with mobile phones as they have the traditional 2.5mm jack. Wireless headsets traditionally attach straight to the ear, without any over the head strap, corded headsets will be more bulky and cumbersome. Some will be either monaural or binaural - this simply means that they will have either one or two earphones. With monaural over-the-head headphones, there will be a single earphone, with binaural headphones there will be two. Sometimes the user can position the microphone on either side of the head with binaural headphones. Other types of headphones will come with voice cancelling technology. This will help to block out external sounds to help both parties hear each other better during conversations.
Shopping for Mobile Phone Headsets
When shopping for mobile phone headsets on eBay, there are several things to consider. These will include compatibility, seller reliability, product quality, and price.
Compatibility
The first thing to do when looking at any eBay listing is to read the description carefully. The main purpose of this will be to identify whether or not the headset is compatible with a particular phone. Most headsets will work with the majority of phones with 2.5mm ports, but it is sensible to make sure before buying.
Seller Reliability
Checking seller ratings is essential. On eBay, it is simple to find out if a seller is highly regarded or not by looking at their overall rating - this will be out of 100, and will be based on previous customer ratings. Top eBay sellers will have ratings over 99 per cent, so it shouldn't be hard to find those that are widely considered to be reliable and trustworthy by their customer base.
Product Quality
It is possible to buy both branded and unbranded headsets on eBay. Branded products will be those made by well-known and well respected manufacturers. They will often come with warranties and will be of a higher quality. Unbranded products will generally be made by manufacturers that are unknown to the wider public, and can vary in quality depending on the maker. To avoid having to rebuy products because they fail to work or break quickly, consider higher quality branded products where money allows. In addition, bear in mind that unbranded products may not come with warranties, and therefore some sellers may not provide refunds when products break easily. This will, however, depend on the seller themselves so, as above, always carefully check their feedback to confirm what their conditions are with regards to refunds and returns.
Price
Price follows on from the above point, and branded products will invariably be more expensive than unbranded ones. Those with no financial constraints will be best to choose branded headsets. However, if money is an issue, looking for high quality unbranded products is sensible, and perfectly possible. There will be a huge amount of sellers selling headsets, so a little research will help to identify those that are of top quality, and sold at a reasonable price as well.
Conclusion
eBay is a buyer's paradise, and it is always possible to fetch a bargain with a little work, even with high quality goods. When shopping for headsets, first decide on whether corded or wireless headphones are right, and then consider type. When searching through eBay, consider item descriptions, particularly with regard to compatibility, seller reliability, product quality, and price. Compare some options, and then choose the one which is most appropriate before following the relevant instructions to complete the purchase.