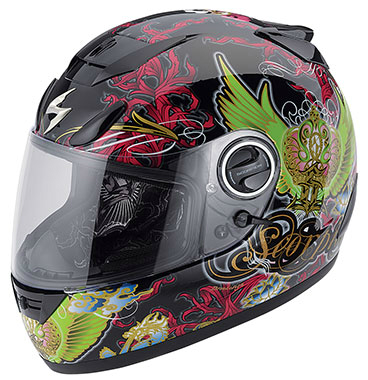 Motorcycles are an exciting mode of transportation. They allow riders to feel the wind from their speed as they follow the open road. They can also save their owners money since they do not require as much fuel as a car or another larger vehicle. Often, young adults just out of college purchase a motorcycle so that they can have inexpensive, effective transportation. Sometimes, if a full-scale motorcycle is not in the budget, buyers may opt for a lighter weight machine like a motorbike or a scooter.
A buyer who has just purchased a scooter or a motorbike needs a helmet to go along with it. Helmets are available in motorcycle or scooter shops as well as online at websites such as eBay. Before looking for a motorbike helmet or scooter helmet, the buyer should be aware of all the features available in helmets. These features can ensure a comfortable, safe ride, and their benefits include proper ventilation, attractive style, and, above all, protection.
Choosing a Safe Helmet
The helmet's primary task is to protect the rider from head injury in the event of a crash. Any helmet is limited in how much protection it can offer, especially if the rider is thrown hard and far. However, a helmet that adheres to safety standards can potentially save the rider from a concussion, a fractured skull, or even death. There are three different types of protection to consider as buyers choose their new helmets.
Impact Protection from Helmets
Impact protection is vital in the event of a crash. Motorbike or scooter riders may be thrown from their vehicles during accidents. In such an event, one can easily strike the head on a rock, a tree, another vehicle, or the road itself. Helmets for motorbikes and scooters have a thick layer lining the outer shell. This is typically made of expanded polystyrene, or EPS. The design of the inner layer is thoroughly researched and tested to ensure that it absorbs impact adequately.
Retention Protection from Helmets
Retention protection ensures that the helmet stays on the rider's head during a crash. The helmet's shape, and the way it fits around the rider's head, affect its capacity for retention. A helmet that fits correctly is more likely to stay on the rider during a crash than a loose-fitting helmet. The chin strap is another factor in retention protection. The strap needs to be tight enough to assure retention, but not so tight that it gives the rider a choking sensation.
Penetration Protection from Helmets
Penetration protection involves certain facets of the helmet's design that are intended to keep foreign objects from piercing it. Rocks, sticks, and bits of metal, glass or gravel are often flung through the air at high speeds by the tires of passing cars and other vehicles. The hard outer shell of the helmet is the primary layer that offers penetration protection from such objects.
Selecting a Comfortable Helmet
Though it is not the rider's main concern when buying a helmet, comfort is also a key factor. Dealing with an uncomfortable helmet does not allow a motorbike or scooter owner to enjoy the ride. A comfortable helmet should fit well, allow plenty of airflow, and include noise reduction.
Fit of the Helmet
The helmet should fit snugly around the head. It needs to be tight enough so that it does not fly off in the event of an accident. A rider should be able to feel the interior padding of the helmet resting against the forehead, the top of the head, and the sides of the face. If the back edge of the helmet is gripped and tugged forward, the helmet should stay in place rather than slipping off. It is recommended that the buyer test the helmet before purchasing it, to ensure a comfortable fit. If helmets cannot be tested in advance, then buyers should ensure that sellers allow returns in the event of a poor fit.
Airflow Within the Helmet
Without air vents, riders' heads can become very sweaty. Motorbike helmets and scooter helmets include small slits and other vents in the helmet. Vents are usually found on the top of the helmet. In the case of a full-face helmet, vents are also placed in the front to keep air moving over the face. Air vents in a helmet slightly increase the drag effect, but riders enjoy the cool air on their faces too much to care about the barely perceptible decrease in aerodynamics.
Noise Control of the Helmet
Motorbikes and scooters can be very loud. Prolonged exposure to the noise of a bike as well as the noise from other vehicles is unpleasant, and it can eventually damage the rider's hearing. The noise-dampening effect of the padding within the helmet may seem odd at first, but riders quickly become accustomed to it. Riders appreciate being spared the constant roar of rushing wind and passing traffic. In some cases, motorcycle helmets feature integrated Bluetooth and other audio features that allow riders to enjoy music or other listening entertainment as they ride.
Opting for the Right Style of Helmet
Style is often an important element of a motorbike or scooter helmet. Riders want the helmet to reflect their personality and their riding style. Many times, they also want the helmet to coordinate with the colours or theme of a motorbike or scooter.
Helmet Colours
If riders plan to use their scooters or motorbikes on grey days or in the evenings, they should select a helmet in a bright colour rather than a dark one. Many accidents are the result of drivers not seeing a motorbike and its rider. For this reason, anything that riders can do to increase their own visibility is worthwhile. A vivid colour or a fluorescent hue should stand out to other drivers, in addition to making a bold style statement. If the scooter or motorbike is bright red, a helmet in bright red or another bright coordinating colour may work well. If the bike is dark with some kind of detailing or pattern, the helmet could pick up one of the bright colours in the detail, such as the yellow hue in a painted flame.
Images and Patterns in Helmets
Buyers who want really unique helmets have access to a variety of options. They can work out their own designs and order custom pieces. Also, numerous manufacturers produce dramatic helmets for scooters, motorcycles, and motorbikes. Some common images used on these helmets are skulls, flames, dragons, bones, and claws. A geometric pattern or image that gives the illusion of streamlined speed works well on a motorbike or scooter helmet.
Helmet Designs
Helmets for motorbikes and scooters come in different styles, including open-face helmets, full-face helmets, and half-helmets.
| Type | Description |
| --- | --- |
| Full-Face Helmet | Covers the rider's face with a sturdy visor that protects the eyes, nose, and mouth |
| Open-Face Helmet | Leaves the rider's face exposed, necessitating the purchase of goggles for eye protection |
| Half-Helmet | Exposes the rider's face and meets only the bare minimum standards for covering the rest of the head |
Helmets that only cover the top half of the head rather than the entire skull are not in compliance with regulations and safety standards. They provide very limited protection in a crash and are not recommended for motorbike and scooter owners.
Buying Helmets for Motorbikes and Scooters on eBay
Finding a helmet is simple with eBay's easy-to-use search features. Start on eBay's home page and type "helmets" or "scooter helmet" into the search bar. The results from your search may number well into the thousands, in which case you should use search filters, such as size, brand, colour, gender, style, and, price, among other options. The end result is a tailored set of listings that closely reflects the type of helmet that you need.
As you shop, look for listings from eBay's Top-rated sellers. These listings are marked with a special seal that indicates that the seller has high feedback scores from eBay customers. You are likely to receive an excellent product and good service if you choose Top-rated sellers. You can also select sellers who offer free shipping, a return policy, or a package deal.
If you do not find what you need, you can save your search. This feature allows eBay to email you anytime a new listing for a helmet is posted. You can then go online and review the new merchandise at your leisure. You can also do a search on eBay Shops to look for additional listings.
Conclusion
Motorbikes and scooters are great modes of transportation, especially for riders who have tight budgets. Even though riders may not necessarily be required to wear a helmet on all roads in their area, they should do so for their own safety. A stray rock or a bump in the road can cause an accident, potentially injuring the rider. A helmet can prevent head injuries that might otherwise be very serious.
When shopping for a helmet, buyers need to be sure that the face and head is sufficiently protected by the helmet. They also need to ensure that the helmet allows enough air flow. For many riders, style is also a major consideration, as they want the helmet to go with the colour and theme of a bike.
The website eBay is designed to make it easy to search for and find the helmet that one needs. Once the buyer has found a motorbike or scooter helmet that meets the requirements, he can enjoy the speed, style, and convenience of his vehicle with the right helmet.