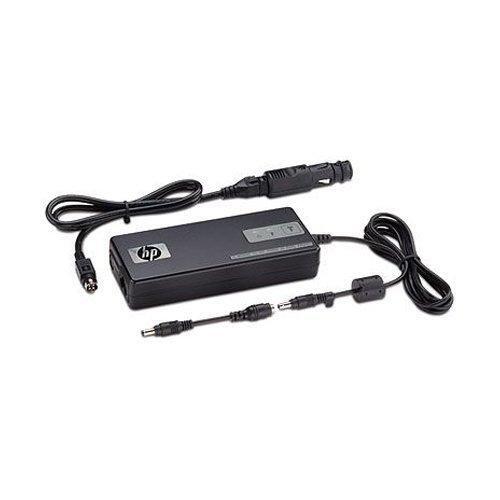 Laptop power adapters for a car can allow buyers to prolong the life of their laptop's battery, or even charge it while travelling. In-car laptop power chargers come in two types including those intended for a specific model of computer, such as a MacBook, and those that can be fitted to a range of laptops with different adapters. Either option might be a good choice depending on the preferences and needs of the buyer.
Finding and purchasing laptop power adapters for a car usually involves checking the type of plug on the laptop, checking the exact power rating on the laptop, and choosing between a cigarette lighter plug to adapter and a cigarette lighter plug to power socket. Both options are good options, so mostly it is up to the buyer. Stores that sell laptop power adapters include electronics stores, speciality and travel stores, and online stores.
DC-To-Socket Laptop Power Adapters
The DC-to-socket converter is the basic type of car power adapter, meaning this converter type is not made specifically for a laptop. DC-to-socket converters are suitable for anyone who might want to charge devices other than a laptop. The converters are typically sold as 'DC to inverter' converters and can be purchased in speciality shops as well as online sites. DC-to-socket converters offer more versatility and are often somewhat cheaper than DC to computer adapters; however, some people find that they are not quite as reliable. Options for DC-to-socket or DC-to-AC include USB plug-ins, standard wall plug-ins, and more.
DC-To-Computer Adapter
DC-to-computer adapters are often sold either for the laptop in question or with a range of compatible plug-in options so that the user can simply switch the head of the adapter to select one that fits. Both options are excellent, although many buyers prefer original equipment manufacturer items for guaranteed quality and compatibility with their computer.
Original Equipment Manufacturer Power Adapters
These are relatively expensive types of laptop power adapters and also difficult to find options. Original equipment manufacturer (OEM) adapters are made by the company that made the laptop, meaning that the power adapter is guaranteed to work as efficiently as possible with the laptop. However, not all manufacturers make power adapters for the car, so these are not always a purchase option. Buyers can look on auction websites or the original manufacturers store under 'accessories'. OEM power adapters can usually be plugged directly into the computer and are made for each specific laptop model.
Compatible Laptop Power Adapters
Compatible models are the common and can easily be purchased at electronics stores, online, and sometimes at computer stores. Compatible models are designed to work with a specific model of laptop but are not made by the same brand as the laptop, meaning that they are cheaper and sometimes lower quality. Buyers can look for options made specifically for their computer, or for options with conversion kits that can fit multiple types of computers. Both options work in most cases, although for anyone who would like to charge more than one type of laptop, the compatibility kit is the better option. In fact, because the heads are interchangeable, it might be possible to look for different types of heads to fit one adapter.
However, most compatibility kits are made for a single brand or model of computer. For example, a laptop power adapter for a car with multiple heads might be made for any model of Acer Aspire One, or might be made for any model of Acer Aspire or for Dell computers. Checking the exact specifications on the box or in the online description is very important for choosing the correct model.
Purchasing Used Laptop Power Adapters for Your Car
Anyone who is on a budget can choose to purchase a used adapter . Important things to keep in mind are that in this case, the better the brand, the longer the adapter might last, especially if it is in poor condition. Most people might have more luck by searching for a used adapter online, as many physical stores selling used items and electronics might simply throw away the adapters rather than taking the time to sell them due to low value.
Checking to ensure that the adapter is for the correct model of computer is especially important when purchasing a used model. This is because if the adapter is very old, it could be for a previous model of the same computer, which means that the power plug might not fit. Usually, the exact model number might be available on the side of the adapter or on the actual adapting box.
Setting a Budget for a Laptop Power Adapter
Setting a budget is important for most buyers, especially those who do not intend to use their adapter every day. Many people also purchase laptop power adapters for the car for one time use such as a vacation or extended trip. In this case, the budget should naturally be as low as possible. On the other hand, anyone who intends to use the laptop power adapter frequently should look into purchasing a model that is quality and going to last. In this case, an OEM model or high quality compatible option is the better choice.
It is always a good idea to look at quality vs. price because this affects the budget in multiple ways. For example, if you want an affordable adapter to use frequently, a more expensive model would be more affordable in the long run. This is because it is often cheaper to purchase a quality adapter once than to purchase a lower quality twice.
Choosing a Laptop Power Adapter for Your Car
Choosing an adapter is the most important step for buying a DC adapter . Buyers should check the model of the computer they are using and use that model to search for the correct adapter. This model number is usually located on the laptop, for example on the front sticker, on the back sticker, under computer 'properties', and on the owner's manual and any original box. The model number may also be located on the laptop's original charger, but this does not always hold true.
The second thing to do is to check the type of port. There are multiple battery charging ports including L ports, barrel ports, inverted ports, and more. While most buyers can use the model number to find the charging cable they are looking for, it is always important to check and make sure that the port is the right shape. The following chart outlines the basic types of laptop charger tips.
| Laptop Charger Tip | Description |
| --- | --- |
| L | Straight plastic with the power insert angling to the left or right; literally in an L shape; can aim to the right or the left |
| Barrel | A straight charger |
| Inverted L | Similar to the L tip but with a plastic socket surrounding the plug; these are female plugs and are rare |
| Inverted Barrel | Similar to the barrel but designed to fit over a male plug rather than vice versa |
| Apple L | Similar to the L tip, but with a wider insert rather than a prong |
It is very important to remember that different laptop charging tips are sized differently. Many can differ slightly in size by as much as a few millimetres. For the most part, laptop chargers should not be used across brands, even if they fit. Safety issues such as charge control, power limitations and needs, and risk of shock can vary from one computer to another, so it is always important to use a compatible charger and model.
Purchasing a Laptop Power Adapter on eBay
eBay is a great place to purchase a laptop power adapter for your car because it is a very large marketplace with a lot of options. In general, eBay is likely to have chargers or converters for every laptop, so you can easily find what you are looking for. eBay also includes a range of different items such as new and used, OEM and compatible, and even very budget multi-pack adapters that work across several brands.
Buyers looking on eBay ccan search for the computer model number they are looking for plus 'laptop power adapter' or 'DC power adapter'. Browsing through results and comparing options with price, delivery cost, and quality in mind, can help with finding a good buy. It is always important to read the description before making a purchase to ensure that the model is in good condition, can be delivered to your area, and is what you are looking for.
Conclusion
Purchasing a laptop power adapter for your car can be confusing if you do not know where to start. With multiple options and choices, and many types of adapter plugs, it is important for buyers to do their research and decide what they need before making a purchase. Most of the time an easy way to find the laptop charger needed is to check the computer model number and then search for it in an electronics store or on eBay.
Buyers can choose from OEM, or original equipment manufacturers, which offer higher quality and more expensive prices, and compatible models, which are often much cheaper but not guaranteed to be constructed to a high quality standard. Other choices include choosing a DC-to-AC converter or a DC-to-laptop converter. Finally, buyers should set a budget, search for an appropriate model, and purchase it online or offline.