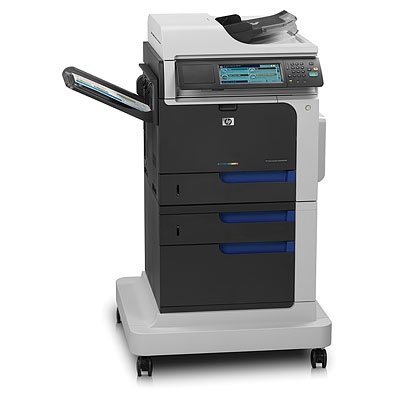 In a modern office, you often need to do more than simply print out your documents. Fortunately, there are multifunction printers, also known as all-in-one printers, that combine many office devices into one. Multifunction printers typically include scanners, fax machines, photocopiers, and even e-mail service. By packing many devices into one compact body, the multifunction printer helps to save space in your office. However, larger multifunction printers are also available if you need a workhorse for corporate use.
You can buy multifunction printers from high street shops that deal with electronics and office supplies, but you can also order one conveniently on online auction sites, such as eBay. When looking for a multifunction printer for your office, you should consider the office size as well as the printing technology used by the printer, as well as any advanced features you may require in order to boost the work efficiency in your office.
Printing Technologies Used on Multifunction Printers
By and large, the printing technologies used on multifunction printers are divided into two, laser and inkjet respectively. Both of these technologies have their advantages and disadvantages, and you should consider them carefully before choosing a printer. The decision largely depends on your budget as well as on your printing needs.
Laser Printing Technology on Multifunction Printers
Laser printers use a photographic drum in order to attract an electrically charged toner and transfer it onto the paper. On the paper, the image is then fused with a heated roller. Many laser printers are monochrome, meaning that they produce black and white images only. If you mainly need to print text and simple graphics, then a laser printer may be the right option for your office. Moreover, printing with a laser printer is quick and easy, and filling the toner does not cost much. Many laser printers can also connect to local networks and thus acquire printable documents from many computers throughout your office.
Inkjet Printing Technology on Multifunction Printers
Inkjet printers usually print chromatic images by applying streams of tiny ink droplets onto the paper. The ink comes from one or more cartridges, and if any of these cartridges runs out, it has to be refilled or replaced. Compared to laser printers, the cartridges are rather expensive to acquire. Moreover, the printing process takes longer, although the resulting images are superior to laser printer images. However, if you need to print high-quality photos and graphics in your office, you should opt for an inkjet printer. If you need even better photo quality, choose a multifunction inkjet printer that specialises in photo printing and can print straight from the camera.
Multifunction Printer Functions
Besides choosing the printing technology, you also need to decide on many other features of your multifunction printer. Decide which other devices should be included in the printer. When in doubt, you can always opt for more features, because they may become useful in the future. Most multifunction printers include a photocopier, scanner, and a fax machine, while some also provide e-mail service.
Printer on a Multifunction Printer
You will probably be using the printer quite often and more than other devices on the multifunction printer. For best performance, choose a multifunction printer that can work over the Internet, or wirelessly, so that you do not need to connect it to a computer with a cable. Network printers are especially useful when you have many computers in the office. When choosing the printer, also pay attention to the printing speed as well as to the amount of paper you can insert into the printer.
Photocopier on a Multifunction Printer
If you work in an office, you probably need to make photocopies every now and then. With a photocopier included in your multifunction printer, the job is made easier. Some photocopiers require a computer for the copying process. If you sometimes need to copy while the computer is off, look for a stand-alone photocopier function. The ability to copy multi-page documents may also be handy in an office.
Scanner on a Multifunction Printer
A scanner scans your documents and converts them into digital data that you can later use on your computer. When choosing a multifunction printer, pay attention to the way the scanner connects to the computer. It may require a USB connection, and this can put limits on you because you have to stay close to the multifunction printer in order to connect your computer. However, many scanners can be connected to computers over a network. If you plan to use the scanner from many computers across the office, opt for a model that uses network connections.
Check the sizes that the scanner can handle in order to determine whether the scanner works on the paper sizes you need to scan. If you often scan transparencies, make sure that this feature is also included. For a quicker scanning process, opt for a scanner that has the duplex feature and can scan both sides of the page. Moreover, if the device is equipped with an automatic document feeder, you can insert up to 50 pages at once in order to speed up the scanning process. If you need to scan colourful images, such as photos with high quality, make sure that the scanner on the multifunction printer provides the output quality you need. Check the resolution feature of the scanner.
Fax Machine on a Multifunction Printer
The fax function on the multifunction printer is usually a stand-alone device that is operated with a special keypad located on the multifunction printer. If the fax machine on the printer is equipped with the PC fax function, you can fax documents directly from your computer without having to print them out first.
Email Service on a Multifunction Printer
If the multifunction printer has an e-mail service included, you can send your scans directly to anyone's e-mail. The e-mail can be sent in two ways: either scanned in as an attachment to an already open e-mail, or to your in-house e-mail server on your network or Internet service provider. The multifunction printer can use these ways of sending as well.
Features to Consider on a Multifunction Printer
Besides the obvious functions, such as faxing and scanning, there are other important features to consider when buying a multifunction printer for your office. Consider the printer size and make sure that you have a place for it in your office. Remember that not all "desktop printers" are small enough to fit comfortably on your desk. However, if there is enough space in your office, you may choose a larger printer that has storage space for the paper, so you can always keep the paper handy.
In order to connect the printer with various computers, you should also take driver support into account. Make sure that the multifunction printer supports the operating system that you use in your office. Some printer manufacturers tend to support only main platforms, and if you are using a less common platform, the printer may not be compatible with it.
Buying Multifunction Printers on eBay
If you are looking for a multifunction printer on eBay, you can always start your search by typing "multifunction printer" into the search box that you can find at the top of any eBay page. You can also use alternative keywords, such as "all-in-one printer", that are commonly used for such printers. After you receive the list of initial search results, you can further narrow down the results by selecting a price range or sorting the results by auction time or price. If you do not find what you are looking for, click on related searches that can give you similar results and provide inspiration.
Read the detailed item listings of the multifunction printers in order to learn about the available functions and find the ones that you need in your office. Should you have any questions about the multifunction printer, feel free to contact the seller. You can also enquire about refunds, exchanges, delivery, packaging, and payment methods. In order to get the best service and products, read the seller's feedback and browse the ratings left by other eBay buyers.
Conclusion
If you run a busy office, you probably need to print lots of documents on a daily basis. Besides printing, you may also need to scan, fax, and photocopy on a regular basis. You can get all these functions in powerful all-in-one devices called multifunction printers.
Multifunction printers are generally characterised by their integrated additional functions and the printing technology they use. Opt for multifunction printers that connect to your office computers via a network, so that you can send documents to print from anywhere in the office. The photocopier and scanner functions are best with the multi-page option that allows you to copy or scan several pages at once by feeding them automatically. In a busy office, this helps to save time. If you often need to scan photos, choose a scanner that offers the best resolution and matches the image quality you require. Multifunction printers often also come with fax machines and e-mail services.
Available printing technologies are divided into laser and inkjet. Laser is best for black and white text documents, thanks to its speed and inexpensiveness. However, you should go for an inkjet printer if you often need to print high-quality images, such as photos.