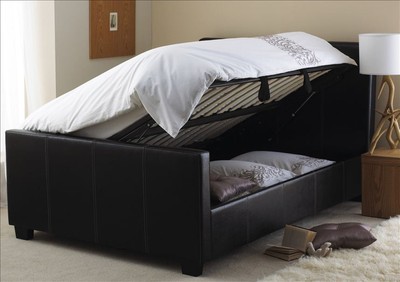 In its simplest term, an ottoman is a functional piece of furniture that opens to reveal a generous storage area. When looking at their intricate design, you may be mistaken for thinking that the ottoman is a spawn of the 20th century. However, the word ottoman is not a new term; in fact, the ottoman was bought to Europe from Turkey in the 18th century.
Traditionally an ottoman was used as a seat, or a footstool, which would open to reveal a treasure trove of space for you to store all of the items you didn't want cluttering up your house. It was therefore inevitable that these multi-functional qualities would be transferred onto the bed market.
So What Is An Ottoman Bed?
Ottoman beds have the appearance of a traditional bed, but they will feature a generous storage area below the mattress. Access to such storage is achieved by lifting the mattress which rests on a platform. Here, hydraulic systems are often used to ensure that lifting becomes a breeze.
How Is An Ottoman Different From An Ordinary Divan Storage Bed?
Unlike traditional beds with underbed storage, such as divan bases, you will have the entire area under the mattress as a form of storage. This becomes a major advantage because unlike other types of beds, where the drawers will take up valuable storage space, you will have the entire mattress space to store your personal belongings.
Their Major Advantage:
Due to their vast storage allowances, an ottoman bed will allow you to store bulky things, which would otherwise clutter up your bedroom, in a convenient place. One particularly useful thing to store in your ottoman bed are blankets and quilts; it is often difficult to find places for these, but this will allow you to have quick access to important extra layers, should the temperature dramatically fall.
What To Consider?
Ottoman Beds have a large striking base, so it is extremely important to consider wisely what colour you would like this to be and, equally, which fabric you want the base to be made from. Black Faux Leather Ottoman Beds works particularly well as this fabric looks stylish and classy so it will instantly create an eye-catching centrepiece that will make others envious.
Buying Ottoman Beds on eBay
You can find lots of ottoman beds being offered on eBay here
http://www.ebay.co.uk/bhp/ottoman-bed
. Some are new and some are second hand.
If you are after a bargain, I recommend buying second hand and get a courier deliver the bed directly to you. Arranging a courier for this type of delivery is quite easy, just follow another fellow eBayer's guide
here
.