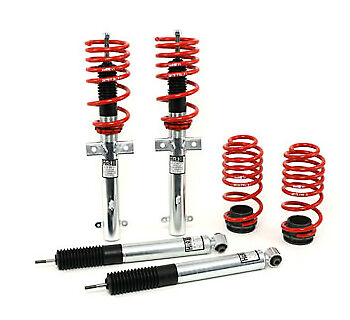 The suspension system is designed to help a vehicle's tires stay on the road, no matter what. The system is also in place to stabilise the vehicle's tyres during steering and to keep them from wobbling or wavering during straight stretches and turns. Sometimes, the owners of cars, trucks, or sport utility vehicles (SUVs) like to enhance their vehicles by using a performance suspension kit.
Before purchasing a performance suspension kit, a buyer needs to understand how the car's suspension works and the purposes it serves. Then the buyer should take time to learn how a performance suspension kit can improve on the benefits of a standard suspension. With this background knowledge, a shopper should be able to select a performance suspension kit that works for the car, meets or exceeds the goals for performance, and fits within a budget. A broad range of suspension kits is available from dealerships and auto shops. However when equipped with the right knowledge, one can also purchase these products from an online retailer like eBay.
How a Performance Suspension System Works
Many drivers are familiar with the dangers of an occasional pothole or bump on the road. However, they may not realise how the tiny bumps and irregularities in the pavement can affect a car, were it not for the suspension system. The force and speed of the car augments the effect of each imperfection as it is encountered. Without the cushioning and stabilising effect of the suspension components, steering a car can be much more difficult, and riding in one can be extremely uncomfortable.
The suspension system within a car enables the car to grip the road with the maximum force. It facilitates steering and turns. In addition, it keeps passengers from being jostled, jarred, and bounced with every bump in the road and every movement of the car. The chart below describes some of the key parts in a vehicle's suspension system.
| Part | Description |
| --- | --- |
| | Absorb the motion caused by bumps, ridges, and potholes |
| | Absorb and lessen the continuing up and down motion of the springs |
| Torsion Bars | Convert up and down movements into a spinning or twisting motion instead |
| Shocks | Soak up energy and movement, limiting their effect on the car and its passengers |
Understanding each of these terms can help buyers comprehend the function of a car's suspension. Several of these parts are replaced with new, high-performance components during the installation of a performance suspension kit.
Benefits of a Performance Suspension Kit
Cars can benefit from a performance suspension kit in several ways. Drivers enjoy better handling, improved spring rates, and a lower centre of gravity that improves traction.
Handling Improvements and Better Traction
A good performance suspension kit enhances the car's response to its driver's handling. The car, truck, or SUV takes corners with a new precision and finesse. The driver usually feels more in tune with the vehicle and is better able to exercise careful control over its movements. This is vitally important, particularly at high speeds. Without a performance suspension kit, taking corners rapidly can be extremely dangerous. However, with the additional traction, curves are much safer for drivers.
Lower Centre of Gravity and Improved Spring Rates
A performance suspension kit often lowers the vehicle, bringing it nearer to the ground for better grip on the road. For instance, BMW's performance suspension kit includes special yellow springs that lower the vehicle by a full 25 mm from standard suspension. The new springs improve the car's spring rates as well, giving it more bounce as it goes over bumps and potholes. The lower centre of gravity keeps the car from tilting forward when the brakes are applied sharply. It also helps the car to stay level during rapid acceleration.
Performance Suspension Kits vs. Lift Kits
Buyers should be aware of the difference between a performance suspension kit and a lift kit. As the name suggests, a lift kit boosts the height of the vehicle's chassis. Lift kits are typically installed on pickup trucks or SUVs, although some may be used on other types of cars. A lift kit makes the vehicle higher in case the driver wants to go off-roading. It keeps the SUV or truck above any rocks, undergrowth, or debris that might be in its path.
A lift kit can also improve some aspects of suspension, allowing more room for the springs to react and counter the effect of bumps and obstacles. However, since it makes the vehicle taller and raises its centre of gravity, a lift kit does not typically assist with control or steering. In fact, owners who plan to install lift kits must be careful not to place the car's centre of gravity too high, or it could be prone to rolling.
The terminology used for lift kits and performance suspension kits can be confusing for owners who are new to the field of suspension enhancements. In spite of this, buyers must learn to understand the common terms. Otherwise, one may end up with the wrong type of kit for a vehicle.
Components within a Performance Suspension Kit
Buyers must be certain that the performance suspension kits they are purchasing include everything they need. If the seller or retailer has not provided a list of components, buyers should ask for such a list before completing the transaction. Some manufacturers produce performance suspension kits that come in stages, with the first stage being a mild enhancement and the succeeding stages including more components for more in-depth rebuilds.
A performance suspension kit that is designated as a higher-stage kit or a more extensive kit contains many parts and instructions for the buyer. It may include components such as a rebuild kit, front and rear powder-coated sway bars, and front and rear KYB gas-charged shocks or struts. The kit also includes extra-durable control arms for the system, coil springs or leaf springs, and upper and lower tubular control arms. A panhard bar may be included for Firebirds and Camaros.
Compatibility of Vehicles and Performance Suspension Kits
Before buying performance suspension kits, buyers need to be sure that the kits can work for their vehicles. One good way to ascertain this compatibility is to buy the performance suspension kit from the original manufacturer of the car, SUV, or pickup truck. Many manufacturers of sporty, high-performance cars include kits and other accessories that owners can install to enhance certain features such as handling or efficiency.
Performance suspension kits may be created by the original equipment manufacturer, or OEM, and designed specifically for a particular make and model of car. Other performance suspension kits are made by aftermarket companies. Aftermarket versions often work on many types of cars, as long as those cars have a similar body style and are within a specific range of years. The aftermarket company should provide information about compatibility on the label or product page of the performance suspension kit.
If a buyer is not sure about which kit to choose for a car, then he should ask the seller or retailer for suggestions. A shopper may also want to seek advice from a knowledgeable friend or family member who knows about cars and suspensions as well as compatibility issues.
Buying a Performance Suspension Kit on eBay
Performance suspension kits are available online at eBay. Start on the home page and enter "performance suspension kit" into the search bar to find all the available listings. You should be able to refine your search, if necessary, using the search filters. As you select preferences for the condition, brand, price range, shipping options, or other features, eBay narrows down the search results, showing only those that meet your criteria.
Since performance suspension kits are heavy, use the distance filter to input your postcode and your preferred kilometre radius. Doing this limits your search to eBay sellers near you. You may be able to arrange an in-person pickup with a seller and thus avoid hefty shipping fees. Many eBay sellers offer return policies and package deals as well.
If you want to purchase from one of eBay's reputable sellers, look for Top-rated seller seals as you shop. If such a seal is present on a listing page, it indicates that the seller has top feedback ratings and is known for providing quality products and service. To get more details about a performance suspension kit, you can contact a seller directly via the contact information provided on the listing.
Conclusion
Buying a performance suspension kit is an excellent way to ramp up a car's performance to new levels. Performance suspension kits, when correctly installed, can result in superior handling, a lower centre of gravity that prevents body rolling, and improved shock absorption.
A buyer's initial consideration should be regarding the performance suspension kit's compatibility with the vehicle. Once that is established, buyers can think about how far they want to go with the enhancement. One may choose a smaller kit that provides slight improvements in handling and levelling or opt for a more dramatic change that demands a complete rebuild. Even if they have significant experience with cars, buyers may need help from experienced mechanics in order to implement the necessary improvements.
With its product selection and utilities, eBay can help in the search for a performance suspension kit for a vehicle. After purchase of the right performance suspension kit and its installation, a buyer can begin to enjoy the improved traction and increased manoeuvrability that the vehicle provides.