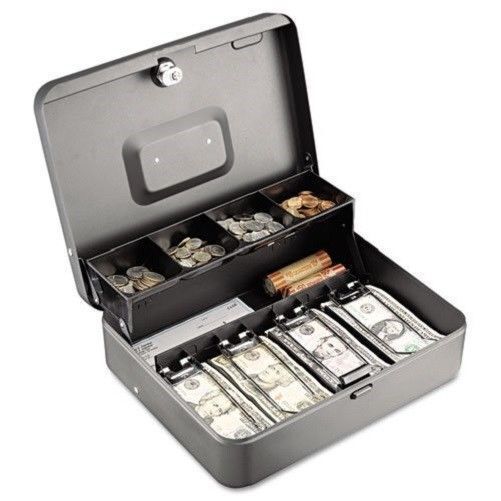 The cash register for retail outlets has come a long way since the first cash till was introduced in 1879, invented by James Ritty in Ohio in the United States. Cash tills are crucial to a business, as every single penny is accounted for, and electronic cash tills process and record sales transactions with greater detail. Numerous models of cash tills are customised to suit the needs of small, medium, and large retail businesses, using suitable software. A basic model comprises of a display, printer for receipts, scanner, keyboard, and a cash drawer. This is also the hub of credit card information of customers, inventory pricing, and other details. Networked cash registers can be hacked into if not securely encrypted. However, high-end retail stores do take this into account to protect clients credit card information.
People looking to purchase cash tills find a great variety of these devices online. Reputable stores such as eBay offer listings of cash tills of every kind, so shoppers can easily browse through all the products and relevant details and make purchases from the comfort of their homes.
Finding the Appropriate Cash Till For a Business
Every retail business needs a cash till and it could be the traditional electronic cash management system, Point of Sales (POS) system, or Electronic Point of Sales (EPOS) terminals. It is important for a business owner to study and understand the business cash management needs before buying a cash till. Basic functions to calculate change, record transactions, look up price, and print receipts are common to almost all cash tills. Add to this the necessary software relevant to the operational needs, and a business has a customised package that caters to specific business transactions.
Traditional Cash Registers
These are budget cash registers good enough for small businesses such as boutiques, kiosks, and other family-owned businesses with a limited number of customers. For start-up businesses, a low-cost cash till suffices that may be later upgraded or replaced by a better model. However, the buyer should ensure that the cash register has sufficient memory capacity to handle the business volume.
For establishments with a larger customer base or one that sells a great deal of items daily, heavy-duty cash registers are ideal, as they include features for complex record-keeping, faster speeds, and greater memory capacity. Connecting to a barcode scanner and exporting transaction details to an Excel spreadsheet are some additional features required for larger business houses. High-end models can calculate sales tax, identify cashiers at the till, determine sales by employees, and run management and financial reports. They also accommodate memory upgrade and additional cash trays.
POS Systems
Selecting the ideal retail cash management system is purely a matter of business need. POS systems manage cash transactions in a more detailed manner, not only making cash management convenient, but also coordinating the various aspects of a retail business such as inventory checking, matching sales with stocks, and streamlining other retail operations. In POS systems, stocks are recorded and updated manually.
The point of sale may be just one at the checkout counter at a retail store or multiple checkout counters, as in departmental stores. The functions of POS systems are vast and range from processing transactions such as sales, returns, or refunds, recording customer information and pricing, as well as generating gift vouchers, among others. They also record details such as those of redeemed vouchers and discount or credit notes. These functions are carried out at different levels in the POS system by way of its numerous components.
Components of POS Systems
A typical retail POS system comprises of POS hardware and software components that are linked and work in conjunction during a transaction. The computer that initiates the POS system is a box with the processor and memory. The screen displays information about the transaction, the product, and cash or credit card details. Keyboard and mouse allow data input. If it is a touchscreen system, the keyboard and mouse are redundant, as many of the components are built into the screen.
POS software determines what functions of the retail business need to be computerised and coordinated. Add-on modules are available for account reconciliation, generating reports, payroll, and more, all geared towards simplifying procedures of the retail business. Other components include the cash drawer, for cash collected at the counter, and the barcode scanner, to read barcode labels. Docket printers using consumables such thermal paper and ribbons print the bills.
Electronic Fund Transfer at Point of Sale, or EFTPOS, with card readers, connects the system to the customer's bank account, which is debited to pay for the purchased item. However, with POS systems, there are no real-time transactions.
Multiple POS stations are for huge retail outlets such as departmental stores, each POS with its cash drawer and other components. The various POS stations are reconciled separately, linked by POS software in a centralised database.
EPOS Systems
Electronic Point-of-Sale systems are similar to POS systems, the basic difference between EPOS and POS systems being that the former is fully automated, quick, accurate, and handles vast volumes of transactions. Recording and adjusting stocks across branch outlets is possible, as EPOS can be integrated on multiple branches and tracked in real-time from the main office through the Internet. The business owner can track the performance of each branch, analyse and determine where business is booming, and allocate stocks accordingly, all with a few clicks on the computer. EPOS is truly a boon for the business owner who wants to keep track of numerous businesses in any part of the globe.
The main database is generally hosted on a protected server, which in turn offers two-way access of EPOS system databases at each branch. The sales transactions through EPOS occur in real-time as the customer swipes the card at the retail store. This also allows the customer to withdraw cash from the same retail outlet without going to a bank or ATM centre.
How EPOS Systems Work
Cashiers serving customers at the counter can input data using the keyboard and mouse or barcode scanner. The EPOS system finds the product in the inventory database. After the product is identified, the EPOS software updates stocks and other relevant data, calculates taxes, service and delivery charges, discounts, refunds, if any, and the change to be returned to the customer. After the sale is complete, the system generates a receipt.
How the Cash Till Types Compare
Each cash till system has its pros and cons depending upon the nature and needs of various businesses.
Type of
Cash Till

Advantages

Disadvantages

Cash Register

Low startup cost, easy to use, basic and simple operations, low on security

Chances of human error high, slower transactions, longer queues at counter

POS

Better customer service, detailed reports, tracks inventory, secure system

Software and hardware maintenance, backup is required

EPOS

Eliminates human error, maintains data integrity, handles huge amounts of data in a jiffy, business procedures are streamlined and convenient, instant transactions, excellent inventory management

software and hardware has to be updated and maintained; backup of daily, weekly, and monthly tasks is mandatory; systemic failure could have disastrous consequences
While the POS and EPOS systems are here to stay, cash tills may continue to be in demand as long as there are small businesses thriving. It makes sense for small businesses to invest small sums for cash registers rather than go for something bigger that could mostly sit idle.
Conclusion
Cash tills and cash registers are an integral part of every business and the choice of buying one needs to be made by the business owner after careful deliberation. Depending on the size of the business, the number of daily transactions, and the number of clients the business serves, the owner can make the decision about what cash tills and cash boxes must be ordered. While traditional cash registers continue to be popular with small businesses, computerised and fully automated systems such as POS and EPOS are ideal for larger business operations. These systems handle large amounts of data and can generate timely, accurate reports pertaining to the sales, stocks, and customer information. However, keep in mind that one does not need to invest in more complicated cash tills unless the business requirements call for them.
An online retailer such as eBay is a great source for tills for the retail industry. By utilising the comprehensive lines of products and the network of sellers on eBay, a business owner can find just the right type of till to help run business operations smoothly.