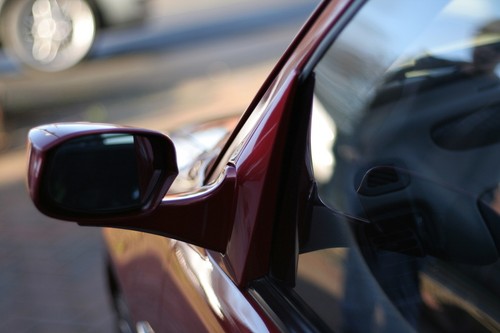 Also known as side view mirrors, fender mirrors, or door mirrors, wing mirrors are found on both motorbikes and automobiles. On automobiles, the wing mirror is normally located on each of the doors on both the driver and passenger sides of the vehicle. Wing mirrors help the driver see objects that are behind and to the side of the vehicle.
Wing mirrors get their name from being historically placed on the front fenders of vehicles, thus giving the automobile the appearance of having a pair of wings coming from the fenders. The mirrors were eventually moved back to the driver and passenger doors, and this made the mirrors much easier to adjust and gave the driver a better sense of what was behind them. For buyers who own Vauxhall automobiles, finding replacement wing mirrors can be quick and easy with eBay. Consumers can utilise the powerful search tools available on eBay once they understand the exact types of wing mirrors they need. One can make a purchase decision about Vauxhall wing mirrors based on the purpose they are to serve as well as the benefits they provide.
Benefits of Vauxhall-Specific Wing Mirrors
There are many types of wing mirrors and mirror components available to the consumer, but owners of Vauxhall automobiles should be sure to select from products that relate specifically to the type of vehicle in question.
Wing mirrors designed specifically for certain Vauxhall models are guaranteed to follow the original factory specifications for the wing mirror. There are benefits associated with purchasing a wing mirror designed for a specific brand and model rather than one that fits a variety of automobiles. The primary benefit is that a brand-specific mirror is designed for that model of vehicle and expected to function in the exact same manner as the original wing mirrors. This benefit cannot be guaranteed by a one-size-fits-many approach.
Reasons to Replace Vauxhall Wing Mirrors
There are a number of reasons that consumers may have for replacing wing mirrors on their Vauxhall automobiles. Some people purchase new wing mirrors to improve the looks of their Vauxhall automobiles, while others replace wing mirrors to upgrade their function. The chart below outlines some common reasons.
| Reason for Replacement | Description |
| --- | --- |
| Upgrade Appearance | Existing mirrors can be replaced with units that have unique colour schemes; units can be painted in a colour that customer prefers |
| Upgrade Performance | Upgraded mirror glass can have built-in turn signal indicators; tinted mirror glass can reduce glare from vehicle headlamps |
| Broken Housing | Units are replaced if the housing is damaged by impact; can be custom painted to match vehicle colour; on some units, housings can be replaced without having to replace entire unit |
| Broken Mirror Glass | Units are replaced if mirror glass is damaged by impact; on some units, glass can be replaced without having to replace entire unit |
| Broken Controls | On some units, control cables can be replaced rather than the entire unit; other units require complete wing mirror replacement |
While many people like to upgrade their Vauxhall wing mirrors for performance or appearance, many people replace them due to damage of some sort. While there are Vauxhall models that can have individual components such as mirror glass or housings replaced if damaged, many people find it easy and cost effective to merely replace the entire unit.
Types of Vauxhall Wing Mirrors
Buyers who are searching for replacement wing mirrors for their Vauxhall automobiles have a number of choices available to them. The key aspect of finding the right type of Vauxhall wing mirror is to understand the exact components that exist on the wing mirror that is being replaced. This is to ensure that the proper replacement type is purchased. Some Vauxhalls automobiles can accept upgraded wing mirror replacements, such as switching to a powered wing mirror instead of a manually operated version. All wing mirrors feature some type of adjustment capability that allows the driver to adjust the mirror to accommodate height differences or various driving positions.
Manual Wing Mirrors
These are the more basic and inexpensive Vauxhall wing mirrors. Manually-controlled mirrors feature cables that run from the interior of the vehicle to the mirror assembly. This feature allows the driver to adjust the mirror by moving a small knob assembly inside the vehicle. Other wing mirrors do not come with cable assembly, but they incorporate a system that allows the driver to manually push the mirror glass into a desired position. Since these mirrors have basic adjustment controls, if any, they are cost effective and can be used to replace wing mirrors on nearly any type of Vauxhall automobile.
Electric Wing Mirrors
Electric wing mirrors feature an adjustment mechanism that controls a motor assembly within the Vauxhall wing mirror that moves the mirror glass to the desired position for the driver. Electric wing mirrors are popular because they make it easy for drivers to quickly position or reposition mirrors to suit their height or driving positions. Electric controls feature the ability to adjust the passenger-side mirror without the driver having to reach across the vehicle and adjust it, which can be difficult to do. This feature allows the driver to adjust both mirrors from the driving position so as to reveal the areas behind and to the sides of the vehicle. Additionally, the driver can accomplish this without the help of another person to make the adjustment.
Heated Wing Mirrors
Heated wing mirrors are ideal in areas that feature frequent low temperatures and where freezing is common. Wing mirror glass can freeze up or fog over when temperatures reach certain lows, and this can make visibility difficult for the driver. Heated Vauxhall wing mirrors keep the mirror glass heated to a temperature that prevents it from freezing up or fogging over. This ensures that the driver has visibility regardless of the weather conditions.
Retractable Wing Mirrors
Retractable wing mirrors feature the ability to fold inward and sit flush against the door. This is a great feature when drivers park on the street in areas that feature high volumes of traffic where a wing mirror can be accidentally struck by a passerby. Retractable wing mirrors can be folded in either by hand or with the press of a button. Many retractable wing mirrors have the ability to pivot in both forward and rearward directions so that if someone does bump into them, they fold forwards or backwards rather than be broken.
Curb View Wing Mirrors
Curb view wing mirrors are electric mirrors that automatically pivot down towards the curb when the vehicle is placed in reverse or if a button is pressed. This focusses the mirror onto the curb so that the driver can see the position of the tyres when backing up or pulling into a parking spot. This makes it easy for the driver to know the vehicle's position in relation to the curb so that the tyres are not damaged when parking.
Buying Vauxhall Wing Mirrors on eBay
Once you have determined the need to replace the wing mirror on your Vauxhall, the next step is to make use of the powerful search tools and safe shopping capabilities available on eBay. Begin your search by navigating to the eBay home page and entering a search term such as "Vauxhall wing mirror&" into the search box. This displays a list of the available auctions that feature wing mirrors for Vauxhall automobiles. You can browse through the various listings, or you may refine the search by selecting from various subcategories to narrow the search results. You can also enter your model and year of vehicle in the search box to display a more precise of auctions related only to your vehicle type.
After you have found the wing mirror that you are looking for, take a few moments to review the feedback rating of the seller prior to committing to the purchase. The eBay community utilises buyer feedback to rate sellers on how they perform on auctions that take place on eBay. Buyers leave ratings and comments on how sellers conduct themselves during transactions. Sticking with sellers who maintain a history of positive feedback from customers can ensure smooth transactions.
Conclusion
Wing mirrors are a vital automotive component that enables drivers to see things around their vehicles. These mirrors enable a driver to be aware of their surroundings and make driving and backing up vehicles much safer.
Occasionally, wing mirrors must be replaced due to damage or if a Vauxhall vehicle owner wants to upgrade a mirror. When it comes time to replace a wing mirror, it is important for the owner to understand the exact options and specifications for a new wing mirror. This ensures that the replacement mirrors are compatible with the vehicles in question. The advantage to purchasing wing mirrors that are specifically designed for use on Vauxhall vehicles is that the fit and function can be expected to be identical to the original factory equipment.
An auction website such as eBay represents a great online resource where one can find a number of Vauxhall wing mirrors. When equipped with the necessary information about wing mirrors, a shopper can utilise the wide selection and the user-friendly functionalities on this website to purchase Vauxhall wing mirrors at affordable prices.