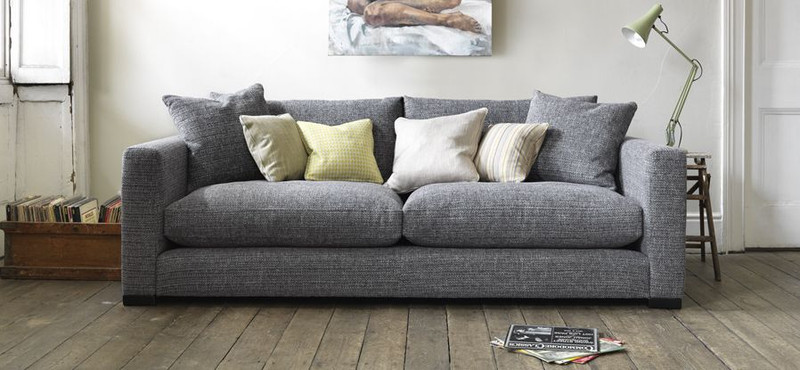 EBay is such a great website to snatch up deals on, whether they are new or second hand. Sofas, in particular, can cost a great deal less on eBay than in stores only selling them brand new. Of course, eBay is ideal for buying both new and used, but the best deals can definitely be found if you are willing to go second hand. A lot of people are quite happy to part with their sofa for a lot less than what they paid originally, because they lose their value after being used.
When looking to buy a new sofa that you haven't seen before (and may not be able to view), it's good to keep a few things in mind.
Don't be afraid to ask the seller questions. They are happy to answer them, and it's good to be reassured if you are making sure this is the right sofa for you.
Make sure you know the item dimensions, to ensure you can get it into your home – don't forget doorways!
Does the seller have a good returns policy? If not, it's probably best to steer clear. As you may not be viewing this sofa before you purchase it's always good to know you can return if it isn't what you expect, or is faulty, for example.
Look up the seller's reputation and eBay selling history. If they are mainly positive, then you are a lot less likely to be disappointed with your sofa. EBay is fantastic for purchasing second hand sofas. You can get a great bargain for a quality piece of furniture as some people just want the item removed from their home conveniently to make room for their new piece of furniture. However, there are things you should keep a look out for before making your purchase.
Ask the seller questions about the item's condition, as it is second hand. This ensures that you are fully aware of any imperfections the item may have, instead of receiving the item and possibly being disappointed.
Will the seller let you return the item? Many sellers, for their own convenience, may not accept returns. This is fine if you are fully informed of the item's condition, but if you are not, it may not always be worth the risk.
If you see a sofa which has a good structure, but the material is in a poor condition, reupholstering could be for you.
Be prepared to take your sofa home. It is a very large piece of furniture, so if this is not an option, use a courier.Couriers can be expensive, so your bargain sofa could end up costing a lot more then you had first set out to spend. A good website for finding cheap couriers is Shiply. Shiply saved me time and money when it came to getting my sofa off eBay delivered. It made the process much easier for me and I was able to pick a courier which had a great reputation, so I knew my sofa was in good hands.
If you want more information, find out more about Shiply on eBay's own website here:
http://stores.ebay.co.uk/shiplyuk/Shiply.html