First impressions count, and your front door will go a long way to influencing how people see your home. Tired, worn, peeling paint – regardless of what the rest of the house is like, if your front door is shabby people will think your home is too! So if you're thinking of replacing your door for a UPVC example, here are some pointers.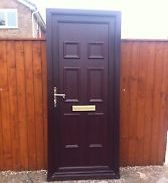 Materials
Sidestep the need for constant maintenance by choosing external
UPVC doors
. Sturdy and resilient, an unplasticised polyvinyl chloride door will last 10 years or more thanks to its construction and materials. Tough plastic is wrapped around a galvanised steel core, which is great news for homeowners in a climate as damp as the UK's, because that means the door won't swell with moisture and stick or warp, as wooden doors tend to.
Style and colour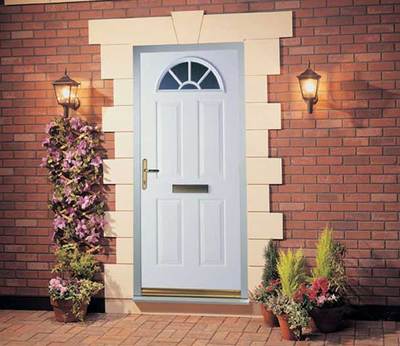 Added to that, UPVC doors are available in a wide range of shapes, sizes and styles, so there's almost always a door available to suit any home. Gone are the days of plain white doors. They're now manufactured in a broad spectrum of colours – from traditional reds and blues to the latest colour trends.
Aesthetics
Many estate agents suggest that it takes just seconds for homebuyers to make up their minds about a house, and that a surprisingly high proportion of that is spent looking at the front door. A shabby example is a real no-no, but even if you have no intention of selling your home, a smart UPVC front door has numerous benefits.
Security
Construction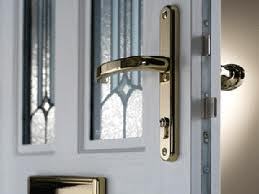 That tough plastic and steel construction makes for an incredibly hard-wearing front or back door. They're extremely hard to break down, so security is high on the list of advantages. UPVC doors feature anti-crowbar seals and edges: because every edge of such a door lies almost completely flush against the surface, there are no gaps to slip a crowbar into. And since the plastic casing doesn't warp after wet weather, the inviting slots that might otherwise form between the door and its frame simply don't appear.
Locks
Add a state-of-the-art multi-point locking system and the mere sight of a UPVC door is often deterrent enough to would-be burglars. They usually realise such a door means its owners are security conscious, and so they may often decide it's not worth the effort.
Insurance
You might find your home and contents insurance premiums are lowered when you let your broker know you have UPVC external doors fitted.
Soundproofing
Street noise
Thanks to that snug fit between door and frame, not to mention the multi-layered construction, UPVC doors are renowned for shutting out irritating street noise. Passers-by and some traffic noise are greatly reduced, meaning your home remains an oasis of relative peace.
Glazing
Double or triple-glazing will greatly reduce unwanted noise, while the thin pocket of air between layers in the door acts as an extra insulating shield.
Seal
Ask a friend to knock on a UPVC door, and from the other side you'll find it hard to hear. When that door is then installed within its frame, the rubber seal present in many UPVC doors ensures that shouts and general hubbub are kept outside. You can tell how effective at noise dampening a UPVC door will be simply by shutting it. Just as with a car door on a high-quality vehicle, a good UPVC door never slams. Instead it shuts with a satisfying "thunk" as it slides perfectly into position.
Insulation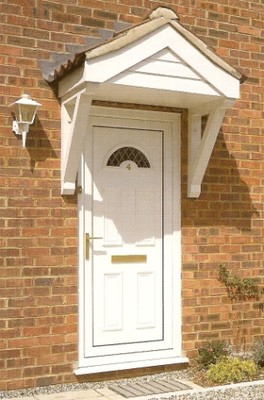 As well as keeping sound out, a UPVC door is a great way to make sure warmth remains inside. The very same components and build quality that help noise stay on one side of the door ensure heat stays on the other.
When you get cold, extra layers of clothing trap pockets of air against your skin, helping to maintain body warmth.

The same principle applies to a UPVC door. Its layers of hard material ensure the air in between stays at a constant temperature. Damp, cold air therefore finds it very difficult to pass through, while the heated air from your home is similarly unable to move the other way.

Fitting UPVC external doors in conjunction with UPVC double or triple-glazing throughout your home, means you could cut down your energy consumption and therefore your heating bills.
Low maintenance
UPVC doors are reliable and require very little upkeep. Whereas a traditional wooden door might need wood-planing and adjusting to combat warping, a UPVC door's durability means it needs only needs general cleaning. A quick wipe and polish is all that's really needed to keep it in good order.
Locks
The only component of a UPVC door that could require attention over time is the locking system. With regular, extended use any locking system can get stiff and clunky, so occasionally you might need to oil the mechanism to keep it in good condition. The same applies to the door's hinges. However, you'll find that the door's superior insulation results in next to no rust, thanks to damp air being kept away from its interior metal parts.
Added value
As well as saving you money, installing external UPVC doors before putting a property on the market could add a small boost to the asking price. In fact some buyers will stipulate the installation of new doors before agreeing a sale. Even if it's not on the requirement list, UPVC doors will let buyers know that a house has been cared for and is in good order.
Locking system
Many UPVC doors feature multi-point locking systems. This means that the door is locked in place at the top, middle and bottom of the door, making it far harder to force entry.

Letterbox position
It is recommended that any letterbox is positioned at least 40mm from the edge of the door. That way structural integrity is maintained.

Attack testing
Look for British Standard PAS 24-1 when selecting a UPVC door. This proves that the door, frame and locking mechanism has withstood a series of physical tests using police-recommended methods and tools.

| | |
| --- | --- |
| Does the door fit your existing frame? | You may need to alter the size of your doorframes – not all UPVC doors fit all frames. Better to adjust your doorframe than the structure of your home! |
| Do you want glazing in your door? | Glazing is an integral part of the insulation and security qualities of any UPVC door. The thicker the glass and the greater the number of layers there are, the better the door is at restricting airflow and intruder access. |
| What kind of finish do you require? | UPVC doors are available in a range of colours and effects – even wood-style finishes. Simply look for the one that best complements your home and your budget. |