Children are often fascinated by insects, and encouraging their curiosity allows you to help your little ones enjoy exploring the natural world. Because there are so many options, purchasing insect collecting equipment for your child can be confusing. However, by understanding the basic items for insect collecting, you can make a confident purchase.
Insect Collecting Containers for Kids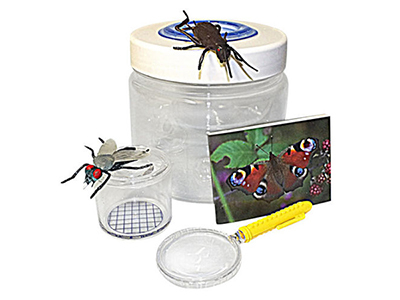 Whether your child wants to catch and release or keep and pin insects, one of the basic but essential tools is an appropriate container. While you can simply use an empty jam jar, there are many other options open to you. Choose an insect jar or container with a shatterproof plastic or glass construction to reduce the risk of cuts if your child drops the jar. Moreover, if you do not want your child to pick the insects up with his or her bare hands, you can choose to purchase pooter jars. These jars are available in a range of sizes for a variety of bugs, and feature two colour-coded tubes sticking through the lid. You suck on one tube of the pooter jar and the other tube sucks up the insect and deposits it in the jar, almost like a vacuum, but without harming the bug. The safety valve prevents the bug entering the sucking tube. Insect boxes are ideal for use with bug tongs or tweezers. They feature a magnifying lens in the lid, allowing you to place a bug inside the box for closer examination.
Insect Collecting Kits for Kids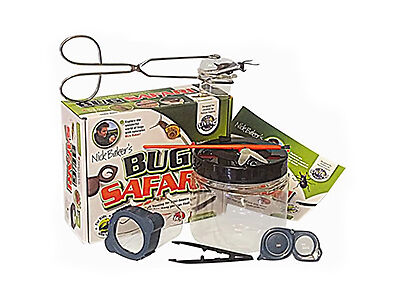 Insect collecting kits are a great way to get all the basics your little etymologist needs to start exploring this new hobby. Insect collecting kits usually contain bug tweezers, a container, an insect net, a magnifying glass, an identification book, and instructions. More advanced insect collecting kits may also contain display tools, such as a display case, a pinning board, a killing jar, a UV light, and insect pins. For a very young child, start with a simple kit aimed at youngsters and upgrade the kit as your little one grows.
Insect Display Tools for Kids
If your child does not want to catch and release insects, but instead wants to keep them as a long lasting collection, you will need a number of items. You need a killing jar or you can opt to place the insects in the freezer for 24 to 48 hours. You also require insect pins and a wooden pinning block to mount the dead insects. A spreading board is essential for butterflies, moths, and other winged insects, as it allows you to spread the insects' wings during the drying process. You also need a display case to safely display your child's finds.