What is a Powerball?
This is a Powerball.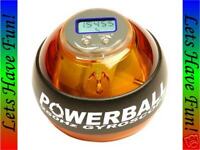 Are you thinking "What the heck are they?".
Good question! And welcome to the Lets-Have-Fun guide to Powerballs by Pete...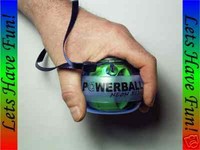 As you can see, a powerball is about the size of a tennis ball, and is held in the palm of the hand.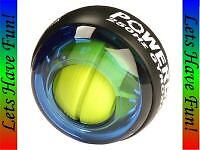 Inside the hard shell is a gryoscope. After starting the powerball with the cord provided, the hand is rotated (like mixing a cake) to increase the speed of the gryoscope inside the ball. As the speed of the gyroscope increases, it exerts proportionately more resistance to your hand movement. You set the pace, you set the level of exercise. Things get as tough as you demand! Easy to do yet hard to master; a very clever, addictive, competitive and physically demanding gadget!
What are the different Powerball Models and types?
I am often asked what the differences are between the powerball models. So, to summarise:
250 hz Powerball standard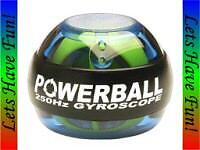 This is the most basic powerball. No lights. No RPM counter. Available in blue (shown above - looks kind of green doesn't it!) and amber.
250 hz Powerball PRO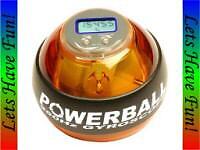 This is the same as the standard powerball but with the digital RPM counter on top. The gyroscope is otherwise the same. The fastest. Available in blue and amber (shown above).
Neon Blue/Red/Green standard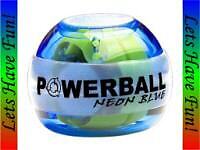 This is a standard powerball with neon lights that light up when the ball is spinning. No RPM counter. Slightly slower RPM due to dynamos for the neons. Available in blue (shown above), red and green.
Neon Blue/Red/Green PRO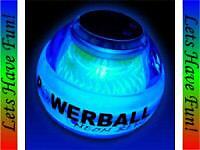 Neon Powerball with the RPM Counter. Also slightly slower RPM due to dynamos for the neons. Available in blue (shown above), red and green.
Powerball Techno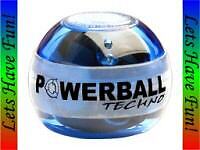 Quite a different beast. Does not have an LCD RPM counter but the neon lights show the RPM (has to be seen!). Slower than the other powerballs. Arguably the most difficult to master. I do not recommend this for Powerball novices.
Powerball Metal 350 Hz.
The ultimate powerball? Beautifully finished in flawlees chrome with a very neat and stylish display case. Two models are promised... The first model (now available) features a silent running but very high density metal composite rotor giving a really tough workout. The next model (yet to be released) will feature a lower weight super-fast gyro.
-------------------------------------------------------------------------------
What's the difference between 'Powerball' and 'NSD Powerball'?
Update by Pete, June 2006: Powerballs.com recently rebranded their Powerball range to include "NSD" in the brand name. Other than the change to the name there is no difference between the products.
Here is an excerpt from a statement by the Powerballs.com CEO Rory McLoughney:
"In simple terms, there is actually no difference between these balls, other than our inclusion of the word 'NSD' on the grip-band and a different graphic on the outer box, both of which have been necessary in some world markets due to trademark issues.

Both Powerball versions are otherwise identical, manufactured to the same high standard and subjected to the exact same rigorous quality control procedures by our manufacturer.

Naturally, all balls supplied by us are covered by our Lifetime parts warranty, so should you experience any difficulty with a Powerball purchased either directly from ourselves or through one of our resellers we will gladly replace any worn or damaged parts as necessary. "
To view the full statement go to Powerballs.com/branding.php (please add the www. as eBay will not let me link to an external site!)
-------------------------------------------------------------------------------
Powerball Accessories
The powerball comes with all you need. ie a powerball and 2 starter cords. But you can get 2 very useful accessories:
Powerball wrist strap
Powerballs do not like being dropped! The Powerball wrist strap attaches to the side of the powerball and loops around your wrist, allowing you free movement while helping to prevent you accidentally dropping it. I consider these an ewssential item and bundle the mwith all the powerballs I sell. Note that only the Techno Powerball comes with a wrist strap as standard.
Powerball leather case
Powerballs do not like dirt. The Powerball leather zip case protects your powerball from dirt, scratches and minor bumps when not in use, helping to keep it in optimum working condition. It has a belt strap and it looks pretty cool too!
-------------------------------------------------------------------------------
FAQS
Q. Where can I find out more?
A. The Powerballs.com website has a great FAQ section.
Q. Does a powerball need batteries?
A. Not really - you are the energy source for the gyroscope and for any LED lights. However, the RPM counters do have a small watch battery to power the LCD and to retain your high score. Replaceable but should last for ages.
Q. Does the Powerball have a warranty?
All genuine Powerballs come with an unconditional manufacturer's lifetime warranty - in the unlikely event of a fault occurring, simply return it to Powerball for a full replacement.
Q. What is a Powerball used for?
For sports and rehabilitation. Excellent for all activities involving the wrists, arms and shoulders including golf, tennis, boxing, fencing, motorcross, martial arts, bowling, mountain biking etc...The Powerball will help tone or build substantial power and strength in the wrists, forearms and shoulders.
Provides gentle rehabilitation for lower forearm and wrist joints affected by Carpal Tunnel, RSI and Arthritis.
Best of all - GREAT FUN!
This is a seriously addictive gadget, and a must for anyone with any competitive streak in them. Challenge friends and colleagues for the highest score. Once picked up it is difficult to put down - you simply will not want to be beaten.
Challenge the World Record at 16,317 RPM!
Q. How does it work?
Powerball has a revolutionary new gyroscope that literally explodes with mind numbing torque and inertia once you activate its internal rotor. It's about the same size as a tennis ball and weighs just a little more. It will spin faster and faster under your own power until you have it up to an unbelievable 15,000rpm at which point it will be exerting almost 40lbs of pressure on your limbs and is travelling at nearly 250 revolutions per second - no batteries, no motor, just pure gyroscopic power the fastest human propelled device ever created!
A Must Have Gadget!
The Blatent Advert!
For all your powerball needs at low prices please visit my eBay store Lets-Have-Fun
I hope this was helpful - let me know if there is anything you would like to see added!
Thanks!