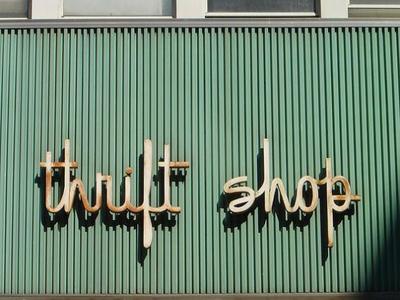 How To Thrift Store shop
Shopping in a charity shop is great for so many reasons- you raise money for charity, get bargains and great one off pieces and you recycle! Whats not to like? As part of a Bzz campaign, I am giving you the ultimate guide to shopping in a Thrift store!


1. Don't be afraid to hoke- the staff won't mind, the other customers will expect it and some of the best stuff might be right at the bottom!
2. Don't let the fact that it isn't perfect put you off- clothes can be altered for a few pounds, or repaired yourself. Clothing and furniture can also be upcycled- that's where ebay comes in handy! I once up cycled a 99p jumper with some awesome gold studs bought on ebay for just 69p.
3. Looking for something in particular? Leave your name and number with staff plus what the item is and they can ring you if it comes in.
4. Check regularly- they get donations daily, so you might not get something the first or second visit, but the third could be quite the haul!
5. Volunteer- not only will you be helping a charity by volunteering a few hours a week, but you also get dibs on all the goodies that come in! Win win!

Well get thrifting- and enjoy!