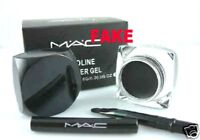 <<Replica Fluidline sold by seller:Gillsplace11,Leclerc1972,Markysparky-2011 although his have some weird leopard print design!Still replica!
above FAKE Mac fluidline eyeliner GEL!Authentic MAC Fluidline Gel,is made in matt SQUARE,Box,ROUND/CIRCULAR glass pot and never with a FREE brush!
FAKE M*A*C
eyeshadow/ Palettes
Some people do not care if they sell counterfeit cosmetics to unsuspecting buyers so here is this little guide just to make sure that YOU buyers are AWARE before you spend your hard earned CASH!
Quick INFO if you dont have time the read :MAC does not manufacture(FOR ANYWHERE in the world)12/18/21/32/88/120/180 EYESHADOW PALETTES.If you buy or see these they are NOT AUTHENTIC MAC product.Be savvy and clever and buy EXACTLY same palette but without the fake MAC Logo,for about £10!These fake 120/180 eyeshadow palettes sell on eBay for outrageous amount of money ie £80!!
Things to look out for :
1) :M*A*C AUTHENTIC eyeshadows palettes ALWAYS contain genuine brush*with MAC logo* NEVER a SPONGE TIPPED applicator,like I got with my palette!Below is authentic MAC palette which usually retails for about £40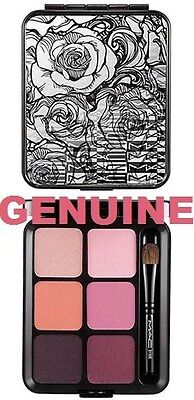 < genuine MAC pallete Mac bristle brush clearly visible
Again we have another replica MAC palette,this time in ZEBRA print packaging!
I cannot stress enough how dangerous FAKE makeup is!Also please know this MAC does NOT wholesale their COSMETICS!If you see anyone selling say 60 or 90 pieces of MAC as wholesale you can be pretty sure that is NOT authentic MAC!!
Example:100 PCS,of fake MAC Fluidline Gel item nu:300370210629
2)MAC'S Eyeshadows ALWAYS have names ,the fakes will come in meaningless box with numbers only such as 001,A02.

12CREAM EYESHADOW COUNTERFEIT PALETTE ,sponge applicator,no shades names ,MAC logo not quite right too,number on the palette instead of the UNIQUE mac name,cheap plastic packaging,the eyeshadows look almost too vivid due to high concentration of non safe ingredients!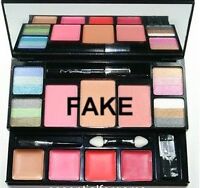 <~~replica sold by seller:Hartjojo item nu:300574889526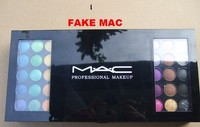 <<Fake Mac 180 and 120eyeshadow palettes sold by :Arturas3,Gregkh58,:Stephbo1,Anoukfreida,721332,Suzukigsxr33,2005beadsworld,Aishakhan5690,Amgm02503.Liudas007.Reyhana11,Venjuta13,Seedoojet46,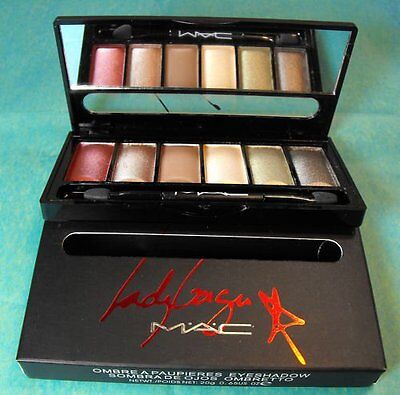 FAKE sold by seller:thinkofmee.Eastadd -all their MAC palettes are counterfeit!
,Annenewyorknewyork who also sells FAKE MAC eyeliner pencils!
above fake Mac palette sold in vast amounts by :COCO.1883Mac does NOT use sponge applicators in their palettes nor do they have this weird LEOPARD packaging!
MAC has never released 120/180/96/ 88 eyeshadow palettes like this below or these replicas may come with a little CUT OUT MIRROR !The auction may claim that these were only available from MAC PRO STORES and the price will be whopping £70 or even more!!None of these are genuine.These fakes have simply MAC fake logo stuck on!Save your money and buy exactly same product for about £5,but without the fake MAC LOGO.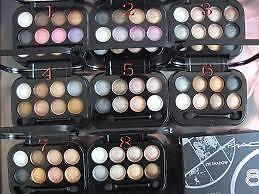 <<FAKE MAC120/180 EYESHADOW palettes sold by :123Jojo27,
Amgm02503- all their Mac" make Up is counterfeit the 20 Colours Eyeshadow palettes,to the non existent Hello Kitty Brow pencil
Jamgrange37 item nu:260907942097
Th!ck - all their Mac make up is counterfeit ie;the Viva Glam Lipsticks shade that do not exist
Jennay97,Anna010594,123Mybaby2010,2005beadsworld,ZEB2528,Jhwriver,
,Eltrositgicien,Loura1234,
-fake Mac 120 eyeshadow palette item nu:190567358523
2005BEADSWORLD- replica Mac lipstick and other fake Make up
Exigo-fake Mac Liquid eyeliner item nu:260839180272 complete with spelling error
Cudworth3561-all their Mac is counterfeit
123Mybaby2010,all their brush sets are replica
Barrywilkes26-fake Mac lady Gaga palette
Easytiger12381 all their MAC is counterfeit,she sells same fake on other IDs:cookie12381
xx-hannah-xx -none of their Mac Dazzleglass is genuine
Gemma1094 item nu:150515090417,Perfect_prince..ss,
Maxpomphrey-fake WonderWoman,blush,other replica MAC palette item nu:280724288521
ZilanBoi-fake MAC Dazzleglass,fake eyeliner
Samzcosmetics all her MAC makeup&brushes are fake
Gillsplace11 -Fake Fluidline &other fake MAC such as LadyGaga palette item nu:320744394097
Anna010594- sells replica 21,120 and 180 MAC eyeshadow palettes
IPS23- fake MAC palettes
HD.Glasgow - their Mac liberty of London,lipstick is replica&other MAC is fake too
Teresa4715- all her Dazzleglass is replica,her Dior eyeshadows are fake too
Johawkins74 - all their MAC is FAKE,incl:the weirdest fake Mac mascara with leopard print!
Lecadeauxx- replica MAC Eyeshadow palettes,and other fake MAC
Annenewyorknewyork,all their MAC eye/lip pencils.eyeshadow are fake
Eastadd-fake MAC brushes,other replica Mac eyeshadows etc
Niccistylecloset- fake MAC brushes,fake mascara etc
The above REPLICA 120 or 180 eyeshadow palettes has nothing to do with Make Up Art Cosmetics.These are just REPLICA with fake MAC logo!One of the unfortunate buyers of this fake was told by a seller,that the above was sold on promotion in Selfridges!Definately not!If you hanker after one of these but without the MAC logo,look on EBAY,these sell as cheap as £10 incl:P&P!!Usually they sell under the name Fraulen 120 eyeshadow palette :)same deal but better for your wallet!
*FLUIDLINE*
BELOW is the GENUINE Mac Fluidline Eyeliner Gel, always comes WITHOUT a BRUSH!The glass jar is round in shape& slightly frosted.Shade colour should be on the sticker on the box ie:Blacktrack,Dipdown,Blitz&Glitz and on underneath on the jar as shown on the photo below!Most important it should have ETCHED batch code on the box and on the sticker..both should match ie B78 etc!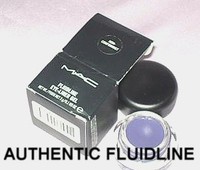 Under is the COUNTERFEIT version which comes in a long box with a BRUSH!The FAKE FLUIDLINE COMESin a SQUARE jar ,AUTHENTIC MAC FLUIDLINE is made in a round,glass slightely frosted jar!Again Mac logo,has poor printing aligment etc!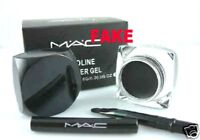 sold by:Gillsplace11
Make-Up-artistry,Shopcheap123amy,
Sausagedog4,Pocketgadget-net,Rockstarmakeup !
4)Fake MAC LIQUID eyeliners will have name such as :Black 01/BK1/ orBlack.If you come across these they are definately fake.Also it was pointed out to me by 1 unfortunate buyer,that the FAKE MAC liquid eyeliner,she bought had a SPELLING mistake on the box instead of LIQUID it said LIQULID!No batch code or name on the box either.Look at the photo at the top of the guide.
6)Genuine MAC eyeliner ALWAYS have proper names such as *BOOT BLACK* the name of the shade is clearly displayed on the box,the tube of the eyeliner will have sticker too normally in silver with the shade name and batch code.Photo of the fake at the begining of the guide.In fact *M*A*C PRODUCTS always have proper names,if you see an auction that refers to shades such as :pink ,silver etc always email seller for the product proper name.
Some sellers do not care if they sell you fakes,some pretend ignorance!BEWARE of such statements on the AUCTIONS*BRAND NEW IN BARCODED BOX*that is totally meaningless and it's still a FAKE!Or bought WHOLESALE,some items may have squashed boxes,M*A*C LOGO ,might look wonky etc!Still a FAKE!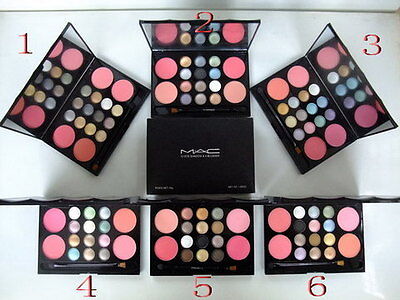 So to cap it all..........
MAC
eyeshadows
and
pigments
,
AUTHENTIC
PRODUCTS have the barcode as a sticker on the box, as well as having the colour name and finish on a sticker on the top of the box. If the eyeshadow contains an
APPLICATOR
&
MIRROR
then they're
COUNTERFEIT!
AUTHENTIC
items don't have these!!
This info comes direct from Make Up Art Cosmetics"there's NOWHERE legitimate anyone can buy AUTHENTIC MAC items WHOLESALE for onward resale!
Also MAC does NOT sell FULL sized brush sets any more.This is to prevent people splitting the sets up and trying to get a refund/exchange for them individually.
Mac invests lots of money into proper testing of all their ingredients,are YOU really WORTH that little not to pay a bit more for a GENUINE article!
If you purchase a fake please leave,FACTUAL,CALM,NEGATIVE FEEDBACK to protect other bidders and keep Ebay SAFE from counterfeiters.Inform eBay and file for SNAD,although Paypal,will probably ask you for a proof that the item you bought is a fake!Thank you for reading and if you find this guide helpful please don't forget to VOTE to keep this guide alive ;)
Chiara
UPDATE 09/14*
Ebay is cracking down on all sellers (even powersellers)of these counterfeit MAC products!This in turn will protect GENUINE sellers on Ebay,who sell AUTHENTIC MAC COSMETICS.
Thank you for voting** :) and big thank YOU for all your emails with the names of sellers of these dubious,fakes!