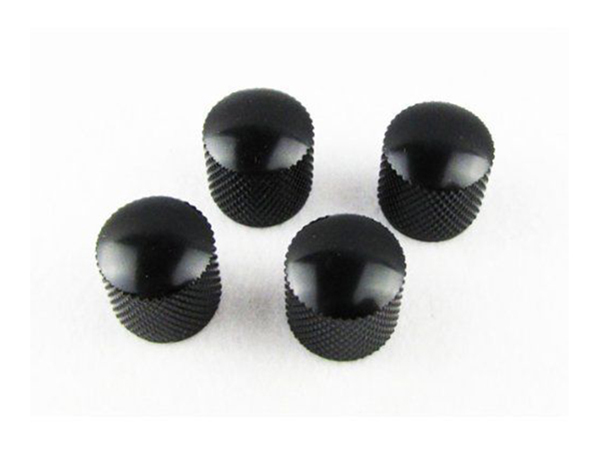 Guitar control knobs are used to adjust the tone and volume on electric guitars. For a number of reasons these may need to be replaced or upgraded. Depending on the value and use of the guitar, the owner needs to decide whether to purchase new or used knobs. In the case of valuable vintage guitars, genuine replacement parts may be harder to hunt down, but will be worth the effort.
About Guitar Control Knobs
All parts of a guitar can sustain damage or wear out, and this applies particularly to volume and tone control knobs on electric guitars. Guitar control knobs are wired to a pickup via a control pot. The pickup converts energy from the playing of the guitar strings into electrical signals that are processed through an amplifier.
Regularly adjusting the knobs to get the best sound quality from the guitar makes them susceptible to a number of problems. Extensive use can cause the control knobs to become loose, or jam, badly affecting the ability to adjust the sound quality. Careless handling may end up affecting or breaking the connections between the wiring.
Choosing Guitar Control Knobs
Knobs can become dull, tarnished, and scratched affecting the look of the guitar. Upgrading the control knobs to a new design and/or material is a cost-effective way to dress up the appearance of a guitar.
Control Pot Shafts
Before selecting replacement knobs, the buyer needs to be aware of the design of the shaft that the control knob is fitted on. Commonly known as control pots (potentiometers), these elements connect the control knob into the electrical wiring. There are different types of pot shafts, and their characteristics need to be taken into account when buying control knobs. Lengths of the pot shafts vary from mini to short or long, and shafts can be solid or split.
Contemporary Designs
Guitar control knobs come in a large range of materials and designs. Common designs, materials and finishes are described here.
| | |
| --- | --- |
| Contemporary Shapes | Bell Shaped Knob - these knobs have a small circular housing on the top with a wider angled base. |
| | Dome Top Knob - these knobs have a dome shape, with either a rounded top or a flat spot across the centre of the dome. |
| | Barrel Knob - these knobs have a round barrel shape with a flat top. |
| | Flat Top Knob - these are similar to barrel knobs but with a slimmer diameter. They sometimes have bevelled edges along the top with a position indicator indent. |
| | Push-On Style Barrel Knob - barrel shaped with a push-on fitting, as opposed to a screw-on fitting. |
| | Push-On Style Dome Knob - dome shaped with a push-on fitting. |
| | Stacked Dome Knob - small dome shaped top piece over a larger concentric base piece. |
| | Stacked Flat Top Knob - small circular shaped upper piece with a flat top, over a larger concentric base piece. |
| Materials | Contemporary materials used to construct guitar control knobs are commonly metallic. These provide the greatest durability, and a sleek reflective look that is very popular. Metals used include steel, chrome, brass, nickel, and gold. |
| Finishes | Guitar control knobs come in a wide range of finishes. These include flat black metallic coatings, polished reflective surfaces like chrome and gold, and colour tints on metal that give a glossy appearance. Textured surfaces provide grip for the guitarist when adjusting tone or volume. Textured finishes include ridged, knurled, bevelled and splined. |
Vintage Brands and Designs
Vintage designs have faded from common use, but sets of control knobs can still be found to restore or maintain vintage collectible guitars. Genuine vintage parts enhance the value of collectible guitars.
| | |
| --- | --- |
| Vintage Shapes | Shapes that are no longer commonly used include the Top Hat and Witch Hat. The Top Hat is a flat top, short barrel on top of a wider circular base, the dimensions reflecting a man's dress top hat. Witch Hats are a long slim barrel on top of a wide circular base. |
| Materials | While metal was used in the construction of vintage guitar control knobs, materials like hard plastic and Bakelite were quite common. Varieties of wood were also used, including exotic species like ebony. |
| Finishes | While some of the vintage styles may seem quaint by today's standards, they do have a particular quality that attract collectors. The combination of historical references, great musicians of the era, and the design aesthetics make certain brands and models highly valuable. Finishes and colours of the knobs for vintage guitars used colours like aged cream, aged white, amber and gold. |
If a specific vintage style of control knob is proving very difficult to find, an option is to find a custom guitar parts maker, and have the knobs specially made.
Customised Designs
Customisation of guitar parts, including control knobs, is a widely accessible design service, and limited only by the talent and imagination of the maker and the purse strings of the buyer.
| | |
| --- | --- |
| Custom Designs | A popular custom design is dice shaped and patterned control knobs, available in metal or acrylics and in different colours. Other popular designs include skull and crossbones, dragons and other mythical creatures etched into the tops or along the sides. Custom materials include exotic and common wood varieties such as ebony, rosewood, maple, ash, walnut, and tulipwood. Woodcrafters easily do etched patterns and symbols into the knob. Semi-precious materials like Mother of Pearl can be incorporated, usually into the flat top of the knob where they will get less wear and tear. Tougher materials like imitation ivory made from modern synthetics have their fans. When money is not an object, precious stones can be utilised. |
Related Control Knob Hardware
Guitar hardware associated with control knobs are mainly the pots that the control knobs fit over, and adapter bushings.
| | |
| --- | --- |
| Pots | The design characteristics of the control pots directly affect the shape and size of the control knobs that fit over the pots. If a pot becomes damaged by wear and tear associated with the volume or tone control knobs, it may have to be replaced along with the control knob. When replacing the pot, the guitar owner needs to consider both functionality and stylistic design. This means defining what pot control design is best for the intended sound effects and sound quality, and which control knob designs will fit or not fit the new control pot design. |
| Adapter Bushings | As the design of control pots is quite varied, adapter bushings have been developed to enable varied control knob and pot designs to work together. When buying control knob sets, look for included adapter bushings. These enable conversion of split shaft pots to solid pot designs. The bushing fits over the pot shaft and makes the control knob a secure and snug fit. |
Finding Guitar Control Knobs on eBay
An extensive selection of guitar control knobs for a wide range of new and vintage electric guitar brands and models, are available on eBay. Here is the most common menu path for quickly finding the right sound control knobs for specific guitar models.
Start by selecting the All Categories link on the eBay home page. The All Categories page is then displayed with all the major selling categories on eBay listed. Select the Musical Instruments category link, which will then list all the sub-categories of musical instruments. Scroll down the page and select the Guitars sub-heading.
On the Guitars page, select the Accessories link. Next, select the Parts checkbox under the Item Type section. Then scroll down the page, find the Parts Type section in the left-hand column, and then select the Control Knobs checkbox. The search results can then be further refined by selecting the Guitar Type, Brand, or Price range.
Conclusion
Guitar control knobs come in a wide range of styles, materials, and finishes. Many contemporary and vintage styles are available for sale on eBay, and control knobs are easily sourced for specific guitar brands and models.