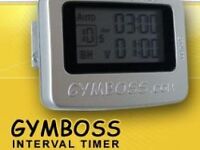 Gym Boss is a great device for helping you through interval style workouts. The easy to use interface lets you set up 1-2 time intervals from 2 seconds up to 99 minutes. I set mine up pairing a work interval with a rest period, e.g., 20 seconds and 10 seconds for the Tabata protocol. You can specify the number of work and rest rounds up to 99 or have the device on auto-repeat which carries on until you manually stop it. The device can be set up to sound a beep at the start and end of each round. You can choose a 1, 5 or 10 second beep and also select a quiet or loud beep. Alternatively, you can set it up to vibrate instead.
Once you have set it up you don't need to touch it again. Much better than using a stop watch and loads more functionality.
The controls are very easy to use and you can change the parameters mid-workout easily. It is waterproof and shock resistant. It is the size of a small pager and has a belt clip. It is powered by one AAA battery. The Gym Boss is very cheap for what it is. I got mine for £15 brand new.
I use it for interval training involving cardio, weights and bodyweight exercises. I have also used it for skipping, running and boxing.