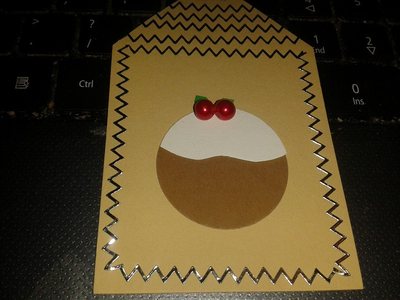 handmade gift tags
we spend lots of time purchasing commercial tags when we can give the personal touch to any gift. as you can see from the picture how simple it is.

i have used card measuring 4 inches by 2.5 inches.i have then used a hole 1.5 inches to make the pudding. the brown shape remains whole where the white circle is halved then an uneven shape cut a cross. these are glued together. they are then mounted on the card and the top corners are equally snipped to give the gift tag shape. 2 holly leaf shapes are then glued on with beads or small punched shapes to give a berry shape. this can then be finished with peel offs or buttons or even beads. a hole can be punched at the top and a piece of ribbon or string can be threaded through to give affect.

other ideas can be christmas trees, bells or just holly leaves and berries. you can personalise with names or such occasions as birth of a baby or baby shower. peel offs are great to enhance the edges or add the names of children. if you make crafts for a living these can be added as an additional affect to the offers you give can add a nice sheet of paper and make a tag to match.