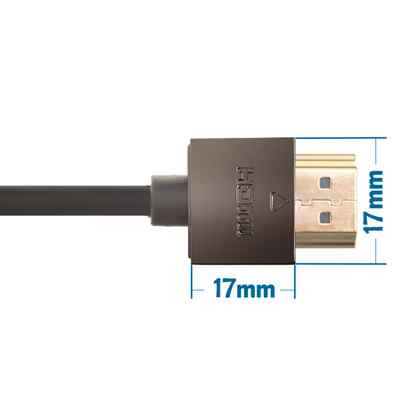 Add a caption
UltraSlim HDMI Cable - Its what Home Entertainment has been waiting for.
Click to Edit caption
HDMI Cable That's Slim & Flexible. Yet capable of 2160p
These cables are the latest in design and practability. They can be installed inside walls because they are CL4 rated. The small head means that Todays ultra slim TV screens wont be pushed out from the wall when they are used. Incorporating a Audio Return Channel and a Ethernet Channel, rest assured they are designed to be future proof (well for the forseeable future). They can carry resolutions of upto 2160p and are of the latest v1.4a. The cable diameter is also a mere 3mm therefore it can be easily tucked under carpet without a problem and without looking obstrusive. Look into my store if your interrested.
The cable is insulated to reduce interferance, and in the usual black colour to fit nicely with all latest tv monitors. Some pople say the thicker the cable the better it is, certainly not the case for this product. Indeed it is slim and lightweight, with a ultra-small cable head size but this does not in anyway effect the quality of the video or sound it carries. The days of thick cables has long-gone as technology advances and super conducting materials are being more utilised the general population is starting to realise that thick cables and wires are a thing of the past, i mean look at optical cable its super-thin yet it can carry upto 100x more data than any ethernet patch cable. So as technology advances thinner and thinner cables are capable of doing much more than in the past. Thicker guage cables tend to put more stress on the ports of the devices they are conected to, and more often than not cause damage to the end product, the thicker the cable is the more difficult it become to work with in confined spaces and more difficult it is to bend, thus creating sever stress on the port its connected to. This is simply not an issue with this cable. Its what Home entertainment has been waiting for.
This cable is being sold on ebay currently at a promotional rate but hurry, only while stocks last. Click on the article picture it will take you straight to the item.
Thank you for reading this review, and good luck creating your home entertainment system.