If you love unexpected color and form in the daily furnishings that surround you, then you will love the work of Wisconsin artist Helen Heins Peterson. Whether it's in small doses -- her small 3" by 3" boxes start at $65 -- or the full monty -- tables, chairs, and other furniture pieces that run into the thousands of dollars -- the artist brings wooden objects to life in decidedly idiosyncratic ways.
Her color sense is intuitive, and she prefers not to follow rules when composing her drawings and designs. Many of her drawings appear to be an "overall" design when viewed from a distance, but a closer look rewards the viewer with a wealth of detail and subject matter. Children in particular respond to this aspect of her work, because they are natural storytellers.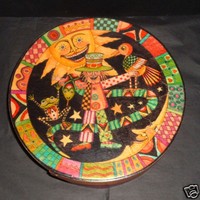 Her unique multi-layered process is what helps brings her art to such vivid life, with an instantly recognizable depth of finish and dimensional gloss. Using colored markers and colored pencils, she first draws the design freehand on the wood in pencil. Then the pencil drawing is outlined in black ink.
Next, she colors in the design with colored markers, colored pencils, and thinned latex paint. Colors are shaded and overlapped to create new and unusual hues. The piece is then coated with six to eight coats of clear finishing, with some sanding between each.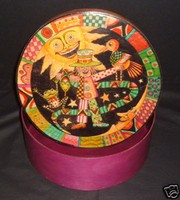 Finally, paste wax is applied with "0000" steel wool and buffed to a transparent shine. In the finished piece, irregularities, variations of shading and texture, dents and bumps are natural characteristics derived from letting the wood grain show through the colored finish and only add to its overall beauty. Each one-of-a-kind piece takes many hours to complete, plus a lifetime of studying and learning.
In addition to furniture such as tables, chairs, chests, and bench shelves, medium size and larger boxes and bowls as well as miscellaneous pieces such as handpainted wooden shoe lasts, trays, and mirrors are available in a range from $70 to $500. You can find out more at http://www.helenheinspeterson.com.
Helen Heins Peterson has evolved her present method of artistic expression as a culmination of past experience. She was a student of art and education at St. Olaf College and made further forays into art at the University of Illinois and the University of Wisconsin at Eau Claire. She has been an art teacher, a retailer, and a gallery owner as well as an independent artist.
Her works have been featured at American Craft Council Shows in Baltimore and St. Paul as well as many other shows and fairs over the years. Her art currently is represented in fine galleries and shops across the Midwest and in Dallas, Houston, and Austin, Texas -- as well as on eBay, of course.
Thank you for reading our guide. If you found it helpful, please vote by clicking "Yes" below.